Sabudana is one of the most used ingredients during Hindu fasting (vrat, upvas). This ingredient is so versatile that you can make anything from snack, main course to dessert.
Here I am sharing 12 varieties of sabudana recipes that can be consumed during navratri vrat or any other Hindu fasting e.g. ekadashi, maha shivratri, krishna janmashtami, gauri vrat, jaya parvati vrat etc.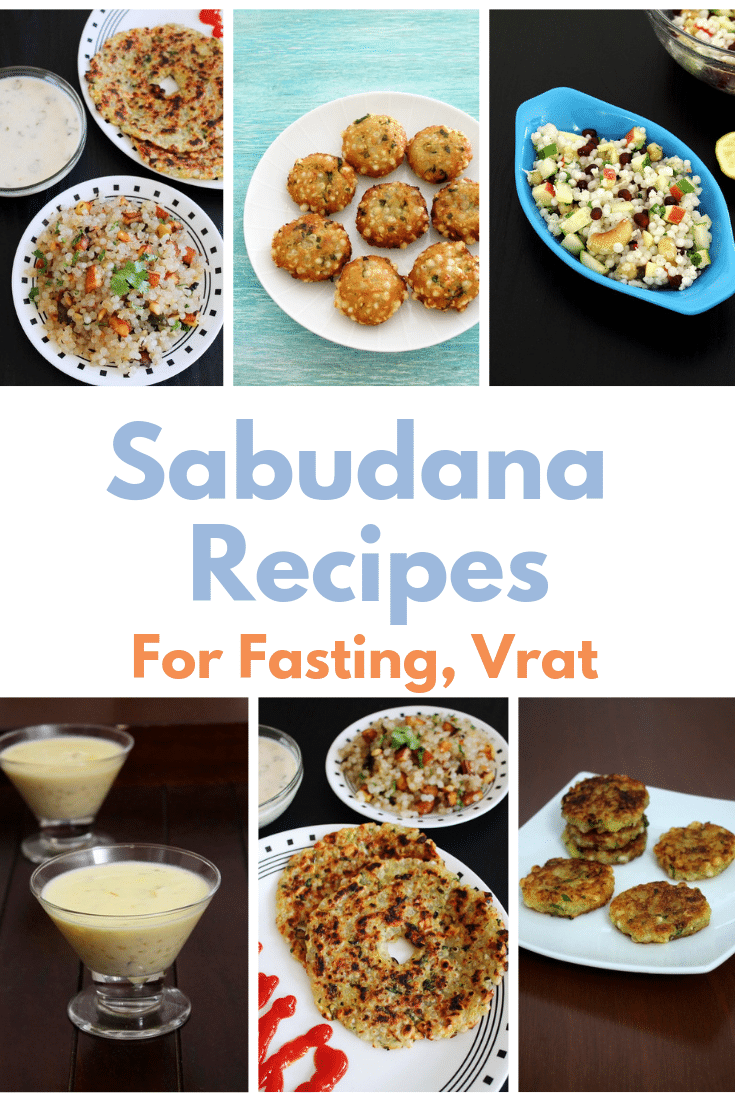 What is sabudana?
The starch from tapioca root is extracted and processed to form small balls which are known as sabudana. It is full of carbohydrates and has very little protein, vitamins, minerals. It keeps you full for a long time. Hence perfect as upvas food.
In English, it is known as Tapioca pearls. It is also called sago, saggubiyyam, javvarisi in other regional languages.
How to soak sabudana for sabudana recipes?
Since it is made of starch, they will clump up when you cook and becomes sticky. But if you have soaked them correctly then you can avoid the sticky, clumpy mess.
The first step is to wash the sabudana. Yes, washing will remove excess starch. Take pearls into a colander and wash under running tap water. And let the excess water drain.
Use wide bowl (I use cake pan which is wide and shallow). Take washed sabudana in the bowl and enough water just to cover it. Right, do not add too much water, an only ¼ inch above the pearls.
Once soaking time is done, sabudana has soaked up all the water and you will have plumped up pearls yet separated and dry. If by chance there is any excess water at the bottom then drain it completely.
How much soaking time required?
It depends on the type, quality and brand of the sabudana. But the minimum of 2-3 hours is required. Some require more hours while some needs overnight soaking.
This collection is divided into the below categories. Click the link for quick access.
- Snacks
- Main course
- Dessert (Sweets)
Sabudana Recipes: Snacks
1) Sabudana vada - Crispy, delicious vadas are traditionally deep fried. But you can shallow fry by using a paniyaram pan. It can be served with phalahari chutney.

2) Sabudana pakoda - This one is also a crispy snack where pakoda batter is made from sabudana, rajgira flour and yogurt.

3) Sabudana tikki - These yummy tikkis are made from tapioca pearls, boiled potato and few spices. These are shallow fried on tawa.

4) Sabudana salad - Cooked pearls are mixed with fruits and cucumber. It makes healthy and filling snack or breakfast.

5) Sweet potato sabudana vada - similar to sabudana vada but sweet potatoes are used instead of potatoes. And this makes a huge difference in taste.

6) Sabudana chivda - Here nylon sabudana are used and deep fried till puff up and then mixed with peanuts, cashews. And seasoned with rock salt and pepper.

Sabudana Recipes: Main course
7) Sabudana khichdi - This is the most popular sabudana recipes. I have shared many tips to make it perfect with each and every pearl are seperated. It tastes good with a bowl of yogurt or rajgira kadhi or singhare ki kadhi.

8) Sabudana thalipeeth - The ingredients used are same as vada recipe, but the proportion is different and made in pancake form, shallow fried on tawa till crisp.

9) Sabudana dosa - Nice change when tried of eating same old khichdi, vada. You can serve with farali coconut chutney.

10) Dahi sabudana - This is another different recipe if are bored of same recipes. This is my husband's favorite. Give it a try, I am sure you will like it too.

Sabudana Recipes: Dessert
11) Sabudana kheer - It is like the sweet pudding but the consistency is little runny compared to pudding. It is made from simple three ingredients sabudana, milk and sugar. Flavored with saffron and cardamom.
12) Sabudana sweet potato kheer - another variety of kheer with the addition of sweet potato. Because sweet potato is already sweet and here less sugar is added.

Check out other fasting recipes
15+ fasting snacks recipes
20 fasting meal ideas
20+ fasting sweets (desserts)