Welcome To Spice Up The Curry – a place where you can find Vegetarian Indian recipes and Eggless baking recipes. Apart from these you can find some international cuisines recipes and some fusion recipes with Indian touch. The website is still and always be a work in progress.
It is not just the recipe website, it is the community where the food lovers/cooking beginners discuss about their successes, failures, learning process in the kitchen.
Spice Up The Curry was born on January 5th 2012. It is built on Genesis Framework with Foodie Pro Theme on wordpress and is powered by Kinsta. This blog receives 1 million page views and 500k visitors per month (as of Aug 2015 google analytics).
The Recipes:
With step by step photos
Detailed instructions include exact ingredients measurements, cooking temperature, flame intensity, cooking time, tips, notes and substitutions (if possible).
Also mentioned the taste and flavor of the dish, shelf life or freezing instruction (whenever applicable) and serving suggestions.
All of them are tried, tested and tasted in my kitchen.
Includes a printable format for you
Hello from Kanan (That's me) 🙂
Namaste, I am Kanan and the creator of Spice Up The Curry. I do cooking, creating recipe write up, taking photos, editing, posting online. As well as technical aspects, maintenance, designing of blog, server issues all are done by me.
Getting Around:
If you're new here, let me give you the tour of the site –
Don't find specific recipe that you are looking for? make a recipe request on spiceupthecurry[at]gmail[dot]com. I will try to post it asap.
About Me: Kanan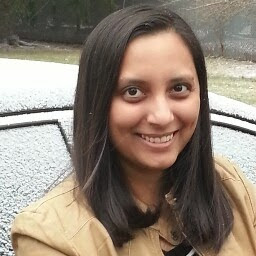 I lived in Ahmedabad and came to USA in 2008 as a student. I have bachelor's degree in Bio-medical Engineering from Gujarat and master's degree from Stevens Institute, NJ. Right now I am an IT professional in Pharmaceutical company. And with this full time Job, I happily managed to get some time for food blogging.
I started cooking when I came to USA. I have never entered the kitchen when I was in India. During my masters, I learned little bit of cooking from my room-mates. But still I was doing just OK that time because roommates were always there, so I never got chance to cook alone. But when I got married, I need to manage the kitchen by myself. To keep mine and dear hubby's stomach happy, I started to learn cooking from cookbooks. I have read lots and lots of cookbooks (nearby public library has very good collection of Indian cookbooks). No, reading doesn't end here; I have read tons of culinary books which explain cooking & food science. As I understand the food and how it works with other ingredients, I started enjoying it. And Now I can say that I know cooking and I can cook good food. But still learning is in process.
About the Food I cook and We eat:
As being vegetarian, I only cook vegetarian food and so this blog also has veg recipes posted. I have started using organic produce, food in cooking from beginning of 2013. So Now I have everything (almost 80%) organic in my pantry and fridge because I am not able to find everything organic.
You will always find fresh ingredients in my cooking. I do not use processed and ready made canned stuff in my cooking.
I and hubby eat all the food which I cook and post here on the blog. If I need to I freeze some, eat later. Sometimes he took it to his office for his co-workers. But we never waste or throw anything.
Let's get Connected:
You can keep up with latest recipe posted here on Spice Up The Curry
You can email me on spiceupthecurry[at]gmail[dot]com for any suggestion, question or to just say Hello. 
Copyright Policy: all the content and photos on my website is copyright protected with all rights reserved, unless otherwise noted. no hot-linking of images, please! It takes a lot of time and effort to take images and blog about the food I cook. Kindly respect the hard work that goes into making of this blog.
Privacy Policy: check out here.