Indian spice box or masala dabba - It is essential, very functional in almost every Indian household's kitchen. You should have it, if you are cooking Indian food more frequently.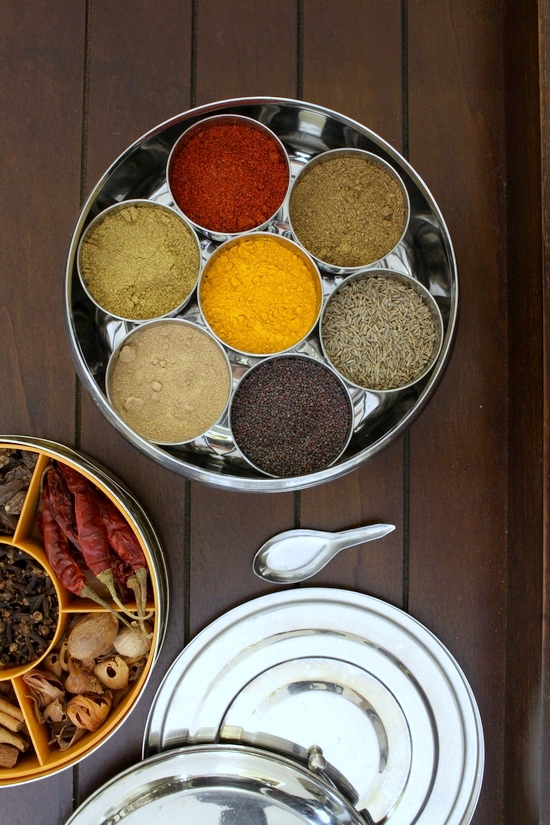 For those who are not familiar with Indian spice box, It is stainless steel flat container aka dabba with tight fitting lid of about 6-7 inch diameter (sometimes 10-12 inch diameter). There are 7 small round containers in the box in which you will be filling the spices. It also includes one (or more) small spoon about a teaspoon of size.
I am using masala dabba since beginning of my cooking journey. I have seen my mom and all the relative families, neighbours using it in their kitchen. So it was already in my shopping list of 'what kitchen utensils to buy from India?' Yes it is way too expensive here in USA.
I keep two spice boxes in my kitchen. The first one contains the spices used for tempering in making day to day subji, dal. The other contains whole spices used for pulao or in making some gravies or while cooking beans.
Earlier I did not have the second spice box (of whole spices). Whenever I make pulao or punjabi curries, I need to open quite a few number of containers to get the required whole spices. It is little annoying. sometimes the oil gets heated up and I am still finding the spices. Since I do make pulaos and curries quite often and for the sake of convenience, I decided to make one for whole spices as well. And now I am just loving it, how efficient it is.
---
What I put in my masala dabba?
---
The first Indian spice box (above image)
Mustard seeds
Cumin seeds
Turmeric powder
Red chili powder
Coriander-cumin powder
Amchur (Dried mango powder)
I keep asafoetida (Hing) in separate small container with tight fitting lid. I never put hing in my dabba because it has very strong, overpowering smell which I don't want to get in other spices.
The second Indian spice box (below image)
Cloves
Black peppercorns
Cinnamon stick
Mace and nutmeg
Dried red chilies
Green cardamom and black cardamom
I keep bay leaves in separate container, just because one - I don't have enough space for it. second - even if I have extra compartment for it, bay leaves will never fit into it because of their big size.
---
What you should put in your masala dabba?
---
I have filled up my dabba as per my need. I mostly cook Gujarati and North Indian food. Hence I have used those spices which are most frequently used in my daily cooking.
So you should use those spices which you are using in your day to day cooking very frequently. e.g. you are cooking south Indian food mostly, you should not use garam masala and amchur in your dabba. Instead you should use urad dal and chana dal which are most commonly used in tempering.
Store your masala dabba in cool, dry space (means inside a cabinet). Make sure to store in a cabinet which is near to stove. So it is easy to reach out when in rush.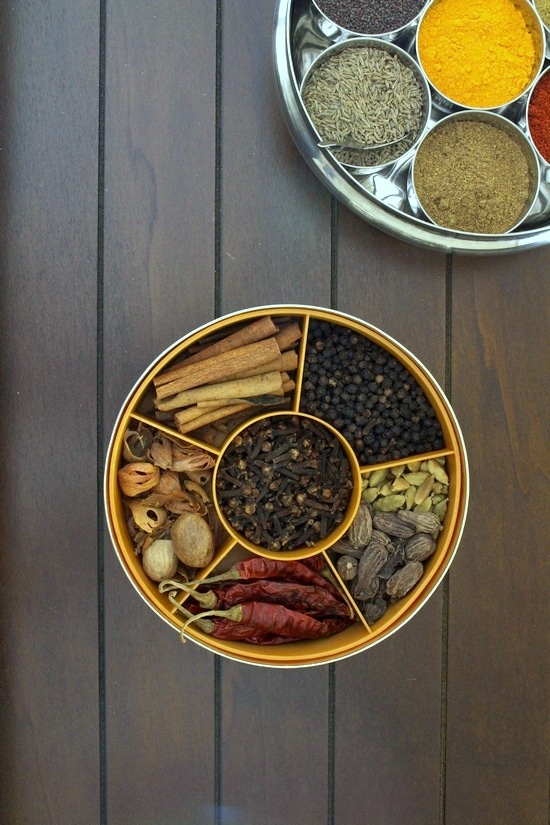 ---
Why use masala dabba?
---
If you are cooking Indian food on daily basis, you must/should have this kind of dabba. It makes life so much easier. For those who are not cooking daily but very frequently, I still recommend.
Keeping traditional Indian spice box makes you more efficient in the kitchen. It is so convenient rather than opening each and every container for every spices needed. Yes storing spices in cute looking small spice container (sold in IKEA, walmart etc) is trendy and visually good looking but not functional at all. Cooking Indian will become a breeze as you will be able to find all the spices you need in one place.
---
What to look for when buying Indian spice box?
---
Go for best quality stainless steel dabba. A good quality masala dabba will last a lifetime.
There are few different sizes are available. Buy as per you need. Meaning select proper size that allows you to use your spices before it gets too old. I am using about 7 inch diameter sized one. Since we are only two in family, this is perfect size for me. I refill them almost every week.
When buying, make sure that it includes a small spoon or more. Because the regular spoon will not fit in that container.
Make sure it has tight fitting lid. I prefer whole stainless steel lid rather than one which has glass.
---
Few tips to keep it clean
---
Always fill the spices as per the usage. For example, the quantity required for mustard seeds, cumin seeds and turmeric powder is less than the quantity required for red chili powder and cumin-coriander powder. So fill former ones only half way through or less and fill later ones up to ¾ way. Never fill to the top (as your try to get spoonful of it, you may make a mess). So apply this fundamental while filling your spice box. For the photo purpose, I have filled it to the top so it looks good.
Make sure that you keep it away from moisture. Be careful, not to spill the water in it.
Always keep it little away from your pan while making tempering. (meaning do not keep it next to kadai or on stove top). So it doesn't get heat or oil sputtering.
While adding spices, I keep the dabba in my hand, add spices using other hand for two reasons.
1) if you have kept it little far and using the small spoon to add mustard seeds and spice powder. The chances are you may spill some on counter-top or stove-top since you were in hurry. mustard seeds will run around everywhere on your counter-top or may spill turmeric powder which may stain the surface and increase your cleaning work.
2) Once I add mustard seeds, they will start to pop. So after adding it I move the dabba slightly away from kadai so I don't get oil splutters in spices or on the dabba. Once it stops popping (within few seconds), move dabba little near to pan and add remaining spices.
Once in a month or twice in a month (as per the usage), do wash the whole container including smaller ones. I wash it once a month at time the spices are about to finish in it. Empty the remaining once in smaller bowl. Once it is washed and dry, fill it back. The whole spices one does not require that frequent cleaning.
---
Where to buy?
---
I have bought mine from India (from a local shop in Jamnagar, Gujarat).
I recommend buying it from India if possible. Because it is much cheaper.
If not possible, you can buy from local Indian store in USA if you have any nearby. Or buy online from amazon.
USA/India