Makai no chevdo recipe - This is Gujarati snack made from desi corn (makai) or sweet corn. In some part of Gujarat, it is known as makai khichdi.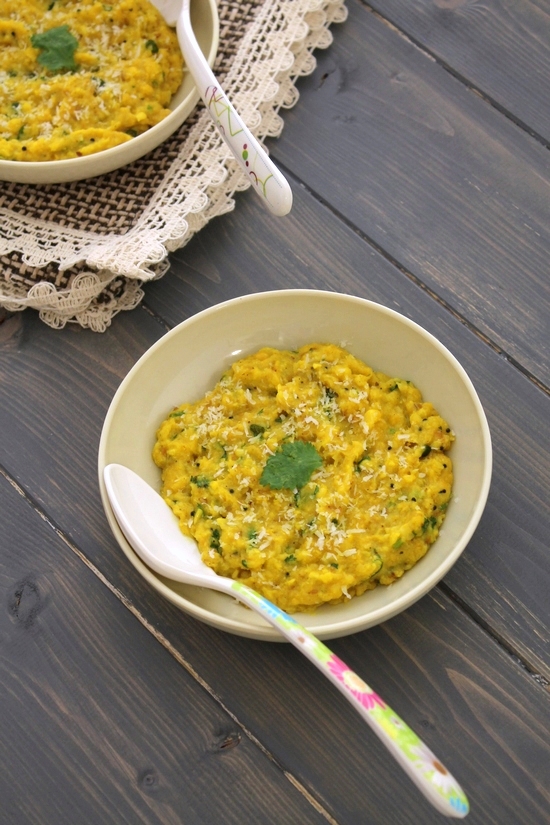 Don't get confused by the word chivda or chevdo. This is not dry kind which we make during the diwali like cornflakes chivda, cereal chivda or poha chivda. This is wet version and made from fresh corn or frozen.
The taste of makai chevdo is medium spicy with perfect balanced sweet and tangy taste. The spicy taste comes from green chilies only.
This is my mom's recipe. I remember her making it during the monsoon when the corn is in season. She makes it from desi makai which is much different than American sweet corns. Here in USA, I can find only american corns, so I have used that.
The key to make it perfect, the proportion of sugar and lemon juice should be right. No one can give the exact measurements for sugar and lemon juice. It may vary and depends on the sweetness of the corn. For example, I used less sugar as I used american sweet corns. You may need little extra sugar, if using the desi makai. So always start with little amount, mix and taste. Add more if needed.
Addition of sesame seeds and coconut gives nutty flavor to the dish.
If you are making Jain recipe, please skip the ginger.
Step By Step Photo Instructions:
1) If using the corn cobs, then you can directly grate it using box grater. Or remove the kernels and coarsely grind into the grinder or use the food processor. If using frozen corn kernels then defrost it and coarsely ground them. Take them along with its juice into the pressure cooker.
2) Add milk.

3) Mix well. Cover the cooker with lid. Put the weight on. Turn the heat on medium. Let it cook for 2 whistles.
4) Then let the pressure go down by itself. Open the lid. Most of the milk is absorbed and it will be thick. Keep it aside.

5) While pressure is releasing, prep all the ingredients for chevdo. because we need them one by one really quickly. So it is good idea to keep them handy before starting. Heat the oil in a pan on medium heat. Once hot add mustard seeds and let them pop.
6) Then add dried chili, cinnamon stick and cloves. Saute for a minute.

7) Then add sesame seeds. They will start to pop.
8) Then add ginger paste and chopped chilies. Saute for 30-40 seconds.

9) Add turmeric powder and asafetida.
10) Immediately mix it.

11) Then right away add crushed, boiled corn.
12) Mix it. and continue cooking till it gets thick. Keep stirring constantly.

13) It will be done in couple of minutes. So don't go away.
14) Then add salt, sugar and garam masala. Mix well.

15) Add lemon juice.
16) Stir well. Taste it and see if you need more sugar or lemon juice. So alway starts with little amount and then add more if needed.

17) Then turn off the stove. Lastly add coconut and chopped coriander leaves.
18) Stir well and it is ready to serve.

The above mention quantity will make small portions for 2 servings snack. If having as a brunch or light meal you may need to make double batch.
Serving suggestion: Serve as makai no chevdo an afternoon snack. Or it can be served as a breakfast or brunch as well.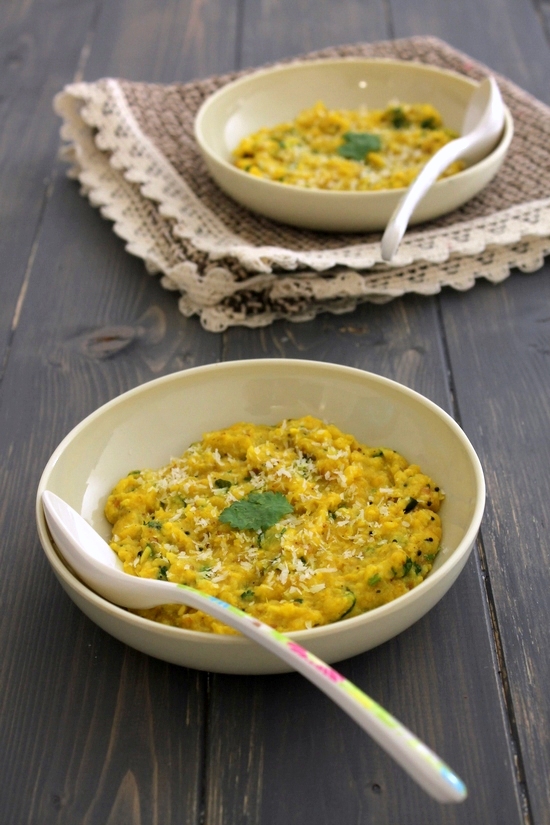 Did you try this Gujarati makai no chevdo recipe? I'd love to hear about it! Leave a review in the comment section below.
📋 Recipe Card
Step by Step Photos Above
Want to make it perfect first time? Don't forget to check out Step-by-Step photo instructions and helpful Tips & Tricks !!
Makai No Chevdo
Tried this recipe? Leave a comment and/or give ★ ratings
Makai no chevdo recipe - This is Gujarati snack made from desi corn (makai) or sweet corn. In some part of Gujarat, it is known as makai khichdi.
US measuring cups are used (1 cup = 240 ml) See details
Ingredients
2 corns or 1

cup

Sweet corn kernels

grated or coarsely ground

¾

cup

Milk

1 ½ -2

tablespoons

Oil

¼

teaspoon

Mustard seeds

1

Dried red chilies

¼

inch

Cinnamon stick

2

Cloves

1

teaspoon

Sesame seeds

1

teaspoon

Ginger paste or freshly grated or crushed

1

Green chili

finely chopped

¼

teaspoon

Turmeric powder

a pinch

Hing (Asafoetida)

Salt to taste

¼

teaspoon

Garam masala

½ to 1

teaspoon

Sugar

½ to 1

teaspoon

Lemon juice

1

tablespoon

Desiccated coconut

or freshly grated coconut

2

tablespoons

Cilantro or coriander leaves

finely chopped
Instructions
If using the corn cobs, then you can directly grate it using box grater. Or remove the kernels and coarsely grind into the grinder or use the food processor.

If using frozen corn kernels then defrost it and coarsely ground them. Take them along with its juice into the pressure cooker.

Add milk. Mix well. Cover the cooker with lid. Put the weight on. Turn the heat on medium.

Let it cook for 2 whistles. Then let the pressure go down by itself. Open the lid. Most of the milk is absorbed and it will be thick. Keep it aside.

Heat the oil in a pan on medium heat.

Once hot add mustard seeds and let them pop.

Then add dried chili, cinnamon stick and cloves. Saute for a minute.

Then add sesame seeds. They will start to pop.

Then add ginger paste and chopped chilies. Saute for 30-40 seconds.

Add turmeric powder and asafetida. Immediately mix it.

Then right away add crushed, boiled corn. Mix it. and continue cooking till it gets thick. Keep stirring constantly.

It will be done in couple of minutes. So don't go away.

Then add salt, sugar and garam masala. Mix well.

Also add lemon juice. Stir well. Taste it and see if you need more sugar or lemon juice. So alway starts with little amount and then add more if needed.

Then turn off the stove.

Lastly add coconut and chopped coriander leaves. Stir well
Nutrition
Calories:
219
kcal
|
Carbohydrates:
15
g
|
Protein:
4.6
g
|
Fat:
16.7
g
|
Saturated Fat:
3.1
g
|
Cholesterol:
8
mg
|
Sodium:
637
mg
|
Potassium:
184
mg
|
Fiber:
1.4
g
|
Sugar:
6.6
g
*Nutrition information is a rough estimate for 1 serving