Glossary of Dry fruits, Nuts and seeds in English, Hindi, Gujarati, Marathi, Tamil, Telugu, Malayalam and Kannada.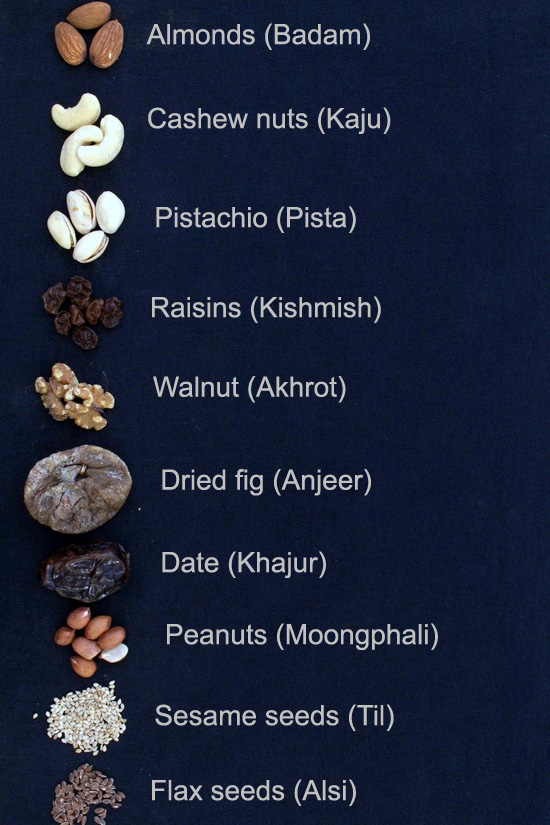 In its purest form, dried fruits are just fresh fruits with the water removed. Dehydration causes some nutrients to become more concentrated. Enjoy dried fruit as a snack or add to cereal. In Indian cuisines, they are used in many desserts like halwa, ladoo and sometimes used in savory dishes.
Nuts and seeds are packed with protein and are a valuable and nutritious ingredient. They are very versatile; used in both savory and sweet dishes. Sometimes nuts are served on their own as a snack.
Below is the handy table that may help you. The first column has English name and following columns have names in Indian regional languages. You will notice the links in the English column. Those links will provide you the list of recipes made using that ingredient.
If I have missed any or if you know any regional language names, please let me know in comments below.
I will try to add other languages in future. Your help is greatly appreciated.
| English | Hindi | Gujarati | Marathi | Tamil | Telugu | Malayalam | Kannada |
| --- | --- | --- | --- | --- | --- | --- | --- |
| Almond | Badam - बादाम | Badam | Badam | Baadam | Badham | Badam kayu | Badami |
| Apricot | Khubani - खुबानी | Jardalu | Jardaloo | Saara Paruppu | Khubani | Mutta Pazham | - |
| Betel nut | Supari - सुपारी | Sopari | - | Paakku | - | Paakkatakka | Adike |
| Cashew nut | Kaju - काजू | Kaju | Kaju | Mundiri paruppu | Jeedi pappu | Kasuandi | Godambi |
| Desiccated coconut | Kopra - कोपरा | Koparu | Suka khobra | Coparai | Kobbari | Copra | Tenginakai ona pudi |
| Dates | Khajur - खजूर | Khajur | Khajur | Perichampazham | Kharjoora pandu | Eenthapazham | Karjura |
| Dried date | Chuhara - चुहारा | Kharek | Kharik | Pericham Pinju | Khajoora | Kaarakka | Uttathi |
| Dried fig | Anjeer - अंजीर | Anjeer | Anjeer | Atti Pazham | Athi Pallu | Atti Pazham | Ona Anjura |
| Flax seed | Alsi - अलसी | Alasi | Javasu | Ali Vidai | Alasi | Cheruchana vithu | Agase Beeja |
| Lotus seed | Phool makhana - मखाना | Makhana | Kamal bee | Thamarai vidhaigal | - | Thaamara vithu | Kamal Beeja |
| Peanut | Moongphali - मूंगफली | Singdana | Shengdana | Verkadalai | Pallilu | kappalandi | Kadale Beeja |
| Poppy seed | Khus-khus - खसखस | Khaskhas | Khaskhas | Khasa khasa | Gasagasaalu | Kasakasa | Gasagase |
| Pistachio | Pista - पिस्ता | Pista | Pista | Pista | Pista pappu | Pista | Pista |
| Raisin | Kishmish - किशमिश | Draksha | Kismis | Trakshai | Kismiss | Kismis | Ona Drakshi |
| Sesame seed | Til - तिल | Tal | Til | Ellu | Nuvvulu | Ellu | Ellu |
| Watermelon seeds | Magaz | - | - | Dharboosani vidhaigal | - | Thanni mthan vithu | - |
| Walnut | Akhrot - अखरोट | Akhrot | Akrod | Akhrot | Aakrot | Akritandi | Akroot |
References: