Glossary of Lentils, Legumes or pulses in English, Hindi, Gujarati, Marathi, Tamil, Telugu and Malayalam.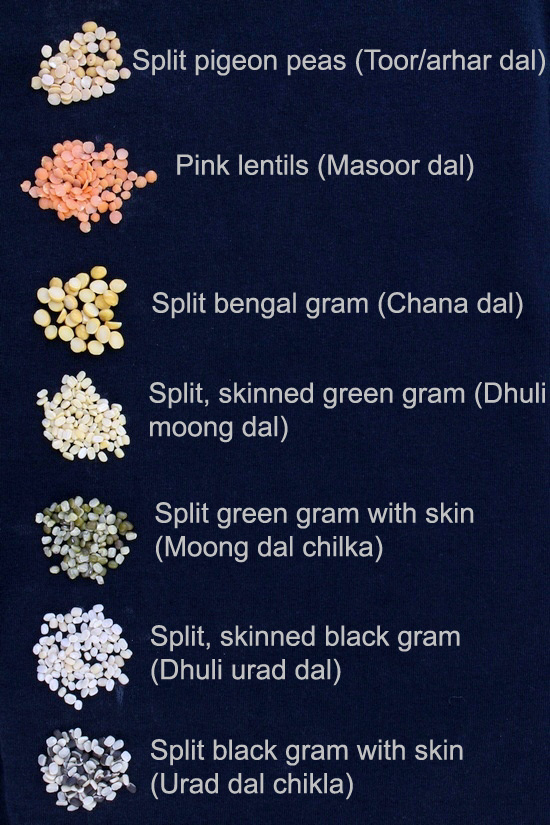 Lentil (and legume) is staple food in every Indian home. For my family, a bowl of dal is a comfort food and we make it every single day. Every household has their own recipe/version of cooking it.
Legumes/beans provide protein, fiber, iron, potassium and magnesium while containing no or little total fat, trans-fat, sodium and cholesterol. These can be a valuable part of any plant-based diet because they are rich in several nutrients and serve as a meat-alternative and contain the full complement of amino acids when paired with grains.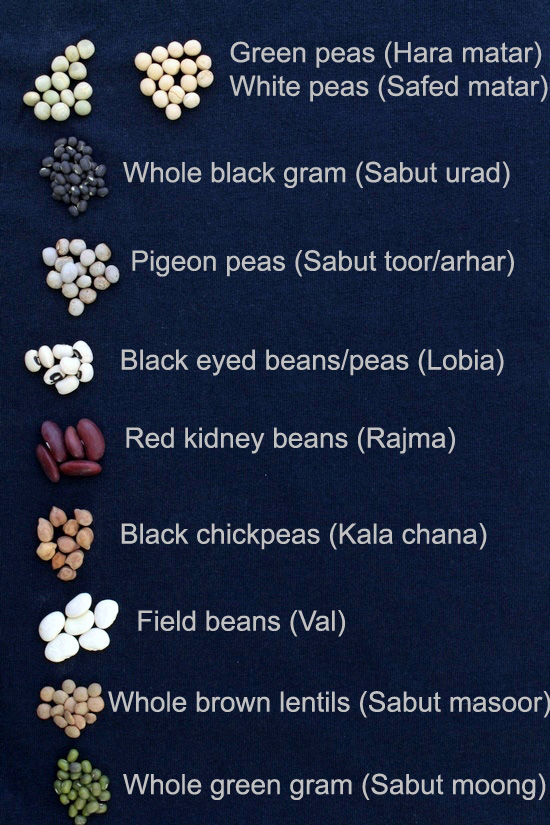 Below is the handy table that may help you. The first column has English name and following columns have names in Indian regional languages. You will notice the links in the English column. Those links will provide you the list of recipes made using that ingredient.
If I have missed any or if you know any regional language names, please let me know in comments below.
I will try to add other languages in future. Your help is greatly appreciated.
| English | Hindi | Gujarati | Marathi | Tamil | Telugu | Malayalam |
| --- | --- | --- | --- | --- | --- | --- |
| Bengal gram, split and skinned | Chana dal | Chana ni dal | Harbaryachi /chanyachi dal | Kadalai paruppu | Samaga Pappu | Kadala parippu |
| Bengal gram, whole (Black chickpeas) | Kala chana | desi chana | Harbhara | Konda kadalai | Sanagalu | Kadala |
| Bengal gram, roasted and split | Dalia | Dalia | Chivda dal | Pottu kadalai | Putnalupappu | Varutha Kadala |
| Black eyed beans/peas | Lobia (Chawli) | Chola | - | Karamani | Bobbarlu | Payar |
| Black gram, split and skinned | Urad dal, dhuli | Adad ni dal | Udid dal | Ulutham paruppu | Minapa pappu | Uzhunnu parippu |
| Black gram, split and with skin | Urad dal chilka | Fotrawali adad ni dal | Udid dal | Ulutham Paruppu | Ulutham Paruppu | Uzhunnu parippu |
| Black gram, whole | Sabut urad | Akha adad | Udid | Muzhu ulundu | Minumulu | Uzhunnu |
| Chickpea, green | Hara cholia | Lila chana | Harbhara | - | - | - |
| Chickpea, white (Garbanzo beans) | Kabuli chana, chole | kabuli chana | Harbhara | Kothukadalai | Mudip Chenagulu | Vella Kadala |
| Cowpeas, red | Lobia | Choli | Chawli | Karamani Payir | Alasandulu | Vanpayar |
| Field beans | Val | Val | - | - | - | - |
| Green gram, split and skinned | Moong dal, dhuli | Mag ni dal | Mugachi dal | Payatham paruppu | Pesarapappu | Cheruparipu |
| Green gram, split and with skin | Moong dal chilka | Fotrawali mag ni dal | Mugachi dal | - | - | - |
| Green gram, whole | Sabut moong | Mag | Mug | Pachai payaru | Pesarlu | Cherupayar |
| Horse gram | Kulith (kulthi) | Kalathi | Kulthacha pith | Kutirai kiram | Ulavalu | Muthira |
| Lentil, pink and split | Masoor dal | Masur ni dal | Masurachi dal | Massor Paruppu | Misur Pappu | Masoor Parippu |
| Lentil, brown and whole | Sabut masoor | Akha masur | - | - | - | - |
| Moth beans | Matki | Math | Matki | Nari payaru | - | - |
| Peas, green | Hara matar | Lila vatana | - | Pattani | Pachi batani | Pattani |
| Peas, black | Kala matar | Kala vatana | Kala vatana | - | - | - |
| Peas, white | Safed matar | Safed vatana | - | Pattani | Pachi batani | Pattani |
| Pigeon peas | Arhar dal (Toor dal) | Tuver ni dal | Turichi dal | Tuvaram paruppu | kandi pappu | Thuvara |
| Red kidney beans | Rajma | Rajma | Rajma | Rajma | Yerra Chikkudu Ginjalu | Rajma |
References: