Find here the collection of 11 BEST Indian mushroom recipes. All of them are vegetarian, Simple and easy to make.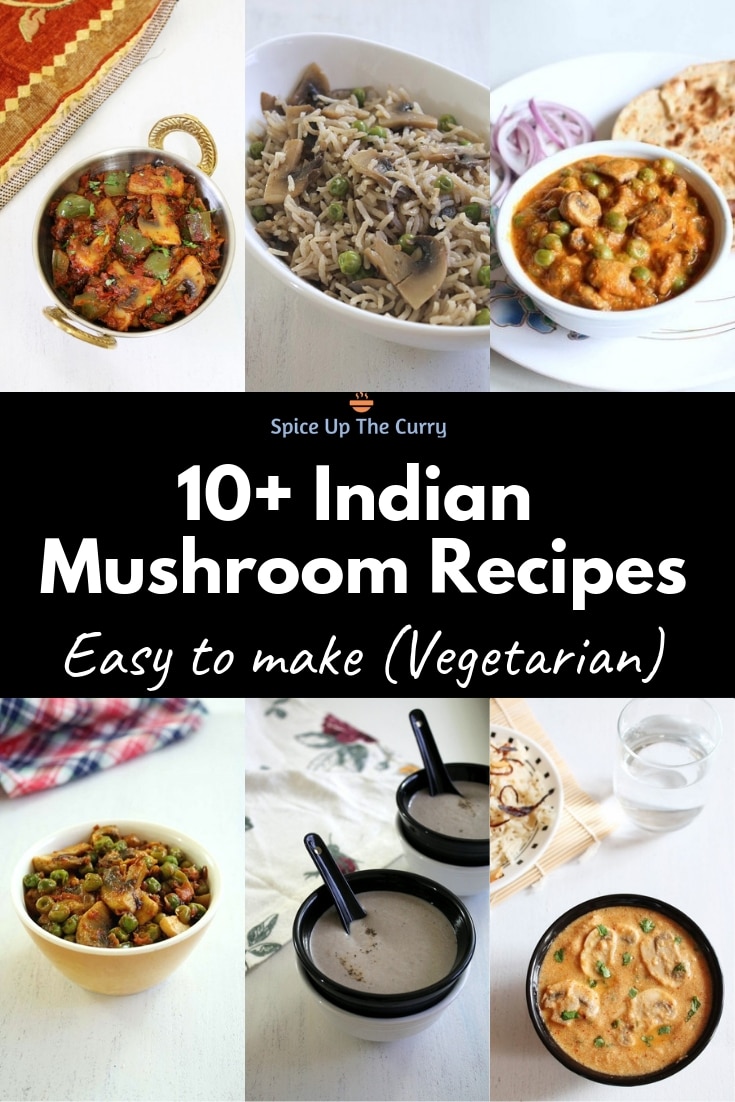 If you are vegetarian like me or want to eat less meat then these vegetarian mushroom recipes are for you. Because of its taste and flavor, the mushroom can be the best meat substitute but not packed with protein. However, they are a rich source of vitamins and minerals.
There are many different types of mushrooms available in the market. But I mostly use white or brown button mushrooms for Indian cooking.

There are two types of people, one who loves mushroom recipes (like me). While another who hates any recipes using mushroom. If you are in the second category, we can't be friends. Oops, just kidding!!!

When it comes to Indian mushroom recipes, you can make anything from snacks to curries, rice, etc. Indo Chinese mushroom recipes are popular and loved by many.

Buying, storing the mushrooms:
Select mushrooms that are intact, firm with a tightly closed cap.
Do not buy those which are wrinkled, slimy and have spots on them
You should avoid buying the soft, broken, damaged ones.
They have a very short shelf life, so store them paper bag in the refrigerator.
But use those within 2 days after buying.
How to clean and cut mushrooms?
Never wash the mushrooms otherwise they will soak up the water.
Instead of washing, wipe them clean using a damp paper towel or kitchen towel.
Cut the little bit of stem part and discard.
The optional step is to remove the hairy part from inside.
Then slice, chop as the recipe calls for.
This collection is divided into the below categories. Click the link for quick access.
– Mushroom gravy recipes & sabzi recipes
– Mushroom rice recipes
– Snacks & starters using mushroom
Mushroom Gravy Recipes & Sabzi Recipes
Mushrooms are used alone or mixed with other vegetables to make Indian curry recipes (gravy) or sabzi recipes (dry stir fry). Below recipes can be served with roti, paratha, naan.

1).Mushroom matar curry : Here sauteed mushrooms and boiled green peas are simmered into the creamy, onion-tomato gravy.

2) Mushroom curry: This is a mild flavored gravy made from onion, yogurt, and few spices. The sliced, boiled mushrooms are added into the gravy.
3) Mushroom masala: This is Punjabi, North Indian style curry where gravy is spicy, creamy made with onion, tomato, cashew nuts.

4) Palak mushroom: The cooked, Indian spiced mushrooms are added into vibrant, green spinach gravy.

5) Kadai mushroom: Semi-dry mushroom recipe where the whole dish is made in kadai (Indian wok). It has button mushrooms, bell pepper and tomatoes.

6) Matar mushroom sabzi: A dry Indian style stir fry made from green peas and marinated mushrooms

Indian Mushroom Recipes: Rice dishes

7) Mushroom pulao: This mild flavored and aromatic pulao is healthy yet delicious. For the variation, I have added a handful of green peas along with mushrooms. Bell peppers, sweet corns, broccoli can be added too. It goes well with a bowl of yogurt or raita. It tastes good with dal fry or dal tadka.

8) Mushroom fried rice: QUICK and EASY to make fried rice recipe using mushrooms and red capsicum. This is Indo Chinese style mushroom fried rice.

Vegetarian Mushroom Recipes: Snack, Starters

9) Mushroom Manchurian: The popular Indo Chinese manchurian recipe is made with mushrooms. Since this is dry manchurian dish, it can be served as a snack or starter.

10) Mushroom soup: Now this is not Indian mushroom recipe, but the cream of mushroom soup has a touch of Indian spice added. This is the perfect starter for winter days. Or have a big bowl and make it a light meal.

11) Veg Hot and sour soup: Again another indo chinese recipe using mushroom. This soup has a mix of vegetables in it and mushroom is one of it.
Check out other recipe collections
Paneer Recipes // Lauki Recipes // Bhindi Recipes (Indian okra recipes) // Mango Recipes