Kanda poha recipe - a popular Maharashtrian snack or breakfast recipe. Enjoy it as such or have it with a garma garam chai.
[adinserter block="2"]
The dish made with poha is very EASY and QUICK to make.
So I make poha recipes very often for breakfast whether it is this kanda pohe or
batata poha,
kanda batata poha or
poha upma (Coming soon).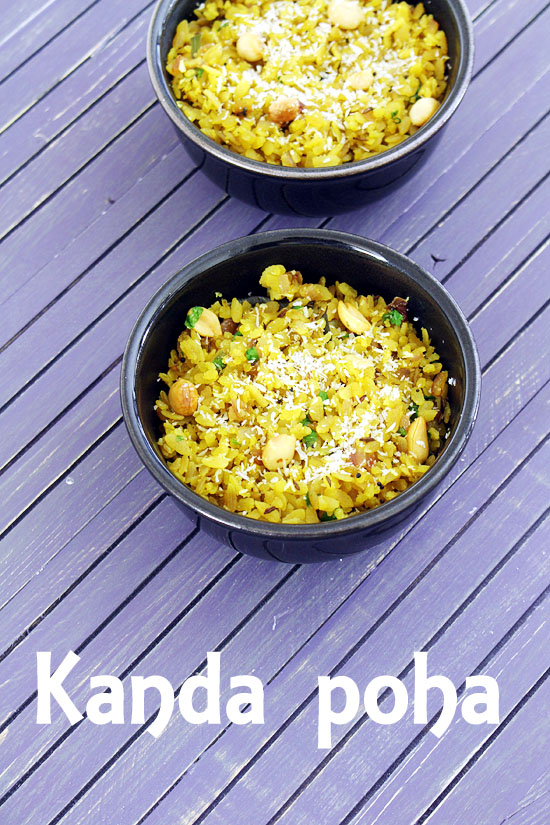 ** Thick poha :
use thick poha variety, thin poha is for crispy poha chivda.
Every brand has different quality of poha. So always try and you will get to know your brand and type of poha. E.g. some poha requires 2 minutes soaking, some requires 5 minutes soaking. While some does not require any soaking at all, for those kind only wash and keep them moist for few minutes and it will be ready.
Here I have used red rice poha.
The best part of this snack is the crunchy peanuts with soft, fluffy poha. I usually end up using more amount of peanuts because I and hubby always fight for peanuts.
---
How to make kanda poha (Step by Step Recipe with Photos):
---
1) Heat the oil in a pan on medium heat. Here I have used olive oil hence yellowish color. Once hot add peanuts.
2) Fry them till they are roasted and golden brown in color. Drain the excess oil and remove them to a plate.


3) In the remaining oil, add mustard seeds and let them pop.
4) Then add cumin seeds and let them sizzle a bit.


5) Now add green chilies and curry leaves. Saute for a minute.
6) Now add chopped onions and mix. Let them cook.


7) While onion is cooking, take the poha.
8) Wash them or rinse them with cold water. Mine does not require any soaking, So I have washed and kept in the strainer. If yours required soaking then do so accordingly. Check by pressing the poha between you finger and thumb, it should mash easily. It is looks dry and hard then you may need to soak it.


9) Sprinkle the salt on the onions to speed up the process.
10) Cook till onions get soft and light brown in color.


11) Now add turmeric powder and sugar.
12) Mix well.


13) Add poha and also add remaining salt.
14) Mix or toss gently. Cover and cook for 1-2 minutes.


15) Now squeeze fresh lemon juice. Mix, now taste it and adjust the salt, sugar, lemon juice as needed.
16) Add chopped coriander leaves and coconut.


17) Also add fried peanuts.
18) Toss well.


Remove it to individual serving bowl, garnish with more coconut and enjoy.
Many vendors, sprinkle sev on top before serving. I do add sometimes but on day to day basis, I skip it.
Serving suggestion: This can be served as a breakfast or snack with a cup or tea or coffee. It can be packed into a snack box for kids or adults. It tastes good even if it gets cold.