Glossary of Spices, Herbs and Misc. names in English, Hindi, Gujarati, Marathi, Tamil, Telugu and Malayalam.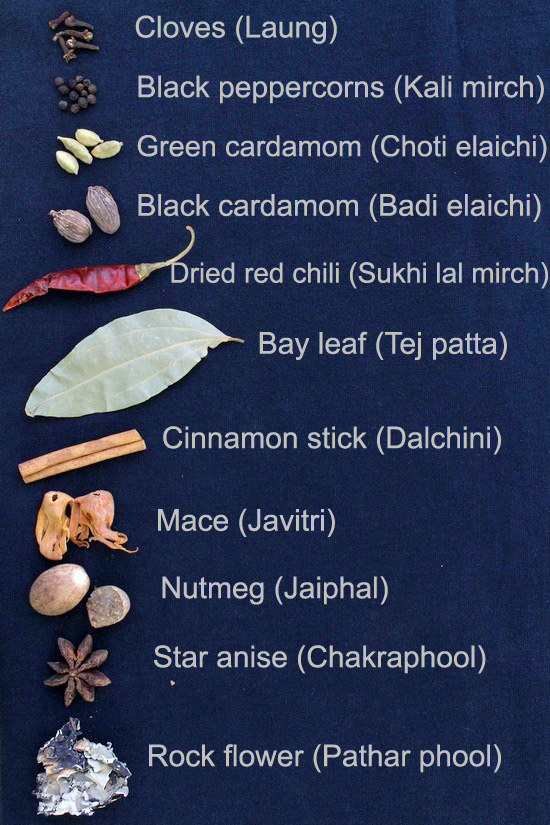 The spices and herbs are a prominent reason why the Indian food has become so favorite among the people across the globe. Complex flavors are built up in dishes by using spices (or herbs) that complements each other. Some are used for their taste, others for their aroma. Some have souring properties; in others the color in important.
The moment at which spices are added to a dish makes a crucial difference. Whether they are used in tempering or they are first dry roasted or not. Spices will impart their flavor to a dish if they are added at the beginning of cooking or if sprinkled on towards the end of cooking.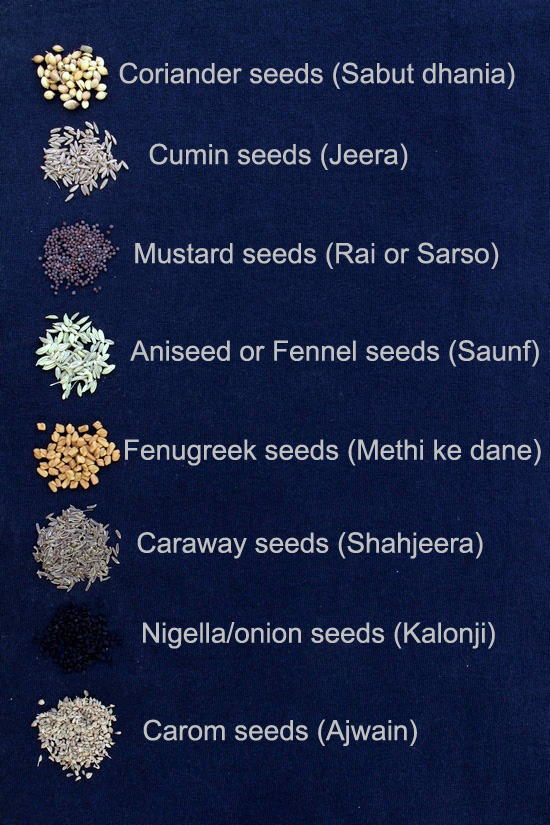 Below is the handy table that may help you. The first column has English name and following columns have names in Indian regional languages.
If I have missed any or if you know any regional language names, please let me know in comments below.
I will try to add other languages in future. Your help is greatly appreciated.
Before we jump on the table, here is the basic spice powders used almost every single day in any Indian kitchen.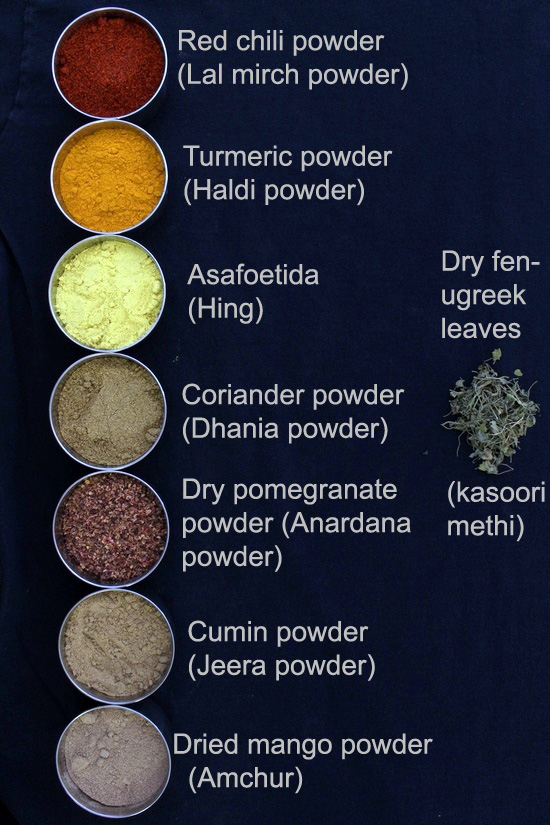 | English | Hindi | Gujarati | Marathi | Tamil | Telugu | Malayalam |
| --- | --- | --- | --- | --- | --- | --- |
| Aniseed (fennel seeds) | Saunf - सौंफ | Variyali | Badishep | Sombu | Sopuginja | Perumjeerakam |
| Asafoetida | Hing - हींग | Hing | Hing | Perungayam | Inguva | Kayam |
| Basil, holy | Tulsi - तुलसी | Tulsi | Tulsi | Thulasi | Thulasi Aakulu | Sivatulasi |
| Bay leaf, Indian | Tej patta - तेज पत्ता | Tamal patra | Tamal patri | Brinji elai | Talisapatri | Karuva ela |
| Black peppercorns | Kali mirch - काली मिर्च | Kala mari | Kali miri | Milagu | Miriyalu | Krumulagu |
| Black salt | Kala namak - कला नमक | Sanchal | - | - | - | Karutha Uppu |
| Butter | Makkhan - मख्खन | Makhan | Loni | Vennai | Venna | Venna |
| Caraway seed | Shahjeera - शाहजीरा or kala jeera | Shahi jeeru | Shajeera | Karun Jeerakam | Seema Sopyginjale | Seemajeerakam |
| Cardamom, black | Badi elaichi - बड़ी इलाइची | Moti elaychi | Veldoda | Periya elakkai | Yalakullu | - |
| Cardamom, green | Choti elaichi - छोटी इलाइची | Elaychi | Veldoda | Elakkai | Yalakullu | Elam |
| Carom seed | Ajwain - अजवाईन | Ajamo | Ova | - | - | - |
| Cinnamon stick | Dalchini - दालचीनी | Taj | Dalchini | Lavanga pattai | Dalchina Chekka | Karuva patta |
| Citric acid | Nimboo sat - नींबू सत | Limbu na phool (Saji na phool) | - | - | Nimma uppu | - |
| Clarified butter | Ghee - घी | Ghee | Tup | Nei | Neyyi | Ney |
| Cloves | Laung - लौंग | Laving | Lavang | Krambu | Lavangalu | Grambu |
| Coriander seed | Sabut dhaniya - साबुत धनिया | Dhana | Dhanay | Kothamalliverai | Dhaniyalu | Kothamalli |
| Coriander leaves | Hara Dhania - हरा धनिया | Kothmir (Dhana) | Kothimbir | Kothamalli | Kothimeera | Kothamalli |
| Cumin seed | Jeera - जीरा | Jiru | Jira | Jeeragam | Jeelakara | Jeerakam |
| Curry leaf | Kari patta - कड़ी पत्ता | Mitho limdo | Kadhipatta chi pane | Karuvepillai | Karivepaku | Kariveppela |
| Dill leaves | Suva bhaji - सुवा भाजी | Sava ni bhaji | Shepu | Sathakuppi Sompa | Soya Koora | Sathakuppa |
| Dried mango powder | Amchur - आमचूर | amchur | Amchur | Mangai podi | Mamidikaya Pudi | Manga Podi |
| Dry Pomegranate seeds | Anardana - अनारदाना | Dadam na dana | Dalimbache Dane | Maadhulai Vidhai | Daanimma Ginjalu | Madhalanaranga |
| Dried red chili | Sukhi lal mirch - सुखी लाल मिर्च | Suku lal marchu | Mirchya | Vatral milagai | Erra Mirapa Kayalu | Vattalmulaku |
| Dried fenugreek leaves | Kasoori methi - कसूरी मेथी | kasoori methi | - | Venthiya Keera | Menthikora | - |
| Edible leaf (Gold or silver) | Varakh (sona or chandi) - वरख | Varakh | Varaq | - | - | - |
| Fenugreek seed | Methi ke dane - मेथी के दाने | Methi na dana | Methi | Vendayam | Menthulu | Uluva |
| Dried ginger powder | Saunth - सौंठ | Sunth | Suntha | Sukku | Sonti | Chukku |
| Honey | Shahad - शहद | Madh | Madh | Then | Theene | Thean |
| Jaggery | Gur - गुड़ | Gol (Gor) | Gul | Vellam | Bellam | Chakkara |
| Mace | Javitri - जावित्री | Javintri | Jaipatri | Jadipattri | Japathri | Jathipathri |
| Mint leaves | Pudina - पुदीना | fudino | Pudina | Pudina | Pudina akku | Pudinaa |
| Milk | Doodh - दूध | Doodh | Dudh | Paal | Palu | Paal |
| Mustard seed | Rai - राय or sarso | Rai | Mohri | Kadugu | Aavaalu | Kaduku |
| Nigella seed (Onion seed) | Kalonji - कलोंजी | - | - | Karuppu yel | Nalla vittanalu | karinjirakam |
| Nutmeg | Jaiphal - जायफल | Jaiphal | Jaiphal | Jhadhikkai | Jajikayi | Jathi |
| Red chili powder | Lal mirch powder - लाल मिर्च पाउडर | Lal marchu | Lal mirchya | Mulakupodi | Erra Mirapa Kayalu | Mulakupodi |
| Rock flower (Stone flower) | Pathar phool - पत्थर फूल | - | Dagad phool | - | - | - |
| Rock salt | Sendha namak - सेंधा नमक | Sendhalu mithu | Saindhav meeth | Kal uppu | Ralu Uppu | - |
| Rose water | Gulab jal - गुलाब जल | Gulab jal | Gulab pani | - | - | - |
| Saffron | Kesar - केसर | Kesar | Keshar | Kungumappu | Kukumpoovu | Kumkumappovu |
| Salt | Namak - नमक | Mithu | Meeth | Uppu | Uppu | Uppu |
| Star anise | Chakraphool - चक्रफूल | - | Badian | Anashuppu | Anaspuvu | Takkolam |
| Sugar | Shakkar - शक्कर or Chini - चीनी | Khand | Saakhar | Chakkarai | Chakara | Panjasaara |
| Tamarind | Imli - इमली | Aambali | Chincha | Puli | Chinthapandu | Vaallan puli |
| Turmeric | Haldi - हल्दी | Haldar | Halad | Manjal | Pasupu | Manjal |
| Vinegar | Sirka - सिरका | Sirko | Shirka | Pulikaadi | - | Chorukka |
References: