Suran chips recipe or Yam chips - Thinly sliced, boiled suran aka elephant foot yam is deep fried till crisp. It is seasoned with salt, pepper and lemon juice.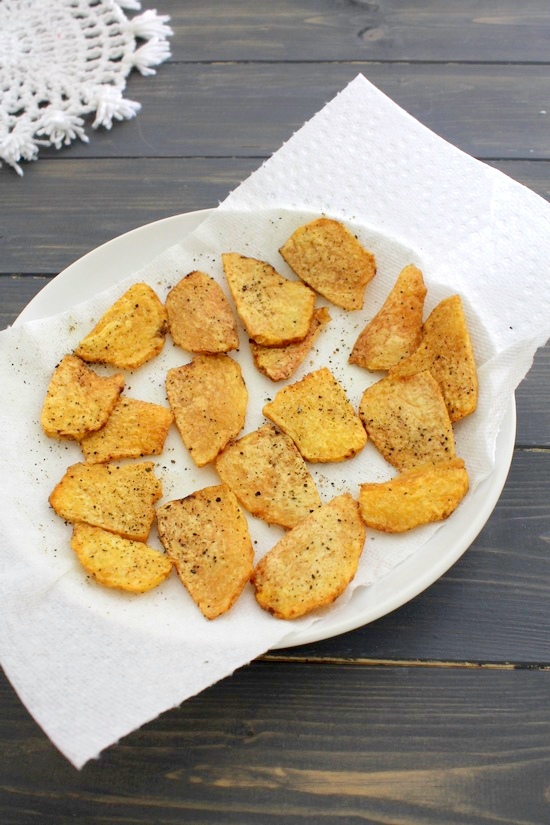 This is one of my childhood favorite snacks that I eat during fasting or vrat. My mom makes it as an evening snack. Using this root vegetable, she also makes suran ki sabji and suran khichdi.
For making suran chips, first suran is peeled and thinly sliced. Then it is cooked for few minutes in the boiling water. After that we will pat dry all the pieces and will deep fry them. As soon as it comes out from the oil, sprinkle salt and pepper and squeeze fresh lemon juice. Eat it and enjoy!!
Addition of lemon juice is must. Suran is the kind of root vegetable that may create an itchy feeling in your throat. But the lemon juice will prevent it. Not only lemon juice, any souring agent e.g. tamarind, yogurt will prevent the itchy feeling. So for the sake of flavor and prevent this itchy feeling, do not skip the lemon juice.
These are slightly crispy and yet soft. If not served hot/warm, it will get more softer and lose its crispness.
Similar chips recipe on the blog that can be eaten during vrat - Arbi chips.
---
How to make suran chips recipe (Step by Step Photos):
---
1) While cutting and peeling the yam, many times it gives the irritation or itchy feeling to your hands, so grease your hands with oil and then continue.
2) Peel the suran and if not using right away then soak into the water.


3) Cut into thin slices. Keep them into the water.
4) The thickness of it should be ⅛ inch thick or similar to the thickness of the quarter coin.


5) Now take 3-4 cups of water in a pan or patila on medium-high heat. Add big pinch of salt and bring it to a boil. Once it starts rolling boil, add sliced suran and cook for 5 minutes.
6) After five minutes, remove it from the boiling water and drain well.


7) Spread the cooked slices on the paper towel or kitchen towel. So it will absorb the excess water.
8) Also using another paper towel, pat dry all pieces. It should be dry completely in order to get the crispy fries.


9) Heat the oil in a pan on medium heat for frying. Once hot add suran chips.
10) Keep moving and turning around to get the even browning.


11) Once fried and becomes crispy, remove it using slotted spatula. Few of them were very thin so they got fried quickly.
12) While it is still hot/warm, sprinkle some salt, pepper and sugar.


13) Freshly squeeze the lemon juice.
14) Repeat the same for rest of fried chips.


Serve them right away. Otherwise it will become soggy.
Serving suggestion: this suran chips can be served as a snack any time of the year. But this is specially consumed during the fasting or vrat or upwas.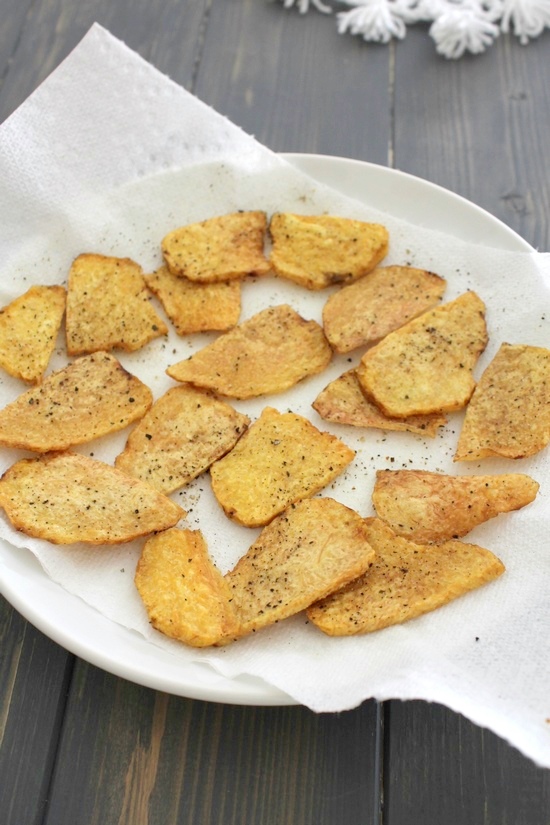 Step by Step Photos Above
Want to make it perfect first time? Don't forget to check out Step-by-Step photo instructions and helpful Tips & Tricks !!
Suran Chips Recipe For Fasting, Vrat
Tried this recipe? Leave a comment and/or give ★ ratings
These seasoned suran chips are easy to make and come out perfect every time. They are great as a delicious snack during Hindu fasting (Navratri vrat or upvas). These have crispy and golden skin on the outside and are perfectly soft, tender inside.
US measuring cups are used (1 cup = 240 ml) See details
Ingredients
150

grams

Suran (Elephant foot yam or Jimikand)

peeled and thinly sliced

3-4

cups

Water

for boiling suran

Rock Salt (Sendha namak)

to taste

Peanut oil

for deep frying

½

teaspoon

Black pepper powder

or to taste

2-3

teaspoons

Lemon juice or Lime juice
Instructions
Cutting and peeling this yam is a little tough job. So use a sharp, sturdy knife. Grease your hands lightly with oil before peeling and slicing to avoid itchiness and irritation. Or use food-grade gloves.

Cut into thin slices. The thickness of the slices is around ⅛ inch (similar to the thickness of a quarter coin). Keep the slices soaked into the water till needed.

Heat around 3-4 cups of water in a pan on medium heat and bring it to a rolling boil. Add a pinch of rock salt.

As soon as it starts boiling add sliced suran and cook for 5 minutes.

Then drain into the colander, spread the slices onto the clean kitchen towel or paper towel to absorb the excess water. Pat dry all the pieces.

Meantime heat the oil in a pan for deep frying. Once hot add boiled suran slices.

Keep turning and moving around as need for even browning. Fry till they are golden browned and crispy.

Remove it using slotted spatula and on to a paper towel lined plate.

Immediately sprinkle salt and pepper. Drizzle lemon or lime juice and serve suran chips right away before it gets soft.
Notes
To avoid itchiness in your throat, lemon juice or lime juice is a must. Squeeze the fresh lemon juice right before serving.
For crispy texture, boiled yam slices should be pat dried completely using a kitchen towel or paper towel.
Rock salt (sendha namak) is used to make this for fast (vrat). For normal days, regular salt can be used.
Peanut oil is used to fry this for fast (vrat) since other oils are not allowed during those days. For normal days, you can use any frying oil like vegetable oil, corn oil, canola oil, safflower oil, etc.
Season the chips with salt & pepper as soon as it comes out from the hot oil. So seasoning sticks to the chips.
To enjoy the crisp texture, chips must be served right away hot/warm. Otherwise, they get soft.
Nutrition
Calories:
339
kcal
|
Carbohydrates:
22
g
|
Protein:
1
g
|
Fat:
28
g
|
Saturated Fat:
2
g
|
Sodium:
176
mg
|
Potassium:
612
mg
|
Fiber:
3
g
|
Sugar:
1
g
|
Vitamin A:
104
IU
|
Vitamin C:
14
mg
|
Calcium:
23
mg
|
Iron:
1
mg
*Nutrition information is a rough estimate for 1 serving