Banana Chips Recipe (Banana Wafers Recipe) - Quick and easy homemade snack recipe made from raw banana or plantain. This is perfect munch on anytime snack or tea time snack. Many times it is called plantain chips.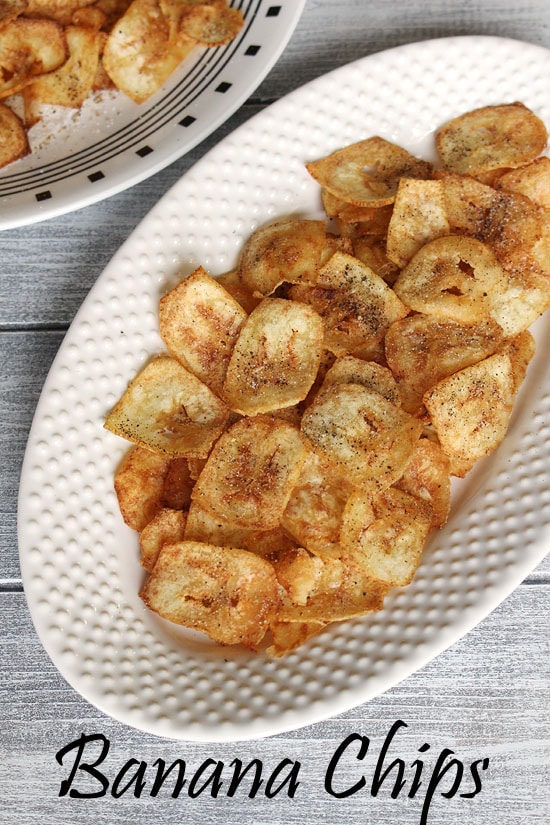 For the flavoring, I have used salt and pepper here. Because this is our most favorite. Instead you can use red chili powder, chaat masala or any other dried herbs of your choice.
Many people including my family do eat raw banana during Hindu fasting or vrat. My mom makes banana chips or potato chips once during navratri vrat or any other upavas for sure.
These banana wafers are thin and very crispy. Addition of salty water into the hot oil make them more crispy. There is a science behind it. Salt has ability to absorb the moisture/water from the surroundings, in this case from banana slices. Since the moisture is gone, it becomes real crispy.
Since we like crispy (kurkuri) chips, I use the mandoline slicer that gives me thin slices. I got this one from India (local shop). Thinner the slices, more crispier chips will be.
Check out other homemade snacks recipes
Chakli // Namak paare // Crispy masala puri // Besan sev
---
How to make Banana Chips or Banana Wafers (Step by Step Photos):
---
1) First take salt in a small bowl.
2) Add water and stir to dissolve the salt. Keep it aside. Also heat the oil on medium heat in kadai for frying.


3) Take raw bananas or plantains.
4) Remove the stem and peel just one banana. Do not peel all of them at once otherwise they will start to get blacken. So peel as you go.


5) When the oil is hot using mandoline slicer, slice half of the banana in the plate. And add into the oil when oil is ready for frying.I slice them directly into the oil as shown below. NOTE: if you slice into plate and then add into oil then keep in mind that slice only required amount for one batch frying. When that batch is about to ready slice next batch and add into oil. If sliced ahead of time, it starts discoloration.
6) You can see the slices should be thin in order to get crispy chips.


7) When the oil is hot enough for frying I directly slice them into the oil. While slicing, you can lower the heat, so the gas heat does not hurt your hands. Once done turn the heat back to the medium. Be careful if doing this for the first time. If not comfortable follow above method.
8) Do not overcrowd the pan. Chips should not overlap too much otherwise they will stick together and remain soft.


9) Now take a teaspoon of salty water and add into the oil.
10) As soon as you add, you it bubble up and also creates the bubbly sound. So DO NOT add too much water otherwise oil may splutter.


11) Keep turning and moving as it starts to get light golden brown color from one side.
12) Once it gets crispy and very light golden color on both sides, remove them from the oil using slotted spatula.


13) And keep them on paper towel lined plate.
14) While it is still hot, sprinkle salt and pepper on it so it stick to the chips. If sprinkled later when it is cooled, it will not stick to it.


Repeat the frying process for rest of the bananas,
NOTES:
If making this for fast (vrat or upvas), then use rock salt instead of regular sugar.
For the variation, you can sprinkle red chili powder, chaat masala, amchur powder instead of black pepper powder.
It stays good for 2-3 weeks in airtight container.
If the weather is humid in your area or it may get soft, you can spread them on microwave safe plate and microwave it for 40-50 seconds. As it cools it will become crispy again.
Serving suggestion: Enjoy this banana wafers as a snack.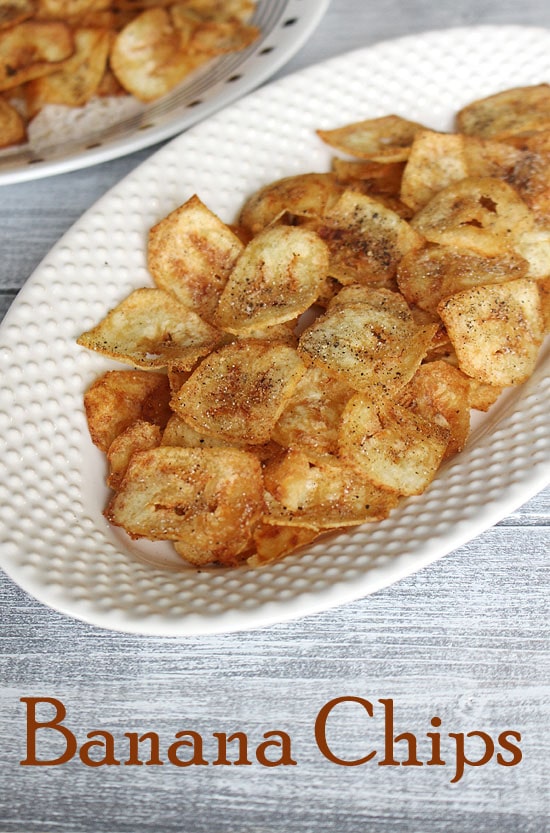 Step by Step Photos Above
Want to make it perfect first time? Don't forget to check out Step-by-Step photo instructions and helpful Tips & Tricks !!
Banana Chips (Wafers)
Tried this recipe? Leave a comment and/or give ★ ratings
These are Indian style raw banana wafers. Thinly sliced plantains are deep fried and seasoned with salt and pepper.
US measuring cups are used (1 cup = 240 ml) See details
Ingredients
3

Raw banana

(Medium sized)

1

teaspoon

Salt

+ more to sprinkle on top

2

tablespoons

Water

2

teaspoons

Black pepper powder

to sprinkle on top

Oil

for deep frying
Instructions
Dissolve the salt with water in a small bowl.

Heat the oil on medium heat in a kadai for frying.

While the oil is getting hot, take one raw banana and peel it. Do not peel all at once, peel them as you go.
Making banana chips recipe:
Using mandoline slicer, slice half of the banana or just enough for one batch frying in a plate.

Add one by one into the hot oil, add a teaspoon of salty water and fry till they are very light golden color and crispy.

Then remove it to a plate and sprinkle salt, pepper while they are still hot.

When the first batch is about to ready, slice next batch and keep it ready. So as soon as you remove the first batch from oil, add this sliced second batch.

Repeat the same for rest.
Method 2:
Once the oil is hot enough for frying, Slice the banana directly into the oil. If you are first timer then be careful doing this.

While slicing you can lower the heat so your hands do not get hurt.

Now add a teaspoon of salty water.

Do turn them or move them for even frying. Once ready remove it to a paper towel lined plate and sprinkle salt, pepper.

Once cooled completely, they are ready to serve.
Nutrition
Calories:
242
kcal
|
Carbohydrates:
20.9
g
|
Protein:
1.1
g
|
Fat:
18.5
g
|
Saturated Fat:
2.5
g
|
Cholesterol:
0
mg
|
Sodium:
583
mg
|
Potassium:
330
mg
|
Fiber:
2.6
g
|
Sugar:
10.8
g
|
Calcium:
10
mg
|
Iron:
0.5
mg
*Nutrition information is a rough estimate for 1 serving