Fafda Recipe – a popular Gujarati snack or breakfast item made from besan. A popular combination is fafda jalebi that you will find in any farsan shop in Gujarat. People prefers to eat them warm (garama garam) as a breakfast.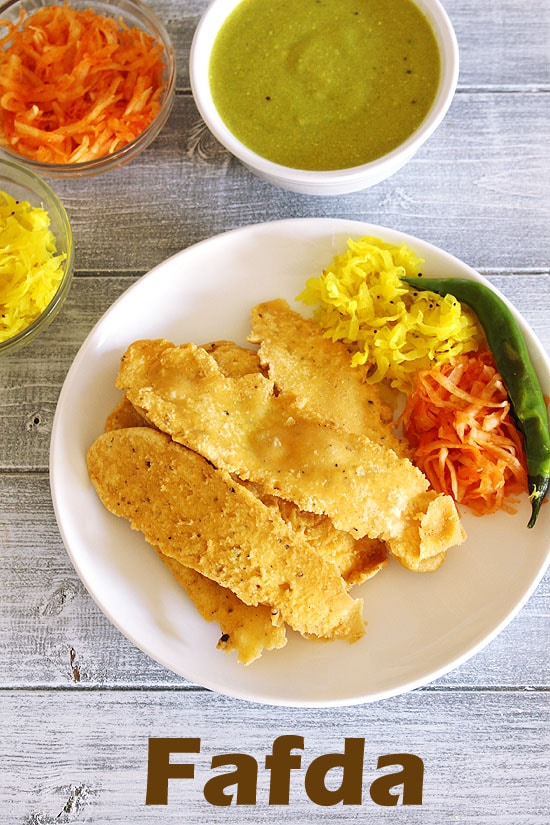 On dussehra festival, you will see a long lines at farsan shop to buy garama garam fafda and jalebi.
These are just crisp yet soft and melt in your mouth as your eat. They are not crispy like other snack (chakli, namak pare, sev, tikha gathiya).
The store bought ones are really really long in size (around 1 foot to 1.5 feet). But since we are making it at home and we do not have practice, skill and that big kadai for frying, the size will be small (around 6 inch). But the taste will be exact same.
The procedure looks little intimidating, but trust me it is very easy to make. While shaping and removing from the board, first couple may not get right. But third one will sure get right. Trust me and try it.
There are many varieties of gathiya and this is one of them hence the name fafda gathiya.
To enjoy the best taste, it should be eaten with papaya sambharo, kadhi chutney (aka fafda chutney) and fried green chili.
In Gujarati cuisine, besan is widely used. Check out more snacks made with besan
Khandvi // Khaman // Methi muthia // Methi gota
---
How to make fafda recipe (Step by Step Photos):
---
1) Take besan in a bowl. Add salt, crushed peppercorns, ajwain, baking soda and hing in that. NOTE: Crush the peppercorns coarsely, not powdered. Crush the ajwain between your palm before adding to release its flavor more.
2) Mix well.


3) Now add little water at a time
4) and knead into a medium soft dough (Not too soft, not too tight). Because of the besan, this dough will be really sticky, so at this point wash your hands and proceed.


5) Now drizzle oil on the dough.
6) Also apply oil on you palm and start kneading the dough to make it smooth. Knead it for good 7-8 minutes and you will see the difference. Now cover and let it rest for 15-20 minutes.


7) After the resting time, divide the dough into 15-17 equal portions. Make them into smooth oval shaped balls.
8) Now Heat the oil in a pan for deep frying on medium heat. While that is getting hot, take one dough ball, put on the board. NOTE: You need to use the wooden board. Since my rolling board is wooden, I used that. You can use wooden chopping board.


9) Now press the back end slightly make it flat.
10) Using the end of your palm stretch the dough in forward direction. It should be around 6 inch long. Don't give too much pressure otherwise it will stick your palm and becomes very thin. We are looking for medium thick strips.


11) Now using the sharp long knife we will remove it from the board. Start with the end that is near to you.
12) Go straight without stopping and do not damage the shape. You may need to hold the board with other end so it does not wobble.


13) Now you can lift it very easily. Similarly prepared 2-3 more.
14) Once the oil is hot, add them into the hot oil and fry. Meantime shape few more fafda.


15) As it gets crisp and cooked from one side, you need to flip them and fry other side. NOTE: not like other fried food, we are not looking for golden brown color. It has to just crisp. So keep an eye on them, do not let them get even a little golden brown color.
16) Once ready, remove it using slotted spatula and keep on paper towel lined plate. Repeat same process till done.


For the best taste, it should be served warm. It should be eaten the day it is made. Though it won't get spoiled the next day, but It tastes best the day it is made.
Serving suggestion: This is popular dussehra snack that is paired with jalebi. Serve fafda with fried green chili, papaya sambharo and fafda chutney as a snack or breakfast. Other than these sides, it can be eaten with a cup of tea.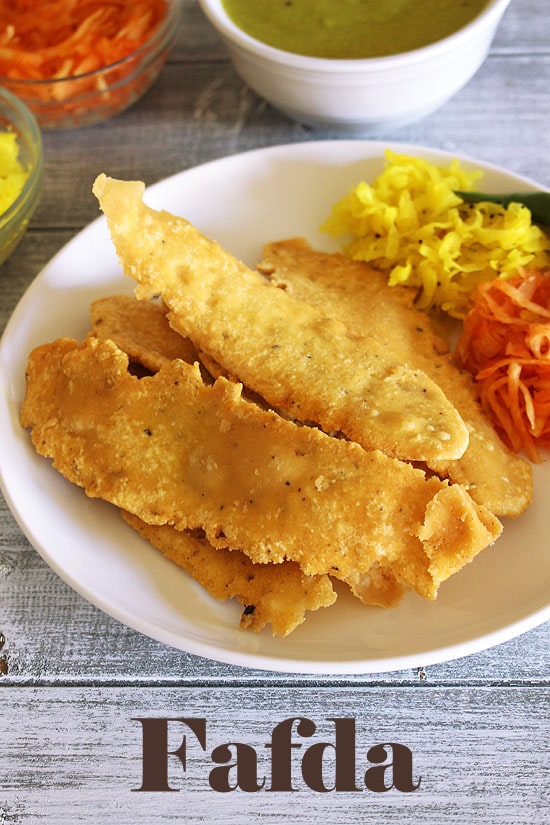 Fafda Recipe (How to make Gujarati Fafda Gathiya Recipe)
US measuring cups are used (1 cup = 240 ml)
Servings
4
servings (15-17 small fafdas)
Ingredients
1

cup

Besan (gram flour)

¼

teaspoon

Black peppercorns

Coarsely crushed

Salt

to taste

¼

teaspoon

Ajwain (Carom seeds)

crush between your palm and then add

¼

teaspoon

Baking soda

¼

teaspoon

Hing (Asafoetida)

¼

cup

Water

1

tablespoon

Oil

+ more for deep frying
Instructions
Making the dough:
Mix all dry ingredients (besan, salt, crushed pepper, ajwain, baking soda and hing) in a bowl.

Make medium soft dough by adding little water at a time.

Then drizzle oil on the dough, grease your palm and knead the dough for good 7-8 minutes to make it smooth.

Cover it and let it rest for 15-20 minutes.
Making Fafda Recipe:
After the resting time, divide the dough into 17 equal portions, make oval shaped balls.

Heat the oil on medium heat for deep frying.

Work with one ball at a time, put it on a wooden board. Press the one end slightly and then using your palm stretch the dough in forward direction to make it about 6 inch long.

Now take a sharp long knife, run it under the rolled fafda to remove it from the board.

And drop into hot oil, similarly roll and add into the oil 3-4 at a time.

Fry both sides till they get crisp and cooked. No need to look for golden brown color.

Once fried remove it to a paper towel lined plate and repeat the same for rest.

Serve them warm or at room temperature.
Nutrition
Serving:
5
fafda
|
Calories:
330
kcal
|
Carbohydrates:
13.4
g
|
Protein:
5.2
g
|
Fat:
28.8
g
|
Saturated Fat:
3.7
g
|
Cholesterol:
0
mg
|
Sodium:
385
mg
|
Potassium:
196
mg
|
Fiber:
2.5
g
|
Sugar:
2.5
g
|
Calcium:
1
%
|
Iron:
6
%
*Nutrition information is a rough estimate for 1 serving
Tried this recipe?
Please comment below and give ★ ratings