Here I am sharing the collection of Lauki Recipes. It is called bottle gourd or opo squash, while Dudhi in Gujarati, Dudhi bhopala in Marathi, Ghiya in Hindi, Sorakaya in Telugu, Lau in Bengali and many other names in regional languages.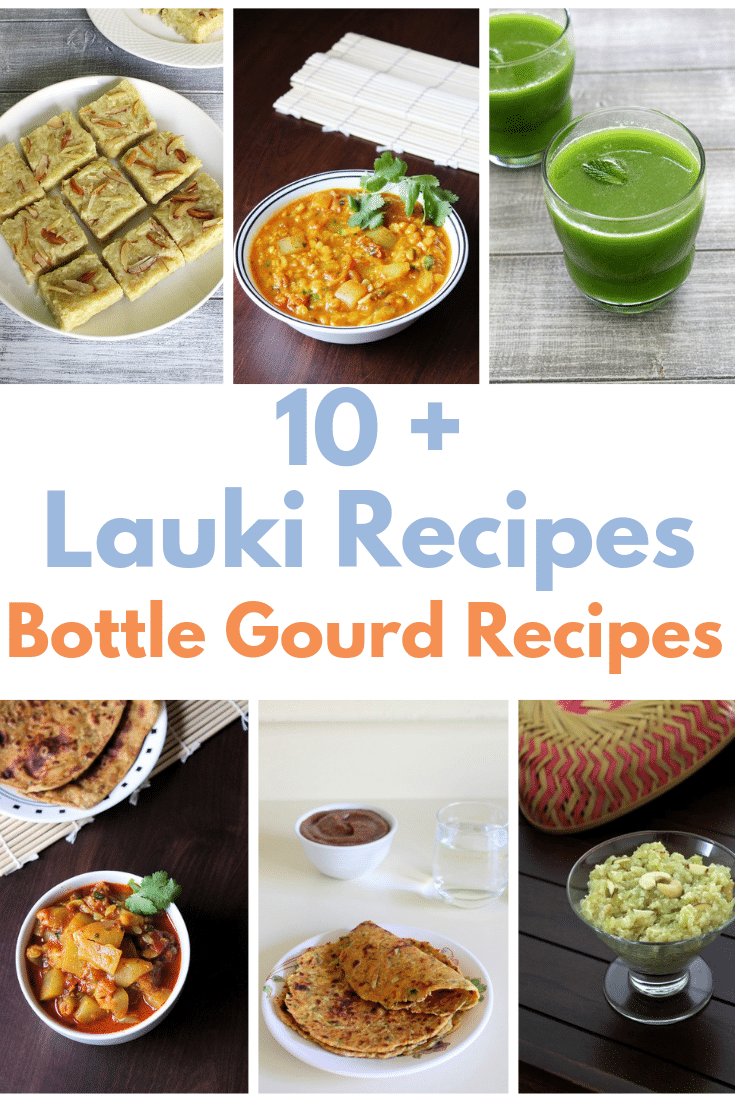 Lauki is widely available during the summer season and used in many Indian recipes. We can make savories and sweets recipes both using this vegetable.
While buying bottle gourd, choose the one which has smooth, pale green color and the one without any cuts, leaking juice or blemishes. When you press, it should feel firm, not soft. Also choose the one which is thinner (not fatty ones which has more seeds in it).
This vegetable contains 92% water and rest is easily digestible fibers. So it is very light on stomach and easy to digest. That's the reason, if someone is sick we serve lauki ki sabzi with gujarati khichdi to that person.
In India, many families do consume it during the vrat or fasting days. We do not eat during fasting, but many do. It varies family to family tradition.
I have seen many people do not like lauki recipes. For those, I would hide it in the recipes. Meaning use this vegetable in grated form like in kofta, muthia, thepla, paratha. The person will not recognize it and will eat it happily.
Other than making stand alone dish, you can mix with other vegetables like making mixed vegetable soup.
As I add new bottle gourd recipe, I will keep updating this list.
Check out other recipe collections
22 Paratha Recipes
15 Bhindi Recipes
15 Sweet Corn Recipes
32 Mango Recipes

11 BEST Lauki Recipes
1). Lauki kheer - yes we can make a dessert using vegetable. This is very easy to make and made with three simple ingredients (milk, lauki and sugar). To add some flavor, cardamom powder and fried nuts are added.
2). Lauki halwa - One more dessert !! Ingredients used to make halwa are same as kheer. But the proportion is different and the cooking method is different. The halwais add green food color in halwa, but I would avoid adding such synthetic food colors in my cooking.
3). Lauki burfi - again another dessert where we take halwa to the one step further and make into burfi or fudge. Khoya is added so it can hold its shape. This is perfect for festivals like Diwali, Rakshabandhan etc.
4). Lauki chana dal - It is North Indian style curry dish. This is no onion no garlic recipe. If you have lauki hater in your family, make this for him/her. I am sure he/she will fall in love with this. If you don't trust me, check out the comment section of this recipe.
5). Dudhi muthia - The perfect, healthy snack recipe that is steamed, unlike fried snacks. This popular Gujarati snack can be eaten with tea/coffee. Or my favorite is eating with mango chunda or pickle.
6). Dudhi thepla - another Gujarati breakfast or snack !! It is almost similar to paratha, but thinner in size and slight variation in taste. Try it, I am sure you will like it.
7). Lauki sabzi - Simple, easy, healthy sabzi made with very minimal spices. Since bottle gourd vegetable gets cooked very fast, so it can be ready very quickly. Best served with phulka roti and Best that you can pack in the lunch box.
8). Lauki tamatar ki sabzi - Another sabzi verity, but it has slight gravy made from tomatoes. And few basic spice powders are used to make it flavorful and tasty.
9). Lauki soup - Another healthy way to consume it. Very light and easy to digest. You can have it as a light meal with piece of toasted bread or baguette. If you enjoy soup recipes, do check out the collection of soup recipes.
10). Lauki kofta - Another North Indian dish for lauki haters. Lauki disguised in kofta form that person even does not realize it is present there. These flavorful koftas are simmered in delicious onion, tomato, yogurt gravy. Recently I have been making lauki kofta curry in Instant pot (non-fried version)
11). Lauki juice - Healthy way to consume this vegetable. This juice also has mint, coriander leaves and lemon juice in it to have some palatable flavors. One thing to keep in mind, always taste a small piece of bottle gourd and if it is bitter then do not use.