Strawberry banana milkshake recipe - easy milkshake recipe without ice cream.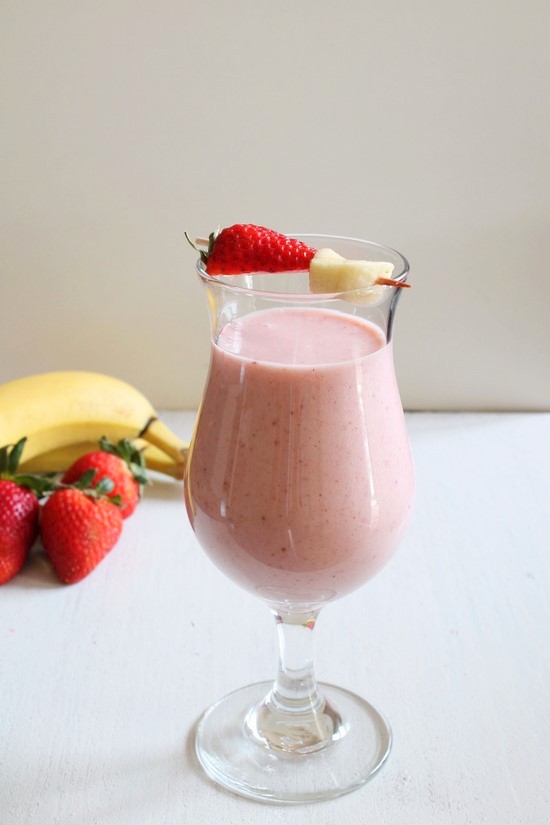 During summer, I like to enjoy the milkshake or smoothies as a snack or breakfast once in a while but not everyday. So here I am with one of my favorite milkshakes - Strawberry Banana Milkshake. As I am not sweet breakfast person, I always prefer savory over sweet. But sometimes, yes I do drink it specially if it has banana in it.
Because I do not like to eat banana as such. I like it in baked good or in smoothies or in milkshakes but eating a whole banana in one sitting a big no no for me. As you know that bananas are rich in energy. so it is good to include a banana in breakfast. This is also perfect for growing kids.
This strawberry banana milkshake is thick, creamy and delicious. and of course very easy to make.
Strawberries add some more value to it as they are good in vitamin C. Addition of sweetener is optional or to taste, it depends on the sweetness of fruit. Always use ripe fruits so you don't need to add any extra sugar or honey.
Other Milkshake Recipes
Strawberry Milkshake // Mango milkshake // Chikoo milkshake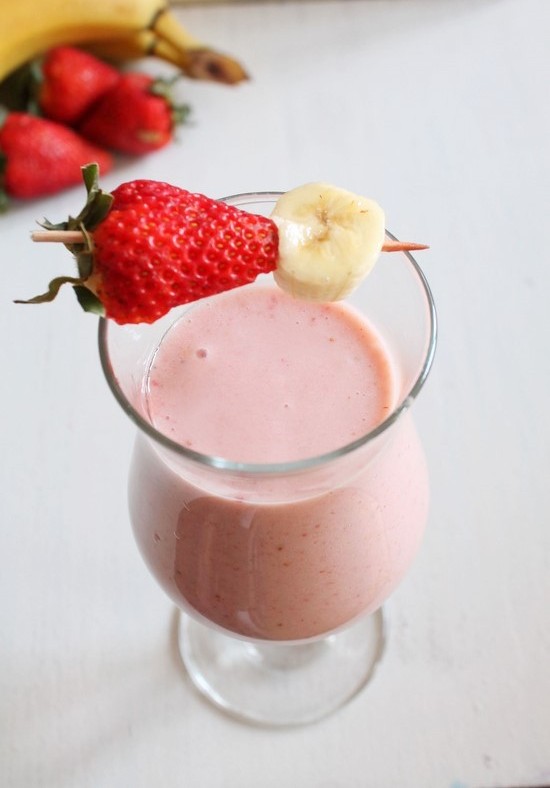 How to make milkshake without ice cream?
In this strawberry Banana milkshake I have not used any ice cream. So to make milkshake creamy without using ice cream, you need to whip the banana and milk first in blender or processor till it is smooth, thick and creamy. For the best result I would recommend using frozen banana. Just peel it, cut into pieces, put in ziplock bag and freeze it. Use as needed.
Use non-dairy milk
Speaking of milk, always use non-dairy milk with banana. Because as per Ayurveda, banana and milk is the most difficult combination. This combo makes your stomach heavy and lazy. It creates indigestion in your body and becomes toxic, resulting in food positioning. So for that reason, I always go for almond milk with banana.
Serving suggestion: any milkshake without ice cream is healthy, so you can serve it as a breakfast. this is perfect for kids.
Strawberry Banana Milkshake recipe:
Step by Step Photos Above
Want to make it perfect first time? Don't forget to check out Step-by-Step photo instructions and helpful Tips & Tricks !!
Strawberry Banana Milkshake Recipe Without Ice Cream
Tried this recipe? Leave a comment and/or give ★ ratings
Strawberry banana milkshake recipe is thick and creamy even without ice cream.
US measuring cups are used (1 cup = 240 ml) See details
Ingredients
1 medium

banana

½

cup

Almond milk

or soy milk or cashew milk (do not use dairy milk)

5-6 large

Strawberries

Honey or sugar

to taste
Instructions
First whip the banana and milk in blender or processor about 2-3 minutes. So it becomes smooth, creamy.

Then add strawberries and honey and blend it, so there will be no chunk of berries.

Remove it to a glass and enjoy.
Notes
*Nutrition information is a rough estimate for 1 serving
Nutrition
Calories:
404
kcal
|
Carbohydrates:
39.1
g
|
Protein:
4.5
g
|
Fat:
29.2
g
|
Saturated Fat:
25.5
g
|
Cholesterol:
0
mg
|
Sodium:
20
mg
|
Potassium:
848
mg
|
Fiber:
7.2
g
|
Sugar:
22
g
|
Vitamin A:
100
IU
|
Vitamin C:
76.7
mg
|
Calcium:
40
mg
|
Iron:
2.5
mg
*Nutrition information is a rough estimate for 1 serving