Here I am sharing the 15 easy to make Indian Bhindi recipes or Okra recipes.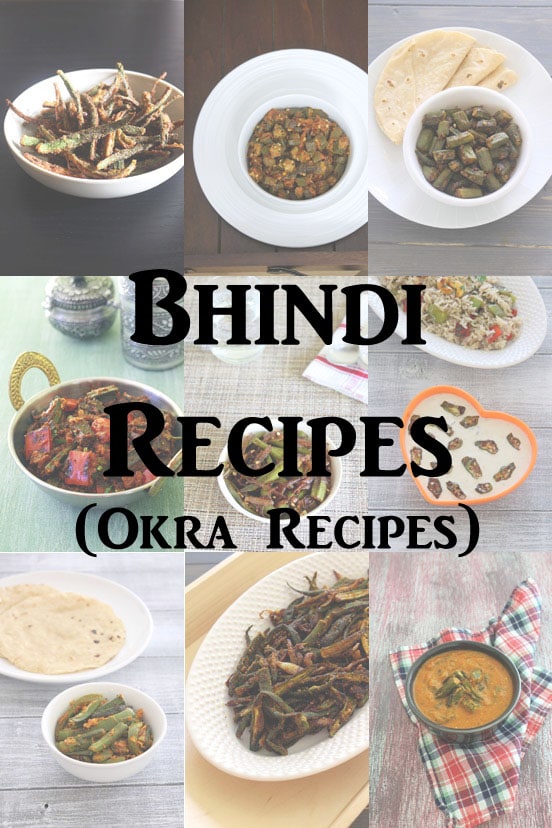 Bhindi is also known as Okra or Ladyfinger. In India, this is a common vegetable. You will find in any vegetable market and most of the household make the different recipes using bhindi.
My family is a huge fan of any kind of bhindi recipes.
Using okra
Some sabzi can be eaten as a side dish with rice, dal.
Even we can make kadhi using bhindi.
We can add to the sambar along with other vegetables.
We can deep fry the bhindi and eat as a starter or snack.
How to buy okra?
They should be long, fresh looking and dark green in color.
Don't buy those who have blemishes, cut or leaked internal juices.
Try to buy those who have fewer seeds in it.
How to clean and chop bhindi?
Wash them under running cold water and wipe them dry using a kitchen towel or paper towel. If you have time then let them air dry on counter-top for about 1-2 hours instead of wiping dry.
Before chopping, you need to cut and discard the head and tail part.
Then start chopping or slicing as required in the recipe.
After cutting some bhindi (around 10-15) the knife will get sticky and slimy because of okra's internal slimy properties. So always wipe clean the knife using a paper towel. So keep cutting and cleaning the knife as you feel sticky.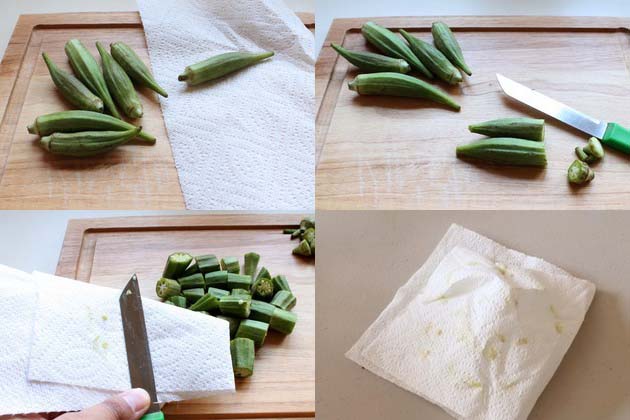 How to avoid the sliminess of bhindi?
Okra should be completely dry before you start chopping.
Cleaning the knife during chopping prevents the stickiness while cooking.
Addition of acidic ingredient (e.g. lemon juice, tomato, tamarind, amchur powder) will cut down the slim.
Never add water while cooking bhindi. Even if little water is gone into the pan while cooking, it becomes a slimy mess. For making gravy dishes, always cook the okra alone separately and then add into the gravy.
Do not stir too much while cooking, This helps to reduce the sliminess.
Just like other vegetables, Bhindi also has many health benefits. So always include any bhindi recipes in your diet.
Bhindi Recipes (Indian Okra Recipes)
1).Bhindi Masala - dry sabzi preparation with a lot of different dry spice powders.
2) Bhindi Masala Gravy - Cooked okra are added into delicious onion tomato gravy. Goes well with paratha or roti.
3) Bhindi Bhaji - Maharashtrian style of making bhindi sabzi.
4) Aloo Bhindi- North Indian dish where potatoes and okra are sauteed in a medium spicy onion, tomato masala
5) Bharwan Bhindi (Stuffed okra)- Gujarati style stuffing masala is made from coriander leaves, dry coconut, peanuts, and sesame seeds
6) Bharli Bhendi - Maharashtrian style of making bharwan bhindi. It has a unique flavor from goda masala.
7) Bhindi do pyaza - Simple, quick sabzi with okra and lots of onions.
8) Kurkuri Bhindi - thinly sliced okra are marinated with besan and deep fried till crisp.
9) Bhindi Kadhi - Cooked bhindi is added into the flavorful yogurt gravy
10) Bhindi capsicum sabzi - A delicious dry preparation flavored with basic spices and freshly grated coconut.
11) Achari bhindi - Okra is stir-fried in mustard oil and spices similar to used for pickle masala.
12) Bhindi fry (Crispy bhindi sabzi) - Thinly sliced okra are mixed with besan and shallow fried with onions and spices
13) Bhindi Raita - Little different than usual raita. Here crispy okra is mixed with spiced, chilled yogurt.
14) Kadai Bhindi - Sauteed okra and capsicum are mixed with spicy kadai masala.
15) Dahi Bhindi - stir fried bhindi are mixed in slightly tangy, creamy yogurt based gravy.