रेसिपी को हिन्दी में पढ़े
Bhindi bhaji recipe – It is dry vegetables dish aka sabzi made from okra and tomatoes. This is Maharashtrian style bhindi sabzi.
This bhindi bhaji is very easy and quick to make. The perfect recipe for busy weekdays. Make this bhindi sabzi with roti or phulka. Have some kachumber or salad on side. Healthy, homey dinner will be ready in jiffy.
In marathi language, it is called Bhendi chi bhaji. For non-Indian reader, it is dry preparation of okra.
Bhindi is one of the favorite vegetables in my home. Dear hubby loves it so much. So I make this very often. Sometimes I pack him in the lunch box with roti.
There is another Maharashtrian style bhindi recipe on the blog – bharli bhendi means stuffed okra.
Sometimes I make punjabi style aloo bhindi masala which has typical punjabi onion-tomato masala. While this bhindi sabzi has only tomatoes in it with some spices. As you know that okra is the slimy vegetable. The sourness from the tomato will help to reduce the sliminess as it cooks.
Notes:
When you buy okra keep in mind that they should be long, fresh looking and dark green in color. Don't buy those who have blemishes, cut or leaked internal juice. Try to buy those who have less seeds in it.
How to avoid the sliminess – 1) Okra should be dry before you chop them. 2) keep cleaning the knife as soon as it gets sticky. 3) While cooking okra stir only 2 or 3 times only. If you stir too many times, it gets more slimy.
Okra is the vegetable that needs little more oil compared to other vegetables. So be generous and add enough oil.
For the variation, you can add 2 teaspoon of garlic paste or finely chopped 2 cloves of garlic. It gives nice garlicky flavor to the bhindi. Add garlic along with ginger and chili.
Check out other sabzi style Bhindi recipes
Bhindi capsicum // Aloo bhindi // Bhindi fry // Bhindi masala
---
How to make Bhindi bhaji recipe (Step by Step Photos):
---
1) First wash the okra well. If you have time then let it drain and dry out completely. Or you are in rush, then wipe it clean and dry with kitchen or paper towel. It is important to make the okra dry completely to avoid stickiness afterwards.
2) Cut the both ends (head and tail part). Discard them.
3) Start chopping the okra into half inch pieces. After you chop 10-15 okra, you will notice the sticky and gooey stuff on the knife. So wipe the knife clean with paper towel.
4) So every 10-15 okra or whenever the knife gets sticky, you must clean the knife. It helps to avoid more stickiness. You can see dirty paper towel after chopping only half of the bhindi. Also chop green chili, grate the ginger and chop the tomato.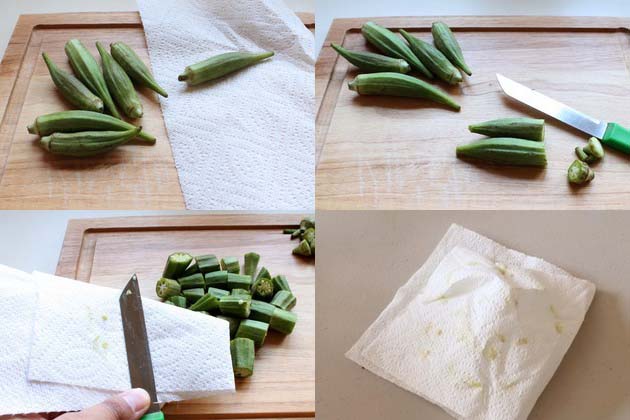 5) Heat the oil in a pan on medium heat. Once hot add cumin seeds and let them sizzle a bit.
6) Then add ginger paste and chopped green chilies. Saute for 30 seconds.

7) Mix in chopped tomato.
8) Cook till tomatoes are soft. It took me about 3-4 minutes.

9) Then add salt, turmeric powder, red chili powder and coriander powder.
10) Mix well and cook for a minute. Oil will starts to ooze out from the sides.

11) Then add chopped bhindi.
12) Mix well.

13) Cover the pan with the lid or plate. Lid should have rim around the edges. Pour a glassful of water on it. Let the bhindi cook with the steam.
14) Do stir once or twice in between. Make sure that bhindi is not sticking to the bottom of the pan. Cook till bhindi is cooked and soft, tender.

15) Lastly add garam masala.
16) Mix well, turn off the stove.

Bhindi bhaji is ready to serve. If not serving it right away then keep the pan covered. So it stays warm till the time you serve.
Serving suggestion: Serve bhindi bhaji with roti/phulka or paratha. It can be served as a side vegetable dish with your dal-rice.