Bhindi fry recipe - thinly sliced bhindi are mixed with besan and shallow fried in little oil till they are slightly crispy and crunchy. Then sauteed and mixed with onion and spices. This delicious everyday kind of cripy bhindi sabzi goes perfect with roti/phulka or chapati.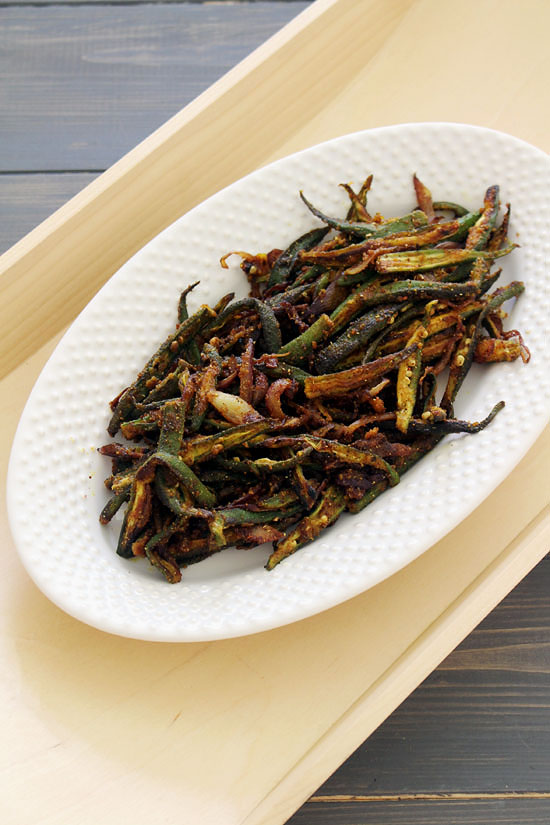 Usually this kind of 'okra fry' dish is made by deep frying the bhindi to get the extra crispy texture. But to make it healthy and so we can have it on day to day basis. I have shallow fried them with little oil. Added besan will help to make it crispy.
For shallow frying, always use non-stick and wide pan (not deep). The non-stick avoids the sticking. When wide pan is used, okra are arranged in single layer while cooking. So they have chance to crisp up instead of getting soft.
To get non-sticky sabzi, it is important that bhindi is completely dry after washing and wiping. Meaning there should not be any moisture. If there is any moisture left then cooked bhindi will get soft, soggy and sticky.
Few of my favorite are Bhindi do pyaza  //  Bhindi capsicum  // Achari bhindi  // Bharwa bhindi
Step By Step Photo Instructions:
1) First, wash the okra and then wipe them dry using paper towel or kitchen napkin. If you have time, then wash them ahead of time and let it air dry completely. Then cut the head and tail part of the okra and discard.
2) Cut the okra vertically into two pieces and then cut each half piece into two or three slices. In short, you will need thin long slices of the okra. Do the same for all the okras. While doing this, if knife gets sticky, wipe it using the paper towel and continue slicing.

3) Sprinkle besan and turmeric powder over the bhindi.
4) Using your clean hand, mix it well. So besan is coated to each and every piece.

5) Now we will be cooking the okra into two batches. Heat about 1 tablespoon of oil in a pan on medium heat.
6) Once hot add the bhindi, stir well. Add only enough okra that they are almost in a single layer. Do not overcrowd the pan. We want the slightly crispy and crunchy okra. If you add all at once, you will get soft texture instead of crispy.

7) Continue cooking and stir occasionally for even cooking and to make sure that it is not sticking to the pan.
8) Cook till they are cooked completely. You will see they have got darker in color and shrunk in the size. Many of the okra gets the slight crispy texture. Remove this cooked bhindi into a plate. Heat another 1 tablespoon of oil and fry the remaining bhindi similarly.

9) In the same pan, heat 1 tablespoon of oil on medium heat. Once hot add sliced onions and sprinkle the salt over it. Mix well.
10) Cook till onions are light brown in color. do stir occasionally.

11) Now add turmeric powder, red chili powder, coriander powder, chaat masala and garam masala.
12) Mix well and cook for a minute.

13) Now add fried okra.
14) Mix well and cook for 2-3 minutes.

Then turn off the stove and bhindi fry is ready to serve.
Serving suggestions: Serve this cirspy bhindi sabzi with roti or paratha. It can be served as a side with your dal-chawal.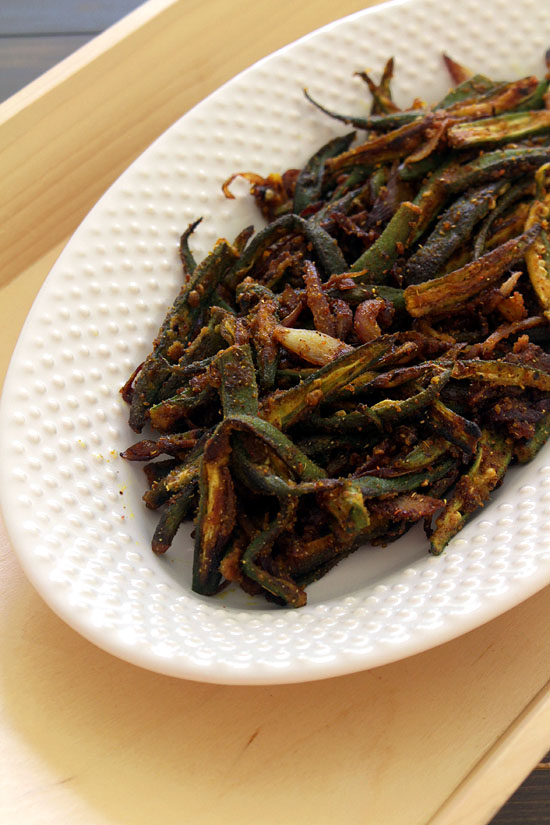 Did you try this bhindi fry recipe? I'd love to hear about it! Leave a review in the comment section below.
Step by Step Photos Above
Want to make it perfect first time? Don't forget to check out Step-by-Step photo instructions and helpful Tips & Tricks !!
Bhindi Fry
Tried this recipe? Leave a comment and/or give ★ ratings
This dry and delicious preparation of okra is called bhindi fry. You can call it crispy bhindi sabzi. You can munch on as it is or serve with phulka roti.
US measuring cups are used (1 cup = 240 ml) See details
Ingredients
250

grams

Okra (Bhindi)

sliced into long strips

1

tablespoon

Besan (Gram flour)

¼

teaspoon

Turmeric powder

2-3

tablespoons

Oil

for cooking okra

1

tablespoon

Oil

1 small or ½

cup

Red onion

sliced

Salt - to taste

⅛

teaspoon

Turmeric powder

1

teaspoon

Red chili powder

1

teaspoon

Coriander powder

½

teaspoon

Chaat masala

¼

teaspoon

Garam masala
Instructions
First, wash the okra and then wipe them dry using paper towel or kitchen napkin.

If you have time, then wash them ahead of time and let it air dry completely.

Then cut the head and tail part of the okra and discard.

Cut the okra vertically into two pieces and then cut each half piece into two or three slices. In short, you will need thin long slices of the okra.

While doing this, if knife gets sticky, wipe it using the paper towel and continue slicing.

Sprinkle besan and turmeric powder over the bhindi. mix it well. So besan is coated to each and every piece.

Heat about 1 tablespoon of oil in a pan on medium heat.

Once hot add half of the bhindi, stir well. Add only enough okra that they are almost in a single layer. Do not overcrowd the pan.

Continue cooking and stir occasionally for even cooking and to make sure that it is not sticking to the pan.

Cook till they are cooked completely.

Remove this cooked bhindi into a plate.

Heat another 1 tablespoon of oil and fry the remaining bhindi similarly.

In the same pan, heat 1 tablespoon of oil on medium heat.

Once hot add sliced onions and sprinkle the salt over it. Mix well.

Cook till onions are light brown in color. do stir occasionally.

Now add turmeric powder, red chili powder, coriander powder, chaat masala and garam masala. Mix well and cook for a minute.

Now add fried okra. Mix well and cook for 2-3 minutes.

Then turn off the stove
Nutrition
Calories:
319
kcal
|
Carbohydrates:
14.7
g
|
Protein:
3.6
g
|
Fat:
27.9
g
|
Trans Fat:
0.1
g
|
Cholesterol:
0
mg
|
Sodium:
316
mg
|
Potassium:
477
mg
|
Fiber:
14.7
g
|
Sugar:
3.5
g
|
Vitamin A:
1300
IU
|
Vitamin C:
43.7
mg
|
Calcium:
120
mg
|
Iron:
1.4
mg
*Nutrition information is a rough estimate for 1 serving