Boil or cook potatoes in Instant Pot is very quick and easy method.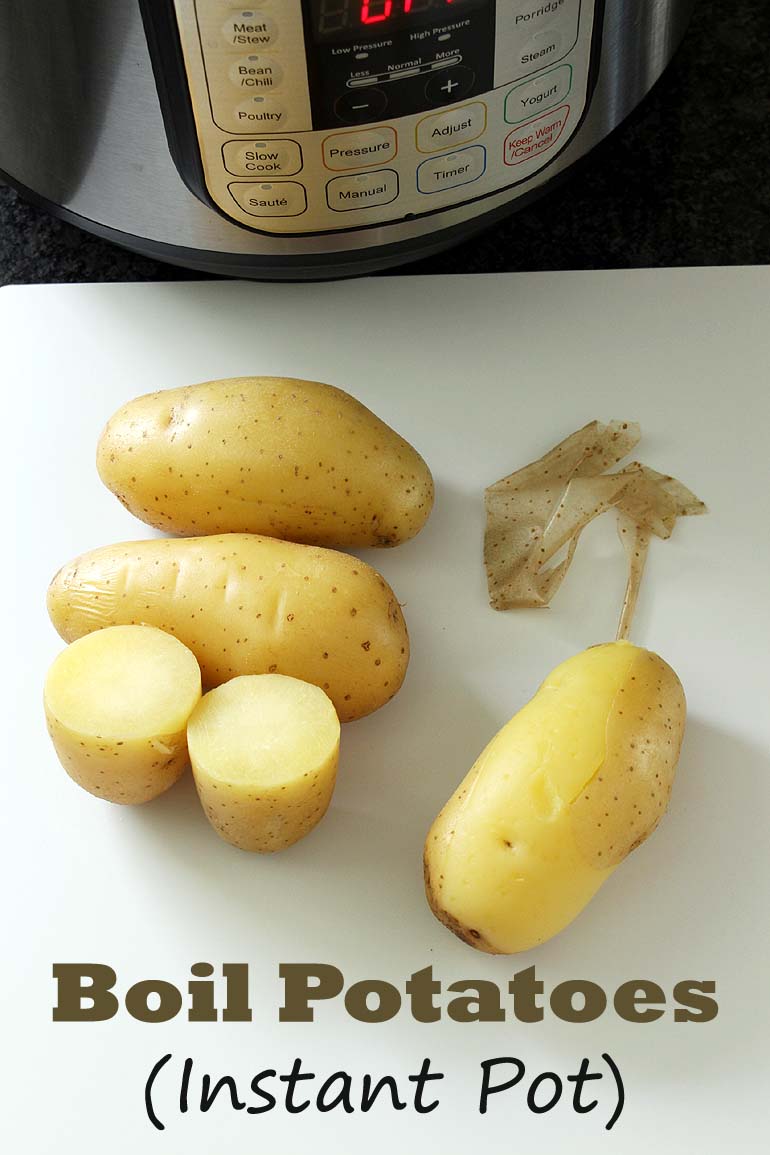 Potato is the most versatile vegetable that can be paired with any other veggies. It is staple food in Indian kitchen at least in my kitchen. I make many sabzi, curry, tikki using potato. And of course many non-Indians also use potatoes in like potato salad, mashed potatoes, baked potatoes etc.
I used to boil the potato in my traditional pressure cooker where I have keep track of number of whistles and need to stay there to turn off the stove once ready. But when we cook potatoes in Instant pot, we don't have to worry about counting whistles. In short, you don't need to be present there while it is cooking.
Actually most of the times, I use delay start to cook potatoes in Instant pot. For example, I need boiled potatoes in the morning to make sabzi for lunch-box or to make aloo paratha for breakfast. So the night before, I adjust the delay start (of about 6-7 hours) and the hot, boiled potatoes are ready when I get into the kitchen next morning. This is such a time-saver. Owning an Instant pot is such a blessing!!!
How to cook potatoes in instant pot?
Start by adding 2 cups of water in the inner pot. Then place the trivet that came with IP. And arrange potatoes on top of the trivet. Then cook on manual mode (high pressure).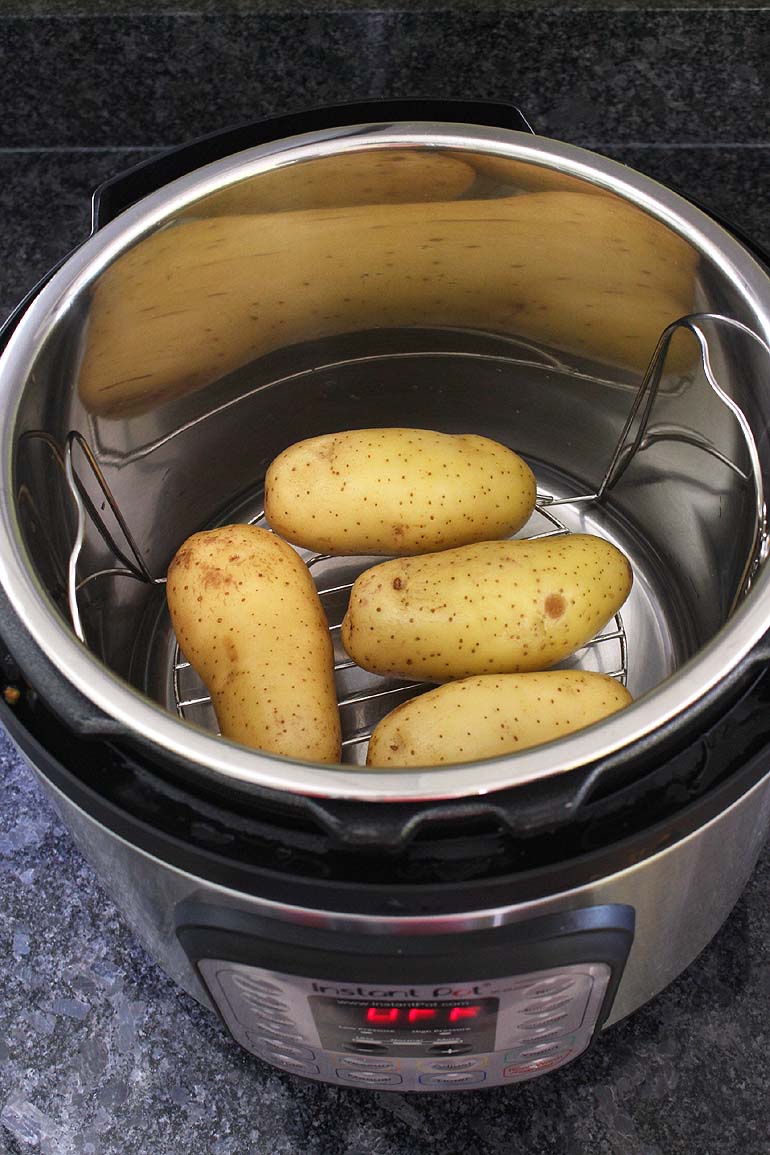 Let the pressure release naturally. Check the doneness of by inserting a knife or fork in the center.
Cooking time guide:
- For the medium sized potatoes (shown in the picture) will take around 8 minutes.
- If you have small sized potatoes then reduce the cooking time - 6 minutes.
- If you have larger sized potatoes then increase the cooking time - 9,10 minutes.
Also, boiling potatoes at the mentioned cooking time results into the tender, soft yet firm texture boiled potatoes. This texture is perfect for sabzi, curry, salad or bombay sandwiches where we are chopping or slicing them.
Increase the cooking time by 2 to 3 minutes to get very soft and almost mushy texture. This is perfect when we are mashing the potatoes like aloo paratha, batata vada, mashed potatoes.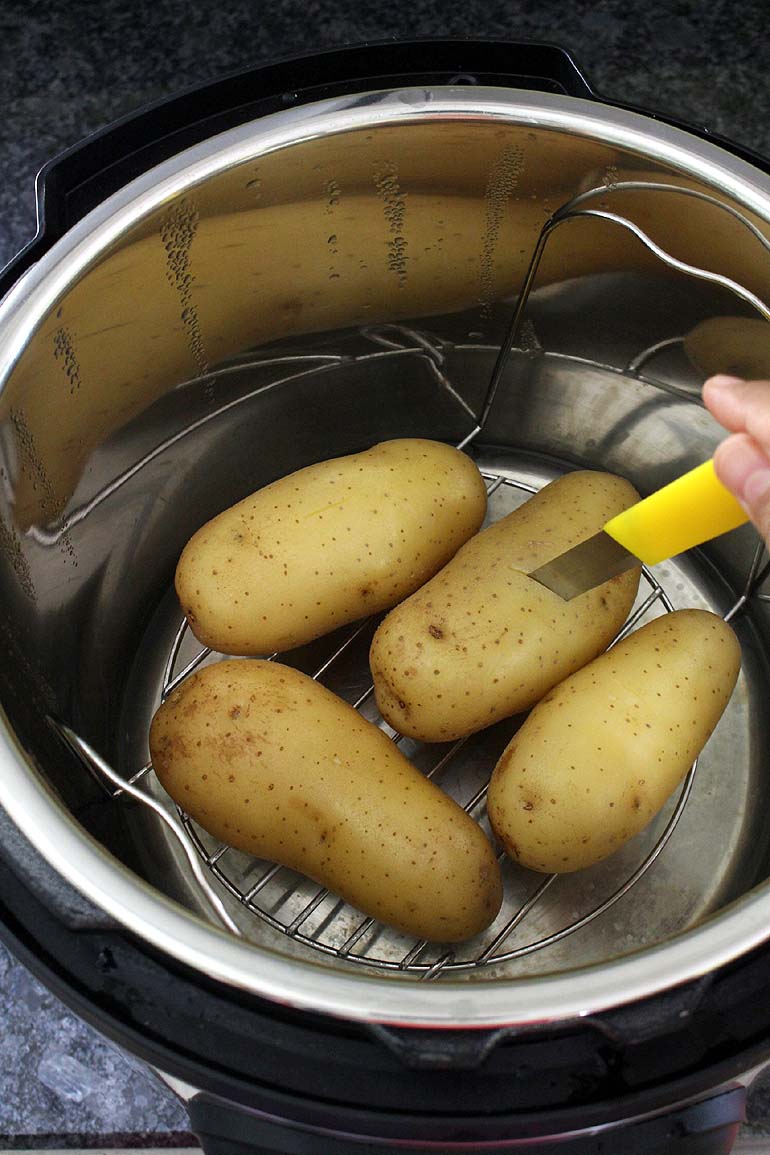 What type of potatoes to use?
- Russet or Idaho potatoes have more starch in them. So these are good for frying or baking. Do not use this type for boiling in IP.
- I prefer to use red potatoes or golden potatoes. Perfect for Indian cooking.
Check out - Instant pot chickpeas
Step by Step Photos Above
Want to make it perfect first time? Don't forget to check out Step-by-Step photo instructions and helpful Tips & Tricks !!
How to Cook Potatoes in Instant Pot (Boil Potatoes in IP)
Tried this recipe? Leave a comment and/or give ★ ratings
Learn how to cook or boil the potatoes in Instant pot. It is very easy and no attention required.

US measuring cups are used (1 cup = 240 ml) See details
Ingredients
4

Potatoes

(Yukon gold potato or Red potatoes)

2

cups

Water
Instructions
How to boil potatoes in Instant pot?
Scrub and wash the potatoes well and remove all the dirt.

Add around 2 cups of water in the inner pot of instant pot.

Put the trivet or steamer basket in the pot and place potatoes on trivet.

Close the IP with lid, keep the valve to sealing position and cook on Manual (High) for 6-8-10 minutes for small-medium-large potatoes.

Let it NPR (natural pressure release). Once pin drops, open the lid.

Check by inserting a knife or fork in the center, it should go in easily without any efforts.

Remove the cooked potatoes from IP using tongs.

If using right away then peel the skin by hand, it will come off right away.

Or store without peeling in the refrigerator for later use.
Nutrition
Serving:
1
medium
|
Calories:
131
kcal
|
Carbohydrates:
30
g
|
Protein:
3
g
|
Fat:
1
g
|
Saturated Fat:
1
g
|
Sodium:
34
mg
|
Potassium:
716
mg
|
Fiber:
4
g
|
Sugar:
1
g
|
Vitamin C:
33
mg
|
Calcium:
35
mg
|
Iron:
1
mg
*Nutrition information is a rough estimate for 1 serving