Eggless lemon blueberry muffins recipe - Soft, moist muffins with citrus lemony flavors and with juicy blueberries.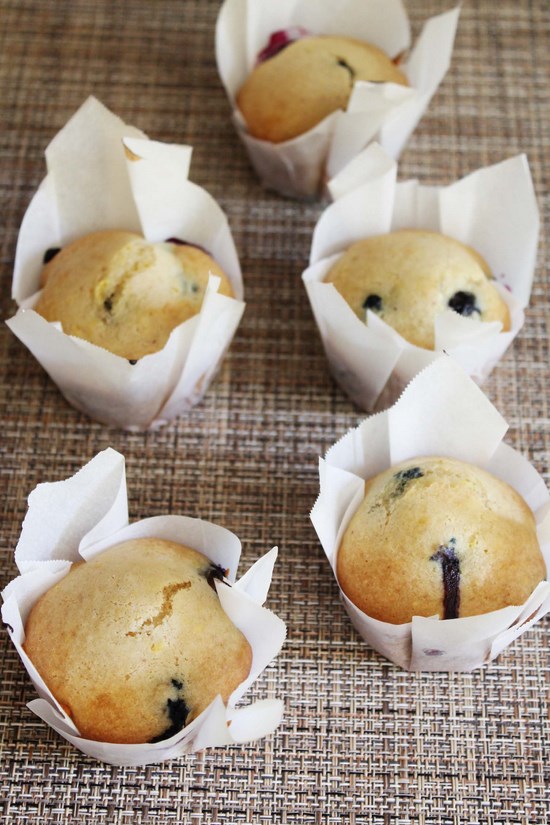 In this blueberry season, I bought beautiful organic blueberries from whole foods store 2 days ago and the next day I made these delicious muffins without eggs. Actually these are vegan blueberry muffins as well. I have used cow's milk but you can use any vegan milk. It will be perfectly fine.
Unfortunately I was out of muffin liners. And suddenly I thought of using parchment paper in place of liners. And it worked like a charm. You can see it does not stick at all and came out wonderful. I was very happy with the results.
Lemon and blueberry flavor goes well together. I have added freshly grated nutmeg in it. It gives nice subtle flavor to the muffins. I have added only lemon zest to the muffins. No lemon juice added. Still it has enough lemony flavor from the zest only.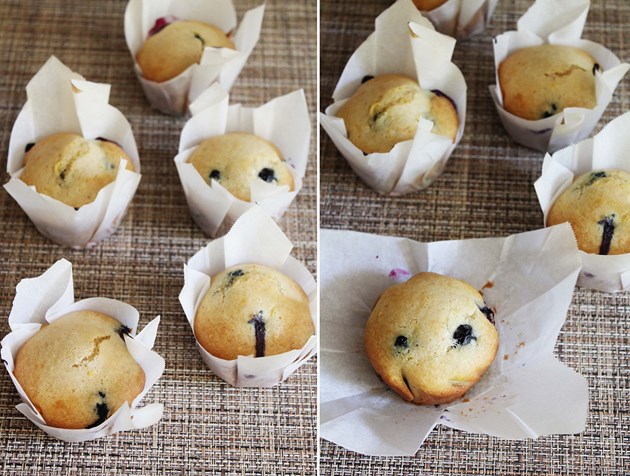 I have used applesauce as an egg substitute just like I did for my eggless brownies. I have used store bought applesauce. But you can use homemade too. Let's quickly go through how to make applesauce at home: peel, core and cut 2 small apples. Cook them with 3 tablespoons of water on low heat till cooked (about 20 minutes). Mash it with potato masher until it gets smooth.
I have halved the recipe and made only 6 muffins. But below ingredients are for dozen regular sized muffins.
Take a look at inside of muffin. See how soft, spongy and moist they are. And those juicy blueberries. Who can resist this?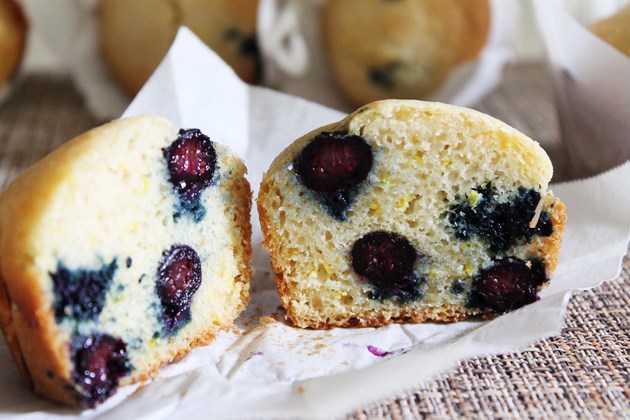 Check out other eggless muffins recipes
Banana muffins // Apple cinnamon muffins // Orange muffins // Lemon poppy seeds muffins
---
How to make Eggless lemon blueberry muffins recipe:
---
1) Pre-heat the oven to 425 degree F or 220 degree C for at least 10 minutes.
2) Line the muffin pan with muffin liners or just spray it with nonstick oil spray or use parchment paper like I did here. Check this link to learn how to use the parchment paper as a muffin liner.
3) Take all purpose flour, sugar, baking powder, baking soda, salt, grated nutmeg and lemon zest in a bowl.
4) Mix them well. I have used wire whisk to mix them.


5) Now take 1 tablespoon of flour mixture and sprinkle on blueberries. Now using spoon gently coat all the blueberries with flour. Keep it aside. This will help to avoid berries to sinking into the bottom. Hence blueberries will spread evenly into muffin.
6) In another larger bowl take oil, applesauce and vanilla extract.


7) Beat it using wire whisk.
8) Then add milk and beat it again till everything is incorporated well.


9) Add wet ingredients to dry flour mixture.
10) Mix it till everything incorporated. Do not over mix the batter otherwise muffins will be tough.


11) Add blueberries.
12) Fold it with spatula very gently. So berries do not break, if it breaks then juice will come out and batter will be blue in color.


13) Fill the muffin cups with this prepared batter. Use ice cream scoop or just two spoons to fill the muffin cups.
14) Bake into pre-heated oven for 18-20 minutes. Check by inserting a toothpick, if it comes out clean then muffins are ready.Remove it from the oven and let it cool for 5 minutes in the pan.


15) After 5 minutes. Remove the muffins to the wire rack and let it cool completely.
16) Or you can enjoy it while it is warm.


Let's have a bite of this yummy eggless lemon blueberry muffins. Ahha, you will have a punch of citrusy, lemony flavor with sweetness of sugar and juicy blueberries in each every bite. Just loving it. Actually I am eating it as I am writing this. You must give this a try.
Serving suggestion: Enjoy as a breakfast or dessert: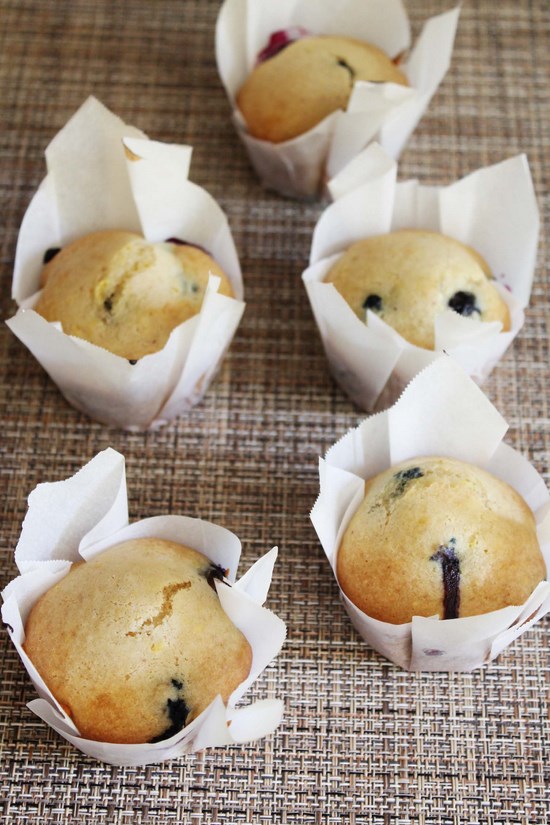 Step by Step Photos Above
Want to make it perfect first time? Don't forget to check out Step-by-Step photo instructions and helpful Tips & Tricks !!
Eggless Blueberry Muffins
Tried this recipe? Leave a comment and/or give ★ ratings
The best eggless blueberry muffins you'll ever taste! They are soft and fluffy with a perfectly moist, tender crumbs and juicy blueberries.
US measuring cups are used (1 cup = 240 ml) See details
Ingredients
2

cups

All purpose flour (Maida)

¾

cup

White granulated sugar

3

teaspoons

Baking powder

1

teaspoon

Baking soda

¼

teaspoon

Salt

¼

teaspoon

Freshly grated nutmeg

1

tablespoon

Lemon zest

from 2 big lemons

¼

cup

Oil

¼

cup

Yogurt

(or Unsweetened applesauce **see notes)

¼

teaspoon

Pure vanilla extract

1 ¼

cups

Milk

1

cup

Blueberries
Instructions
Prep: Preheat the oven to 425°F or 220°C for at least 10 minutes. Line a 12 cup muffin pan with liners and keep it ready.

Take dry ingredients (all purpose flour, sugar, baking powder, baking soda, nutmeg, salt, lemon zest) in a bowl. Whisk till everything is incorporated.

Now take a tablespoon of the flour mixture and sprinkle over the blueberries. Mix and coat every blueberry with flour mixture.

In another large bowl, add wet ingredients (oil, yogurt, milk, vanilla). Beat it using a wire whisk till everything is well combined.

Add flour mixture into the wet. Start mixing using a wire whisk and halfway through switch to a spatula. And mix till everything is incorporated well. Do not overmix.

Now add flour coated berries. Fold them into the batter gently. Make sure not to break any berries, otherwise, the batter will have blue streaks.

Divide the batter into prepared muffin pan. Bake into the preheated oven for 18-20 minutes or till the toothpick inserted into the center of the muffin comes out clean.

Let it cool in the muffin pan for 5 minutes then transfer to a cooling rack. You can serve warm or at room temperature.
Notes
Ingredient Notes:
Lemon zest: It is the outer yellow part of the lemon peel. Use the citrus zester to grate the skin, but make sure not to grate the white part of the peel. That white part is bitter.
Yogurt substitute: I have also tried with the same amount of unsweetened applesauce. I noticed a slight difference in texture: applesauce makes muffins spongier like cake vs yogurt makes right muffin texture.
Oil: Always use flavorless oil like canola, corn, vegetable, safflower, etc.
Blueberries (fresh or frozen): I prefer and highly recommend using fresh. But yes you can use frozen ones. No need to thaw, just add frozen directly into the batter, so they don't bleed too much into the batter. Since using frozen, increase the baking time by 1-2 minutes.
Recipe Notes:
Do not overmix the batter. Otherwise, you will get tough and chewy muffins instead of tender crumbs. Just mix till everything is combined.
To prevent blueberries from sinking to the bottom, toss them with a tablespoon of the flour mixture (just enough flour to coat the berries). Then fold this flour-coated berries into the batter as a very last step before baking.
Storage:
Eggless blueberry muffins stay good for 2-3 days at room temperature, 1 week in the refrigerator and up to 3 months in the freezer.
Store them in a single layer in an airtight container and keep on the countertop or in the refrigerator. If you want to stack them then keep a layer of parchment paper before stacking.
To store in the freezer, wrap individual muffins using plastic wrap and freeze into a freeze-safe ziplock bag. Re-heat in the microwave for 15-20 seconds before serving.
Nutrition
Serving:
1
muffin
|
Calories:
192
kcal
|
Carbohydrates:
32
g
|
Protein:
3
g
|
Fat:
6
g
|
Saturated Fat:
1
g
|
Cholesterol:
3
mg
|
Sodium:
260
mg
|
Potassium:
73
mg
|
Fiber:
1
g
|
Sugar:
15
g
|
Vitamin A:
53
IU
|
Vitamin C:
2
mg
|
Calcium:
97
mg
|
Iron:
1
mg
*Nutrition information is a rough estimate for 1 serving