Glossary of Fruits in English, Hindi, Gujarati, Marathi, Tamil, Telugu and Malayalam.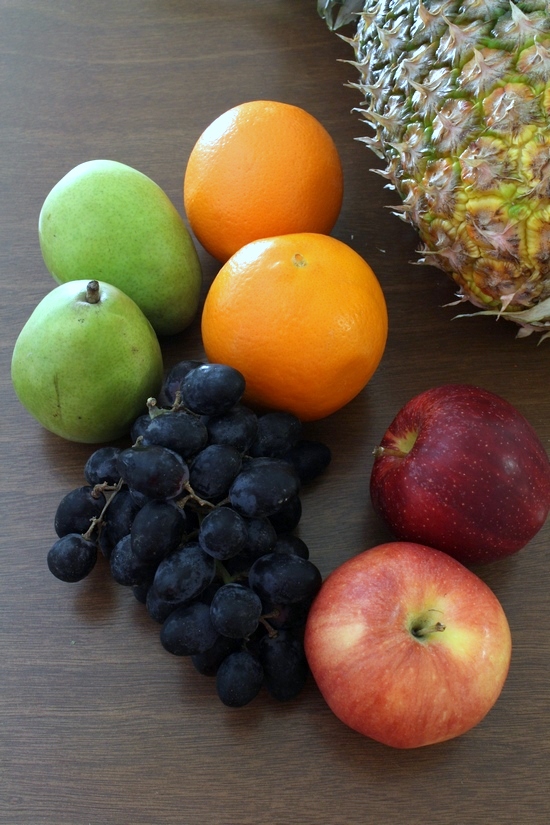 Of all the food we eat, Fruit is perhaps the most beautiful. Try to buy seasonal and local fruits. Anything that has been transported thousands of miles by air or sea is often picked under-ripe in order to survive the journey. Those will never taste as good as when freshly picked and at the height of its season.
Sweet, ripe fruits provide valuable nutrients to the body. You will notice more energy and happiness from eating fresh organic fruits on daily basis. Fruits are also valued for their ability to cleanse the body from toxins.
Below is the handy table that may help you. The first column has English name of the fruit and following columns have names in Indian regional languages. You will notice the links in the English column. Those links will provide you the list of recipes made using that fruit.
If I have missed any or if you know any regional language names, please let me know in comments below.
I will try to add other languages in future. Your help is greatly appreciated.
| English | Hindi | Gujarati | Marathi | Tamil | Telugu | Malayalam |
| --- | --- | --- | --- | --- | --- | --- |
| Apple | Seb - सेब | Safarjan | Safarchand | Applepazham | Sema regu | Apple |
| Apricot | Khoobani - खुबानी | Jardalu | Jardaloo | Sarkkarai Badami | Seema badam | Sheema pazham |
| Avocado (Butterfruit) | Makhanphal - माखनफल | - | alpukat | Vennai pazham | Venna Pandu | Vennapazham/ Muttapazham |
| Banana | Kela - केला | Kela | Kela | Vazhaikkai | Arati pandu | Pazham |
| Cantaloupe (Musk melon) | Kharbooja - खरबूजा | Teti | Kharbooj | Parangi pazham | Kharbooja | Thaikkumbalam/ Kasthuri Mathan |
| Custard apple | Sitaphal - सीताफल | Sitafal | Sithaphal | Seetha pazham | Sitaphalam | Seethappazham |
| Gooseberry, Indian | Amla - आमला | Ambala | Awalah | Nellikai | Usiri | Neli |
| Grapes | Angoor - अंगूर | Draksha | Draakshm | Dratchai pazham | Draksha | Mundhiringa |
| Guava | Amrud - अमरुद | Jamfal | Peru | Koiya pazham | Jama | Perakka |
| Lychee | Litchee - लीची | Lichi | Lichi | Laichi pazham | Litchi Pandu | Lichee |
| Mango, ripe | Aam - आम | Keri | Amba | Mambazham | Mamidi | Manga |
| Mango, unripe | Kachha aam - कच्चा आम | Kachi keri | Kairi | Mangai | Mamidi | Manga |
| Orange | Narangi - नारंगी | Santra | Santre | Kichilipazham | Narinja | Naaranga |
| Papaya | Papita - पपीता | Papaiyu | Popai | Papali kai | Bobbaya | Kapplanga |
| Pears | Nashpati - नाशपती | Nashpati | - | Berikkai | Peri pandu | Sabarjil |
| Pineapple | Ananas - अनानस | Ananas | Annanas | Annasi pazham | Anasa | Kaitha Chakka |
| Pomegranate | Anar - अनार | Daadam | Daalimb | Madhulai | Danimma | Maadhala naarnga |
| Sapota (Sapodilla) | Chikku - चीकू | Chikoo | Chikoo | Sapota | Sapota | Chikku |
| Sugar cane | Ganna - गन्ना | Sherdi | Usa | Karuppan Charu | Cheruku Gada | Chakkara Karimbu |
| Sweet lime | Mausambi - मौसंबी | Mosambi | Mosumbi | Chaatukudi | Battaiah | Mosambi |
| Watermelon | Tarbuj - तरबूज | Tarbuj | Kalingad | Tarbusini | Puchha kaya | Thannir Mathan |
References: