Glossary of Vegetables in English, Hindi, Gujarati, Marathi, Tamil, Telugu and Malayalam.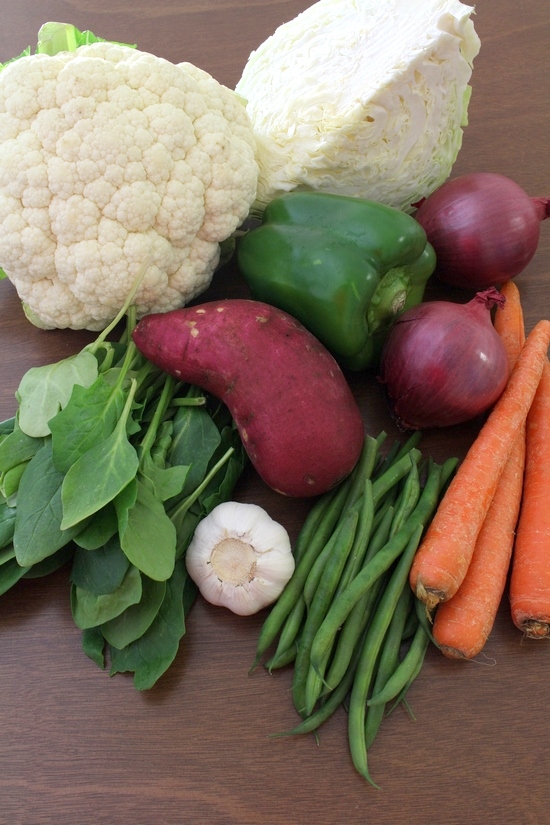 Vegetables are the foundation of a healthy diet. And they are at their freshest, tastiest and most nutritious when they are in season and locally grown. I usually buy my vegetables from local farmer's market. But I can't find few Indian vegetables there, so I buy them from Indian grocery stores. I highly recommend to buy and eat organic vegetables, if possible.
Eating more fresh vegetables is one of the simplest choices you can make to improve your overall health. A vegetable-rich diet can help protect you from many diseases and can even help slow down your body's aging process.
Below is the handy table that may help you. The first column has English name of the vegetable and following columns have vegetable names in Indian regional languages. You will notice the links in the English column. Those links will provide you the list of recipes made using that vegetable.
If I have missed any or if you know any regional language names, please let me know in comments below.
I will try to add other languages in future. Your help is greatly appreciated.
| English | Hindi | Gujarati | Marathi | Tamil | Telugu | Malayalam |
| --- | --- | --- | --- | --- | --- | --- |
| Amaranth leaves | Chauli bhaji - चौली भाजी | - | Lal math | Molaikeerai | Totakura | Chuvanna cheera |
| Ash gourd | Petha-पेठा | Petha | Kohla | Poosanikai (Pushini Kaiy) | Boodida gummadikaya | Kumbalanga |
| Banana flower | Kele ka phool - केले का फूल | kela na ful | Kelful | Vazhaipoo | Arati Puvvu | Pazham Vazhakudappan |
| Beetroot | Chukandar - चुकंदर | Beet | Beet | Beetroot kijangu | Beetroot | Beetroot |
| Bell Pepper (Capsicum) | Shimla mirch - शिमला मिर्च | Bholak marchu | Bhopli/bhongi mirchi | Kudamilagai | - | Kuda mulagu |
| Bitter gourd | Karela - करेला | karelu | Karla | Pavara kaiy | Kakara kayi | Pavakka |
| Bottlegourd | Lauki - लौकी or Ghia | Dudhi | Dudhi Bhopla | Sura kaiy | Sorakaya | Churakka |
| Broad beans (fava beans, lima beans, butter beans) | Sem ki phalli - सेम की फली or Papdi | valpapdi | valpapdi | Avara kaiy | Pedda Chikkudu | Amarakka |
| Cabbage | Patta gobi - पत्ता गोबी or Bandh gobhi | Kobi | Kobi | Muttaikos | Cabbage | Muttakoos |
| Carrot | Gajar - गाजर | Gajar | Gaajar | Carrot | Gajjara gadda | Carrot |
| Cauliflower | Phool gobi - फूल गोबी | koli flower | Phulkobi | Kovippu | Cauliflower | Cauliflower |
| Cluster beans | Gawar ki phalli - गवार की फली | Gavar | Gavar | Kothavarangai | Goruchikkudu | Kothamara |
| Coconut (fresh) | Nariyal - नारियल | Naliyer | Naral | Thengai | Kobbari Kaaya | Thenga |
| Colocasia leaves (Taro leaves) | Arbi patta - अरबी पत्ता | Patra | Aluchi pana | Chepankizhangu | Chemagadda | Chembu |
| Colocasia roots (Taro roots) | Arbi - अरबी | Arvi | Alu | Chepankizhangu | Chemagadda | Chembu |
| Coriander leaves (Cilantro) | Hara Dhania - हरा धनिया | Kothmir (Dhana) | Kothimbir | Kothamalli | Kothimeera | Kothamalli |
| Corn | Makkai - मकाई or Bhutta | Makai | Maka | Cholam | Mokkajonna Kandelu | Cholam |
| Cucumber | Kakdi - ककड़ी or Kheera - खीरा | Kakdi | Kakdi | Velleri Kaiy | Kheera Dosakaya | Vellarikka |
| Curry leaves | Kari patta - कड़ी पत्ता | Mitho limdo | Kadhilimbachi pana | Karuvepillai | Karivepaku | Kariveppela |
| Dill leaves | Suva bhaji - सुवा भाजी | Sava ni bhaji | Shepu | Sathakuppi Sompa | Soya Koora | Sathakuppa |
| Drumsticks | Surjan ki phalli | Saragva ni singh | Shevgyachya shenga | Murungaikkai | Mulakada | Muringakayi |
| Eggplant (Brinjal or Aubergine) | Baingan - बैंगन | Ringan | Vanga | Kathirikai | Vankaya | Vazhuthananga |
| Elephant Yam | Zimikand - जिमीकंद or Suran - सुरन | Suran | Suran | Chenai kizhangu | Kanda gadda | Chena |
| Fenugreek leaves | Methi - मेथी | Methi ni bhaji | Methi bhaji | Vendayakeerai | Menthi kura | Uluva |
| French Beans (Green beans) | Farash beans | Fansi | Shravan ghevda | Beans | Beans | Beans |
| Garlic | Lahsun - लहसुन | Lasan | Lassun | Poondu | Vellulli | Velluthulli |
| Ginger | Adrak - अदरक | Aadu | Ale | Inji | Allam | Inji |
| Green chili | Hari mirch - हरी मिर्च | Lila marcha | Hirvya mirchya | Pachai Milagai | Pacchi Mirapakaya | Pachchamulaku |
| Green onion (Scallian or Spring onion) | Hari pyaz - हरी प्याज़ | Lili Dungri | Kanda path | Pallari Vengayam | Vulli Kada | Ulli Thal |
| Green peas | Matar - मटर | Vatana | Matar | Pattani | Pachi batani | Pattani |
| Ivy gourd | Tendli - टेंडली | Tindora | Tondli | Kovaikkai | Dondakaya | Kovaykka |
| Jackfruit | Kathal - कठल | Phanas | Phanas | Pala Pazham | Panasakai | Chakka |
| Lemon (Lime) | Nimbu - निम्बू | Limbu | Limbu | Elumichampazham | Nimmakaya | Cherunaranga |
| Mint leaves | Pudina - पुदीना | fudino | Pudina | Pudina | Pudina akku | Pudinaa |
| Mushroom | Khumbh | Mushroom | Khumbh | Kaalan | Putta Godugu | Koon |
| Mustard leaves | Sarso ka saag - सरसों का साग | Rai limba | Rai chi paan | - | Aava aaku | Kaduguila |
| Okra (Ladies' finger) | Bhindi - भिंडी | Bhinda | Bhendi | Vendaikkai | Bendakaya | Bendakaya |
| Onion | Pyaaz - प्याज | Dungari (Kanda) | Kanda | Vengayam | Ullipaya | Ulli |
| Plantain (raw banana) | kachha kela - कच्चा केला | Kacha kela | - | Vazhaikkai | Aratikaaya | Kaya (Nenthrakaya) |
| Potato | Aloo - आलू | Batata (Bataka) | Batata | Urulaikizhangu | Bangala Dumpa (Alugadda) | Urulakhizhangu |
| Pumpkin | Kaddu - कददू | Kolu | Lal bhopla | Seetaphul | Gummadikaya | Mathanga |
| Radish (Daikon) | Mooli - मूली | Mula | Mula | Mullangi | Mullangi | Mullangi |
| Ridge gourd | Turai - तुरई | Turia | Dodka | Peerkangai | Beerakaya | Peechinga |
| Shallot (pearl onion) | Chota pyaaz - छोटा प्याज or Sambar onion | Nani dungari | Chote kande | China (Sambar vebgayam) | Ullipaaya | Cheriya ulli |
| Snake gourd | Chirchinda | Parval | Padval | Pudalang kaiy | Potlakaya | Padavalanga |
| Sorrel leaves | Pitwaa | - | Ambadi | Pulicha keerai | Gongura | Gongura |
| Spinach | Palak - पालक | Palak | Palak | Pasala keerai | Palakura | Palak cheera |
| Sweet potato | Shakarkandi - शकरकंदी | Shakkariya | Ratala | Valli kijangu | Chilakada Dumpa | Madhura Kizhangue |
| Tomato | Tamatar - टमाटर | Tameta | Tamatar | Thakkali | Tomato | Takkali |
References: