Glossary of Grains, cereal and flour in English, Hindi, Gujarati, Marathi, Tamil, Telugu and Malayalam.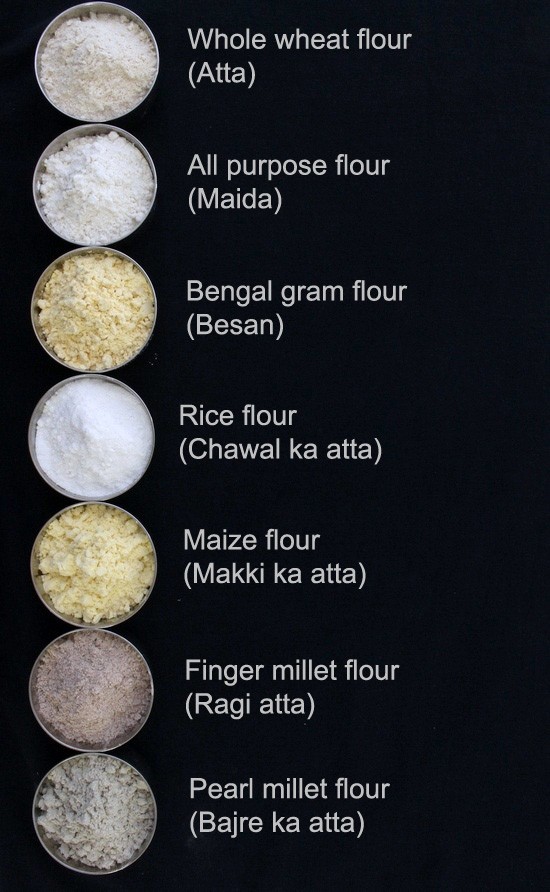 Grains, rice and flour made out of grains are the energy-giving, starchy, staple foods in Indian kitchen (also in many other cuisines as well). Some of the grains and flour names mentioned below in the table are gluten free.
Whether the whole grain or further processed product like flour, these food are valuable source of nutritious fiber and complex carbohydrates.
They have long storage life that makes them a most practical foundation for everyday meals. They should be kept in airtight container in the pantry.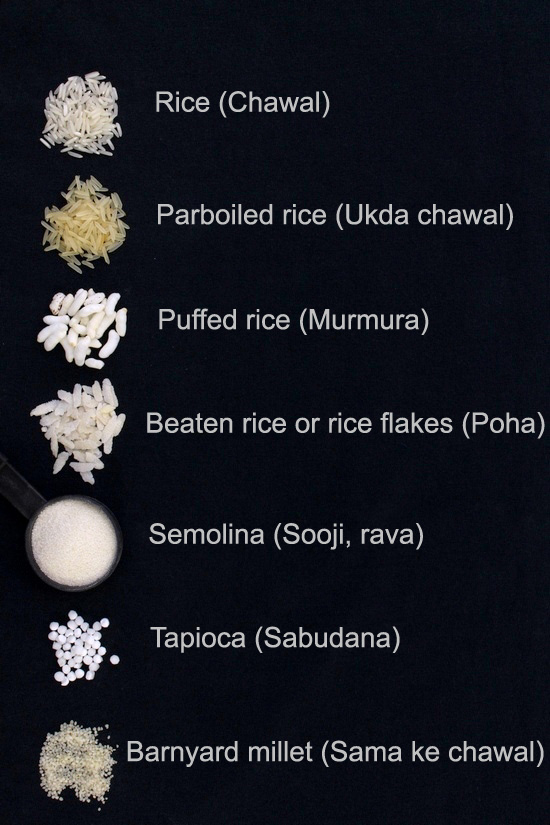 Below is the handy table for grains, cereal that may help you. The table after that contains Indian flour names. The first column has English name and following columns have names in Indian regional languages. You will notice the links in the English column. Those links will provide you the list of recipes made using that ingredient.
If I have missed any or if you know any regional language names, please let me know in comments below.
I will try to add other languages in future. Your help is greatly appreciated.
| English | Hindi | Gujarati | Marathi | Tamil | Telugu | Malayalam |
| --- | --- | --- | --- | --- | --- | --- |
| Amaranth grain | Rajgira | Rajgaro | - | Thenai | - | - |
| Barley | Jau | Jav | Satu | Barliarisi | Barli Biyyam | - |
| Broken wheat | Dalia | Fada ghaum | Daliya | Godhumai Ravai | Godumalu Rawa | Gothumbu Nurukku |
| Buckwheat | Sabut kuttu | - | - | - | - | - |
| Millet, Barnyard | Sama ke chawal | Samo /Moraiyo | Bhagar /Varai | Kuthirai valli | Odalu | Kavadapullu |
| Millet, finger | Ragi | - | Nachani | Kezhvaragu | Ragulu | Panji pullu |
| Millet, foxtail | Kangni | Kang | Rala | Thinai | Korra biyam | Thina |
| Millet, kodo | Kodra | Kodri | - | Varagu | Arikelu | Koovaragu |
| Millet, Little | Kutki | Kuri | Vari | Saamai | Sama | Chama |
| Millet, pearl | Bajra | Bajri | Bajri | Kambu | Sajjalu | Kambam |
| Millet, Sorghum | Jowar | Juvar | Jowari | Cholam | Jonna | Cholam |
| Rice | Chawal | Chokha | Tandul | Arisi | Biyam | Pachari |
| Rice, beaten (rice flakes) | Poha | Pauva | Pohe | Aval | Atukulu | Aval |
| Rice, parboiled | Ukda chawal | - | - | Puzhungal Arisi | Uppudu biyam | Puzhungalari |
| Rice, puffed | Murmura | Mamra | Churmura | Pori | Borugulu | Pori |
| Semolina | Sooji | Soji (ravo) | Rava | Ravai | Bombai Rawa | Rava |
| Tapioca | Sago | Sabudana | Sabudana | Javvarisi | Saggubiyyam | Kappa |
| Whole wheat | Ghenhu | Ghaum | Gahu | Godumai | Godumalu | Gothumbu |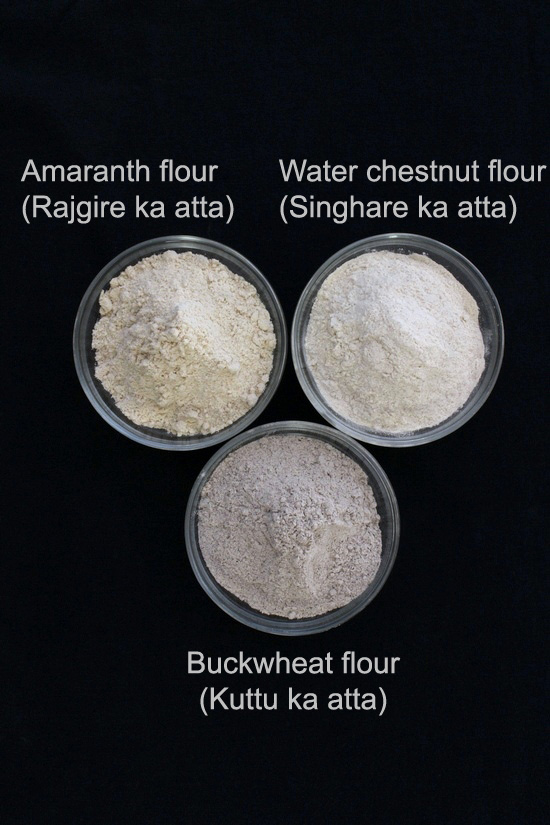 | English | Hindi | Gujarati | Marathi | Tamil | Telugu | Malayalam |
| --- | --- | --- | --- | --- | --- | --- |
| Amaranth flour | Rajgire ka atta | Rajgara no lot | Rajgira pith | Thenai Maavu | Rajgira pindi | - |
| All purpose flour | Maida | Mendo | Maida/kanik | Maida Maavu | Maida Pindi | Maida mavu |
| Arrowroot flour | Arrowroot flour | - | - | - | - | - |
| Bengal gram flour | Besan | chana no lot | Besan | Kadalai mavu | Senaga Pindi | Kadala Podi |
| Buckwheat flour | Kuttu ka atta | - | - | - | - | - |
| Finger millet flour | Ragi/Nachani atta | - | - | - | - | - |
| Maize flour | Makki ka atta | Makai no lot | - | - | - | - |
| Pearl millet flour | Bajre ka atta | Barji no lot | - | - | - | - |
| Rice flour | Chawal ka atta | Chokha no lot | Tandulacha peeth | Arisi mavu | Biyyam pindi | Ari podi |
| Water chestnut flour | Singhare ka atta | Singhoda no lot | - | - | - | - |
| White millet flour | Jowar atta | - | - | - | - | - |
| Whole wheat flour | Atta | Ghaum no lot | Kanik | Godumai mavu | Godhuma pindi | Gothambu Podi |
References: