This is basic Indian Onion Tomato Masala Recipe made in Instant Pot. It is used in making many curries (gravy dishes) and dal recipes. You may call it a basic Indian Curry Paste.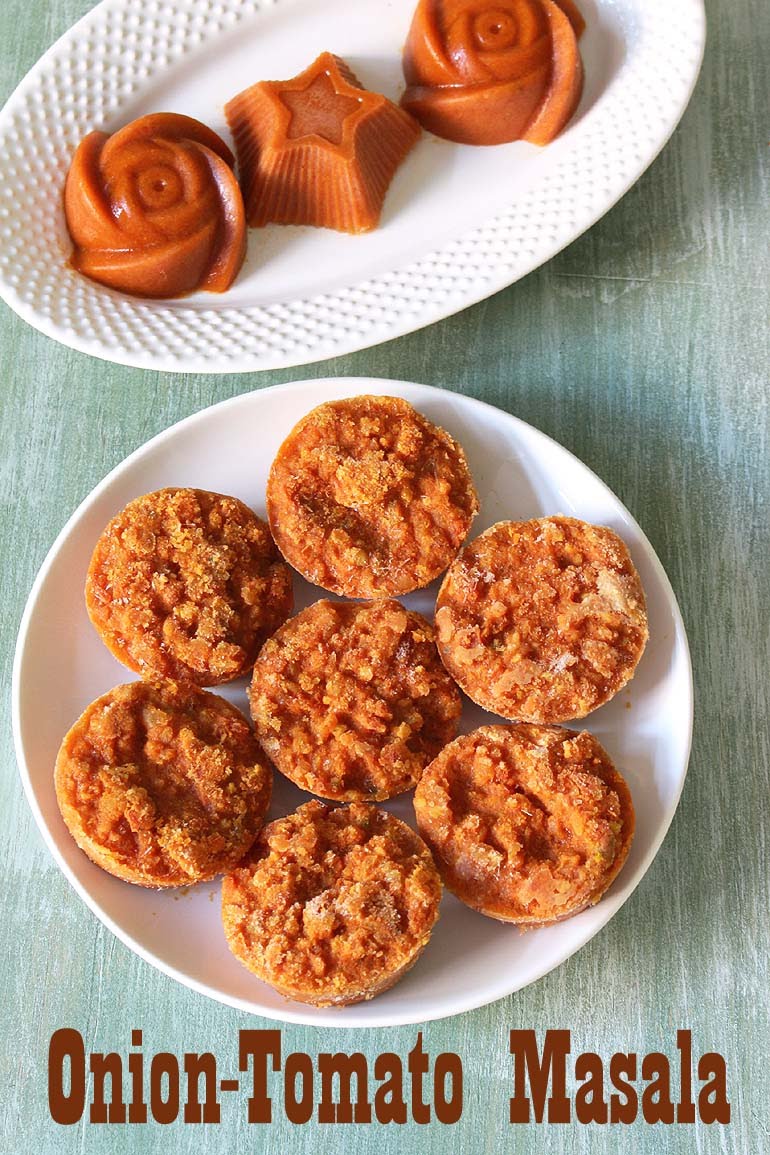 As the name says, it is made of onions, tomatoes. Along with that ginger, garlic, green chilies, and few spice powders are added. This is also known as basic onion tomato gravy.
Many Indian recipes (especially North Indian) call for sauteed onion, tomato with ginger garlic paste. To get the best authentic taste, for every recipe one need to saute chopped onion, ginger, garlic first till it becomes brown. Then chopped tomatoes are added and sauteed till all the moisture is gone. This whole process requires some time.
Instead of this traditional authentic method, we are making it in Instant Pot.
As mentioned above it requires some time at the beginning of every recipe. But nowadays who has this much time for everyday cooking? At least I don't have and assuming many of you too. That's the reason we are making a big batch and that too in instant pot.
This Instant pot onion tomato masala is a great make ahead and freeze idea. This freeze ahead prep will significantly reduce the cooking time for many Indian recipes.
Even though we are making this Indian curry paste in Instant Pot, it still requires good 45 minutes to 1 hour (of course you do not have to babysit, so almost half of the time is passive). Because we are making a large quantity and cooking onions take some time.
But investing this much time once a month is totally worth it. Once you have it available in your freezer, making many Indian recipes like curries, lentils/beans recipes are a breeze. You don't have to chop, cook onion-tomato every single day. This saves a lot of time in the kitchen.
Two kinds of Onion Tomato Masala:
Chunky: We are making this curry paste using chopped onion, tomatoes. So the end result of the masala is chunky. So I freeze half quantity of this chunky masala and use in making lentil dishes or where I need some texture in the dish.
Smooth: With rest of the half masala, I use hand blender or grinder to make it smooth. I freeze them and use in making restaurant style curry or gravy dishes where I am looking for creamy, smooth, silky gravy.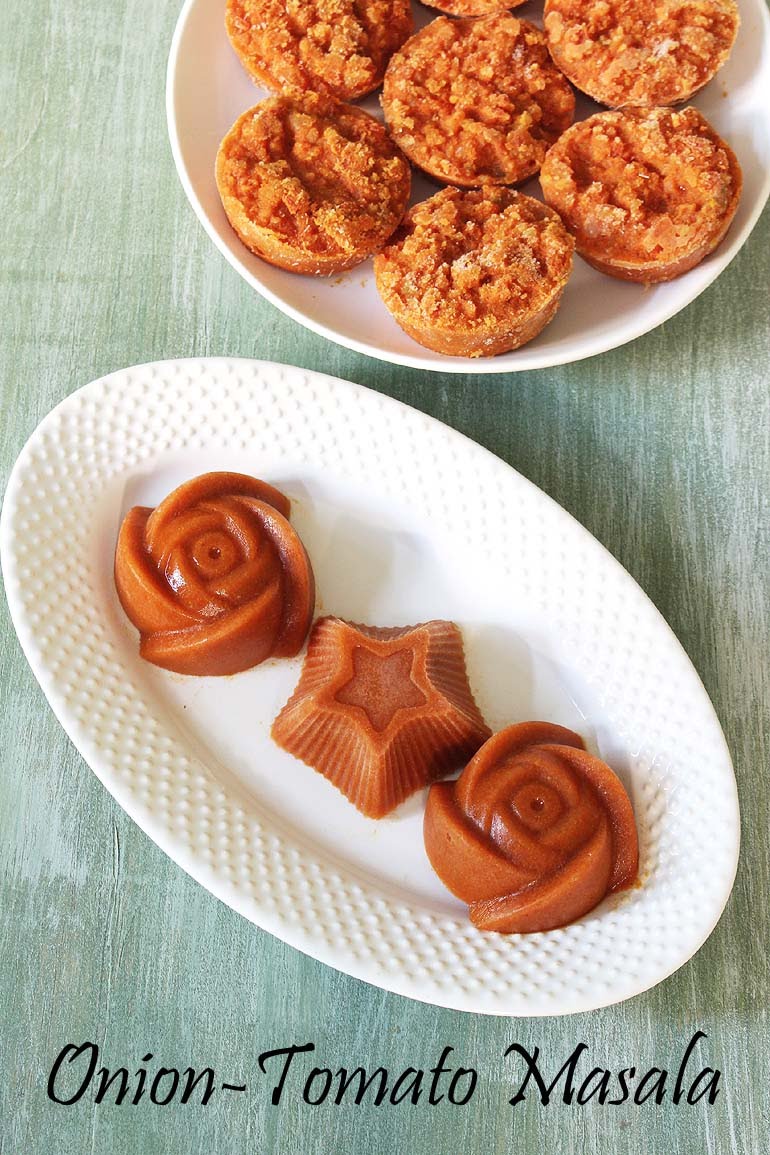 How to make Instant Pot Onion Tomato Masala (Step by Step Photos):
1) Roughly chop the onions and soak them in warm water for 15-20 minutes. So when you cook raw onions, it won't smell sharp and you won't have tears in your eyes. This step is optional if you are ok with the house smelling of pungent raw onion.
2) Take into the food processor. Who likes to dice this much amount of onions using a knife and have teary eyes? No One right, so we are taking a shortcut. You have to do it in two batches.


3) Pulse it so it will be finely chopped.
4) Make sure that it is chopped, not pureed or minced.

5) Turn on the instant pot with saute mode. Once it says hot, add oil and let it get heat up. Then add onions.
6) Also, add salt and mix.


7) Salt will help to release the water and onions will cook faster. This onion cooking process takes some time around 30 minutes. So meantime let's prepare rest of the ingredients. And in between, do stir every 5-7 minutes so it does not stick to the bottom.
8) Roughly chop green chilies and ginger. And you can keep the cloves whole.


9) Again in the food processor pulse it to make finely chopped ginger, garlic, green chili mixture.
10) Remove it to a bowl and keep it aside.


11) In the same jar, add chopped tomatoes.
12) Again pulse to make a chunky mixture.


13) You can see we are not making a smooth puree, please keep it chunky. Again just like onions you have to do it in batches.
14) After 30-40 minutes onion will cook down and it has light brown color. By default saute mode is on for 30 minutes and you can't change that. So if IP gets turn off, again start the saute mode.


15) Now add ginger, garlic, green chili mixture.
16) Mix and cook for 3-4 minutes.


17) Now add tomato mixture.
18) Mix very well.


19) Add turmeric powder, red chili powder and coriander powder.
20) Mix thoroughly.


21) Cover the IP with lid. Keep the valve to sealing position. Turn off the saute mode by pressing cancel and press the manual (pressure cook) button w/ high pressure and adjust to 10 minutes. Once done, let the pressure release naturally (NPR). Once pin drops, open the lid.
22) Mix and you will have chunky onion tomato masala ready. I have removed almost half of this chunky masala to freeze separately.


23) And using hand blender turn the rest half masala into a smooth puree.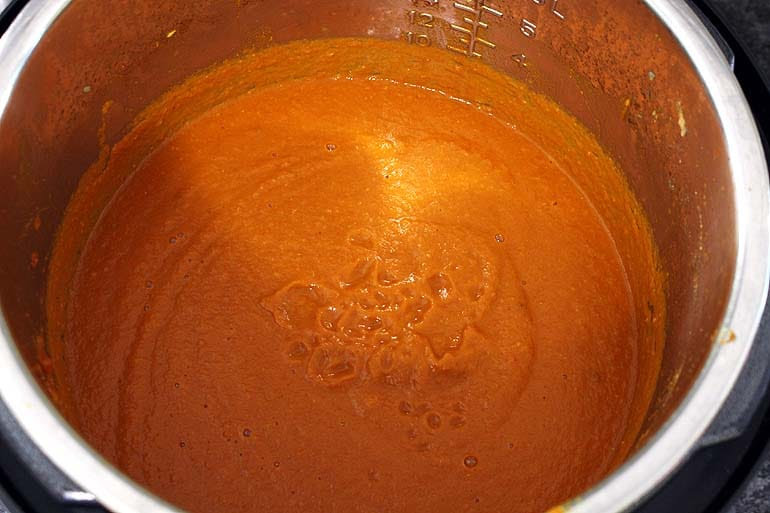 24) Pour ¼ cup portion into the silicone cupcake liners. Freeze them till frozen.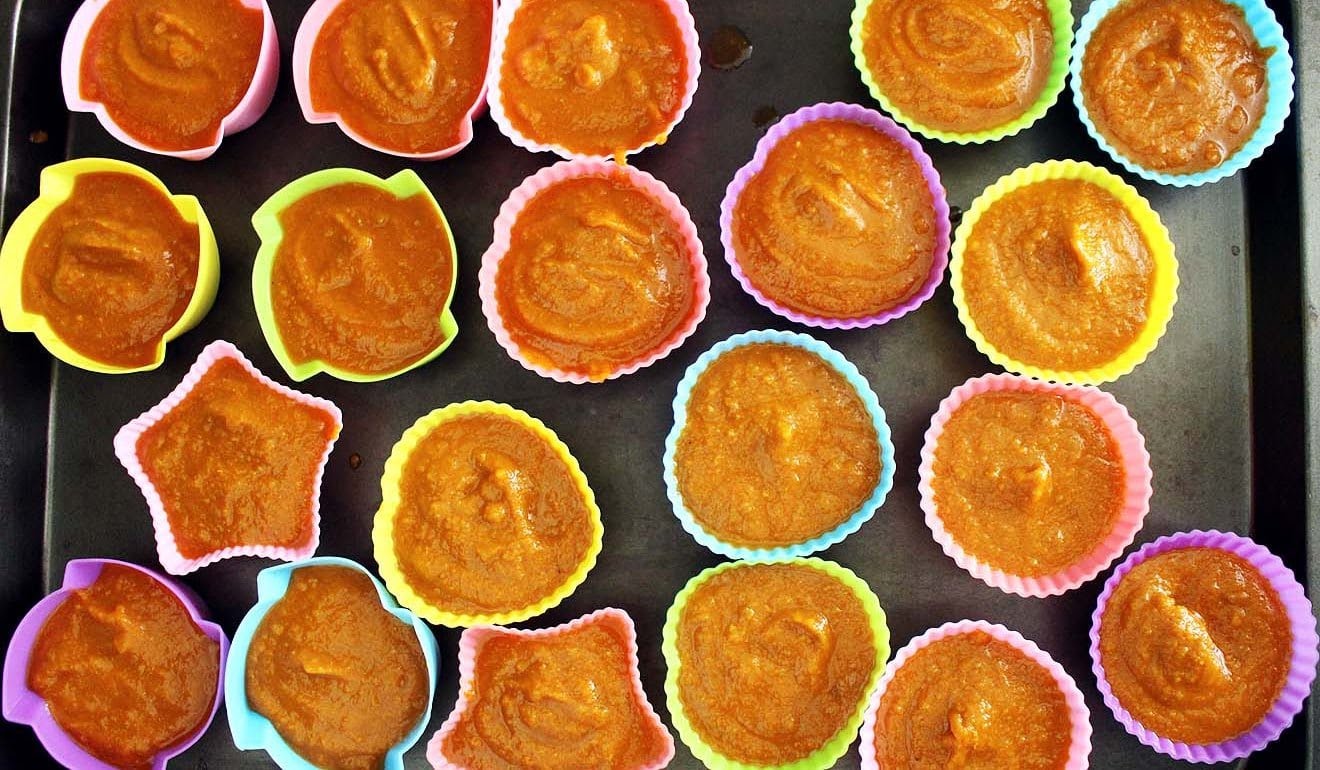 25) Once frozen remove it from the liners and store in freezer safe Ziploc bags. Don't forget to write down the date and label chunky/smooth to identify easily.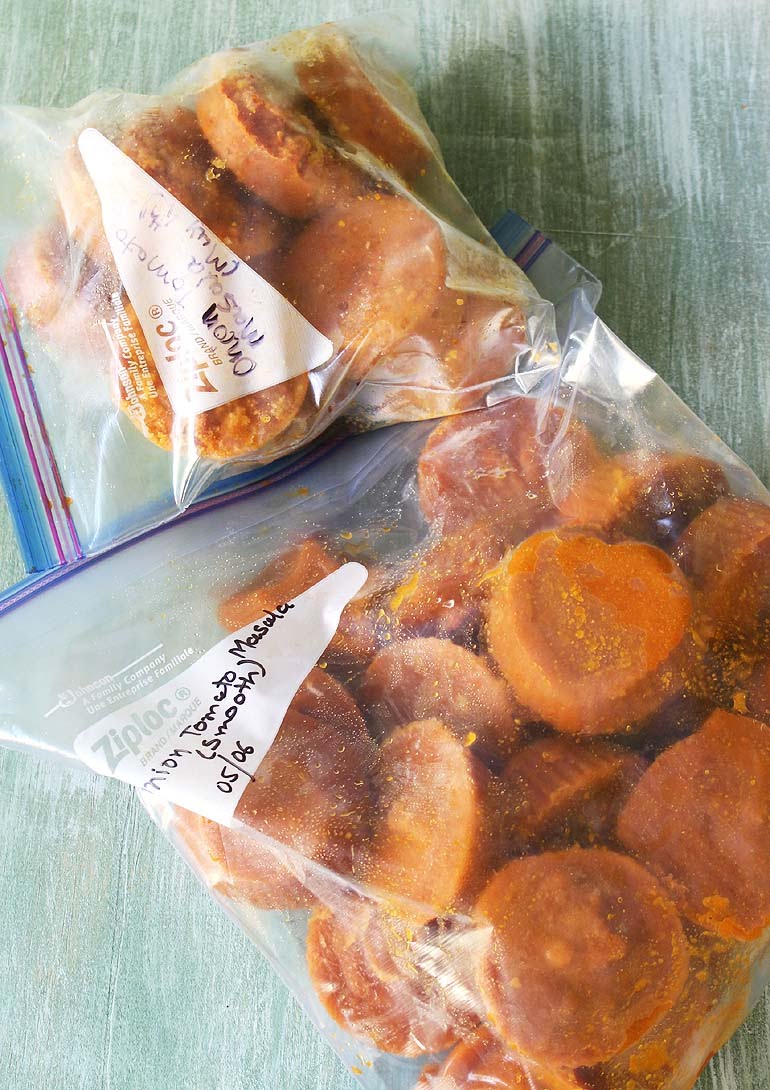 The shelf life of Onion Tomato Masala:
In the refrigerator: it stays good for 2 weeks in airtight container.
In the freezer: it stays good for 6-8 months or even more. Use silicone cupcake liners, fill each one with ¼ cup measure and freeze. Once frozen store in freezer safe Ziploc bags.
Recipes using Instant Pot  Onion Tomato Masala:
More cooming soon
Or you can use this Indian curry paste whenever a recipe calls for onion and tomato at the beginning of the cooking. Try experimenting and you will know how to and how much to use.
Instant Pot Onion Tomato Masala (Basic Indian Curry Paste)
This instant pot onion tomato masala is a great make ahead and freeze idea that will save you a lot of time in the kitchen.

Ingredients (1 cup = 240 ml)
¾

cup

Oil

3

lbs

Onion

4

tablespoons

Salt

2.5

oz

Ginger

2 oz or 25

cloves

Garlic

5

Green chilies

4

lbs

Tomatoes

1 ½

tablespoons

Turmeric powder

⅓ to ½

cup

Red chili powder

½

cup

Coriander powder
Instructions
Roughly chop the onions and soak in warm water for 15-20 minutes.

Pulse them in food processor to make it finely chopped. Do it in batches.

Turn on the saute mode in IP and add oil. Once hot add onions and salt.

Mix and let it cook till mixture gets light brown color, do stir occasionally. This process takes 30-40 minutes.

Meantime, prep ginger, green chili and garlic. Take them into food processor and pulse to make it minced mixture. Keep it aside.

In the same food processor jar, make chunky puree of tomatoes.

Once onions are ready, add ginger, garlic green chili mixture and cook for 3-4 minutes.

Add tomatoes, turmeric powder, red chili powder and coriander powder. Mix very well.

Close the IP with lid and cook on manual (high pressure) for 10 minutes. Let NPR and then open.

Remove half of the chunky masala and using hand blender make smooth puree of rest of the masala.

Freeze ¼ cup portion into silicone cupcake liners till frozen. Then remove and store in ziploc bag in the freezer.

Label the bags with 'chunky' and 'smooth' onion tomato masala with date.

Use as needed in the recipe.