Here I am sharing the collection of methi recipes. In English, it is called fenugreek leaves. All the recipes below mentioned are Indian recipes hence the collection name can be Indian fenugreek leaves recipes.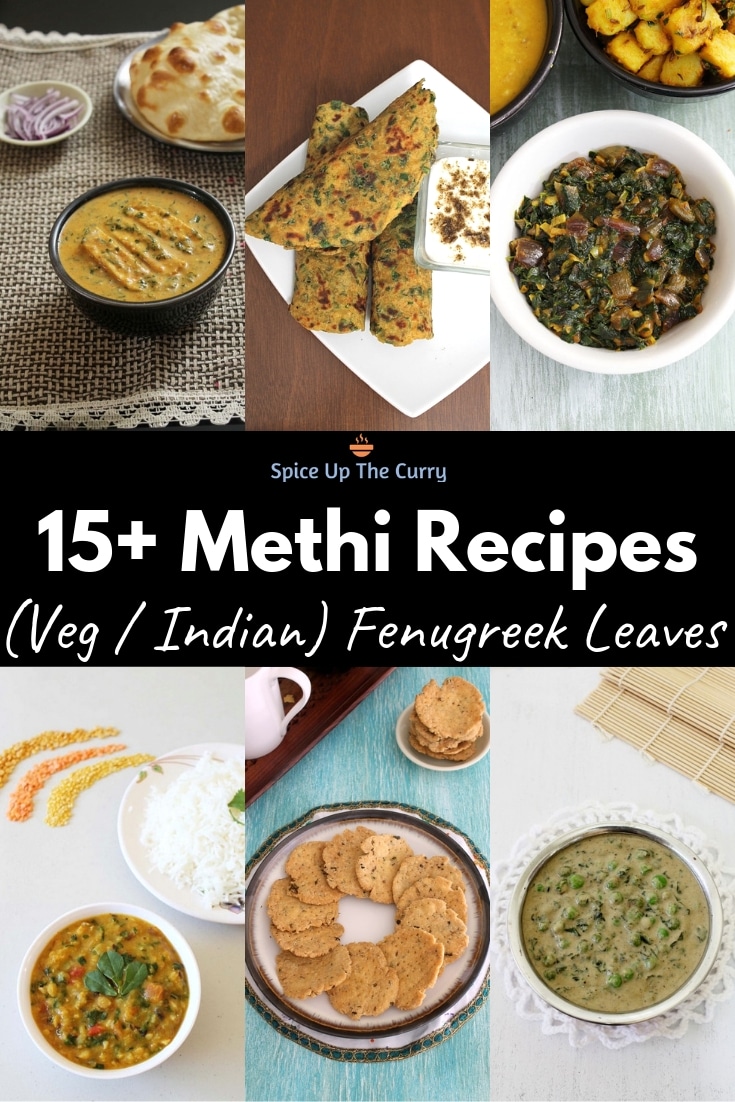 Methi leaves are easily available during the winter season in India. But here in USA, we get good quality fresh methi leaves in summer through early fall. Though you will find year-around, but not fresh-looking leaves. In that case, I buy the frozen packet of fenugreek leaves.
How to buy?
Always select the bunch that is fresh and green in color
Avoid yellow looking leaves or wilted ones.
If the bunch has smaller leaves meaning they are more bitter in taste compared to larger leaves.
If fresh is not available then you can buy frozen fenugreek leaves packet.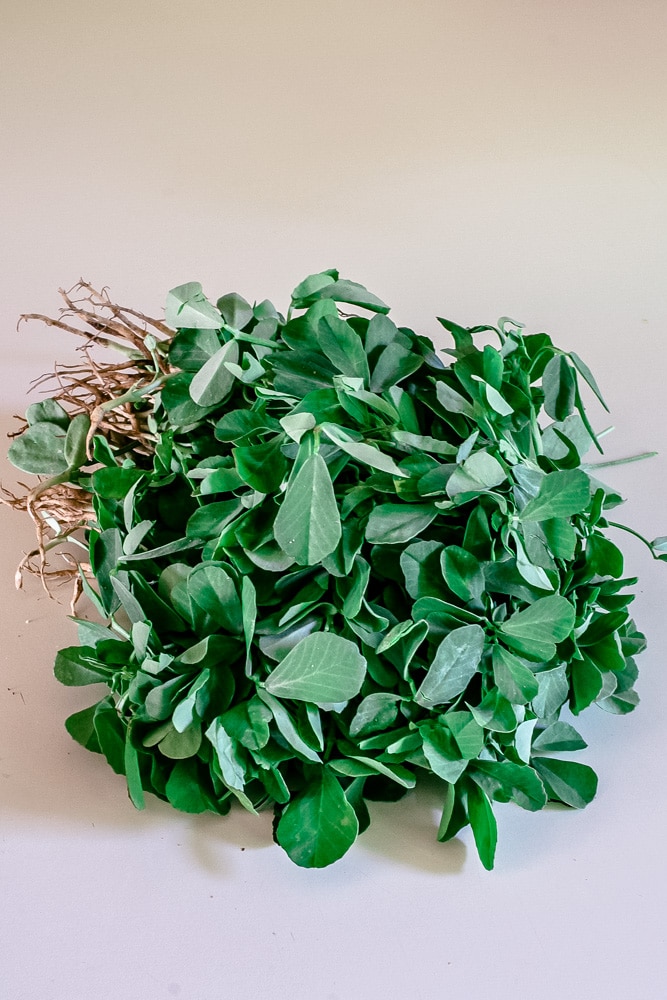 How to store?
As soon as you buy the fresh bunch of methi leaves, pluck the fresh-looking leaves and discard the stems.
Place a paper towel in a container, add leaves in the container. Cover the leaves with another paper towel and then close with a lid.
This way it stays fresh up to a week.
Wash the leaves at the time of using (not ahead of time).
To freeze methi leaves, wash them well, spread on a kitchen towel and let it dry. Then store in freezer safe ziplock bag and freeze. It stays good up to 6 months.
How to reduce the bitterness of methi leaves?
First, wash the leaves really well. For that, dunk them into plenty of water and leave for 10-15 minutes. So all the dirt will settle down at the bottom and leaves will float on top. Then gently without disturbing the water much, remove the leaves. If leaves are too muddy then you may want to repeat the process 2-3 times.


Take washed leaves into a colander or strainer. Sprinkle salt on it and keep it aside for 10-15 minutes.


After resting time, squeeze the leaves and remove excess water. This way you can remove some bitterness but not all.

Here in USA, we do not get really bitter tasting methi leaves compared to India. And I miss that taste really bad.
---
This collection is divided into the below categories. Click the link for quick access.
Methi Recipes: Curry, Sabzi
1). Methi matar malai: The popular restaurant-style dish is recreated at home. This is a very flavorful and aromatic dish with creamy, smooth and delicious gravy. This mild version curry has a hint of sweetness that goes very well with slightly bitter taste of methi leaves.
2) Methi malai paneer: The gravy is creamy and medium spicy. It is made from onion, cashew-almond paste and heavy cream aka malai. Then fenugreek leaves and paneer pieces are simmered into the gravy. It tastes too good with garlic naan.
3) Aloo methi: This is a dry vegetable preparation that is healthy, home-style and can be made on an everyday basis. This goes very well with roti or paratha.
4) Methi bhaji: This Maharashtrian style methi sabji has very fewer spices used, so it has dominant fenugreek leaves flavor. This healthy dish usually served with roti or bhakri.
5) Undhiyu: Here methi leaves are not in the list of star ingredients. But fried methi mutha are added into this traditional Gujarati curry undhiyu.
6) Tameta muthia nu shaak: Same as above, methi muthia are simmered into Gujarati style tomato curry.
Indian fenugreek leaves recipes: Flatbreads
7) Methi paratha: These are soft and not chewy at all. Because boiled, mashed potato is added while kneading the paratha dough. Pack into a lunch box with a side of yogurt or raita or pickle.
8) Methi thepla: This is a Gujarati dish and it is made just like parathas. But the spices added into the dough are slightly different. Also, theplas are thinner than parathas. This makes the perfect travel food as it stays fresh for 2-3 days.
9) Methi dhebra: Another Gujarati flatbread, but here millet flour (bajra flour) is used along with chapati atta to make the dough. Other than shallow frying on the tawa, you can deep fry them like vada or thick puri. It tastes good with a bowl yogurt and side of mango chunda.
Methi leaves Recipes: Snacks
10) Methi gota: These are the Gujarati style methi pakoda. They are so soft, spongy and delicious. This is usually enjoyed with a cup of chai (tea) or coffee.
11) Methi mathri: This is the Punjabi snack where dried fenugreek leaves are used (not fresh ones). This is a deep fried snack and usually made during Diwali festival.
12) Methi muthia: A Gujarati snack made from fenugreek leaves and besan with few spices. This can be made two ways, steamed and fried. Steamed version is usually served as a snack with chutney or a cup of tea. While the fried version is added into the curry like undhiyu.
13) Bajri methi vada: This is perfectly crispy, a soft snack made from millet flour and methi leaves. They are deep fried and served with tea.
14) Palak methi muthia: Another muthia recipe with the addition of spinach leaves. Here very less flour is used compared with leafy green veggies. Hence it is healthy and full of nutritions.
15) Oats methi muthia: Another fusion muthia where powdered oats are used instead of portion of flour. Once steamed, they are sliced and shallow fried with sesame and mustard seeds.
Methi recipes: Dal, rice
16) Methi dal: to make this dal mix of masoor dal, moong dal and toor dal is used. The simple dal is made more nutritious by adding few methi leaves. Serve with rice, jeera rice or mild pulao.
17) Methi rice (pulao): This healthy rice dish is masaledar, tasty and healthy. Pack into a lunch box and it makes a filling meal.
Check out other recipe collections
Lauki recipes
Bhindi recipes
Indian Mushroom recipes
Paneer recipes