Here I am sharing the step by step photo method for how to sprout mung beans or green gram. Homemade moong sprouts are very easy to make and of course they are hygienic and fresh compared to store bought ones.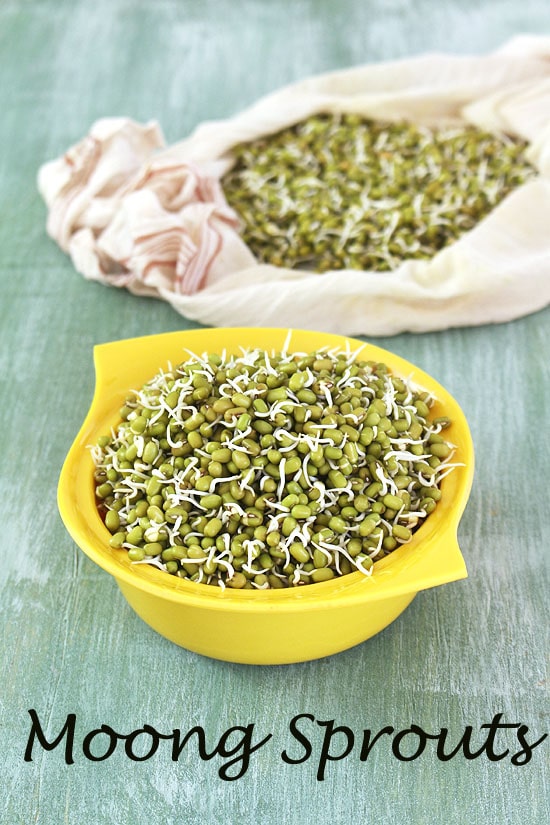 Making homemade sprouts are very easy and you do not need any sprouting kit or sprout maker. You will see the easy method with no fancy equipment.
As you know that sprouts are full of nutrients and give many health benefits. I am not going into details of this, because that list is long. But in short, one should include this in their healthy diet.
I usually make moong sprouts for salad and curries. I also make moth bean sprouts to make matki usal and misal pav. Occasionally I do make mixed beans sprouts and methi sprouts, but not regularly.
Eating raw sprouts are not for everyone. Many cannot digest them easily. In that case, you can lightly cook them in boiling, hot water. Make sure not to overcook them otherwise they lose their nutrients. Children and pregnant women should avoid raw sprouts.
Step By Step Photo Instructions:
1) Take good quality mung beans. If needed clean and remove the stones and debris. Wash them under running cold water. While washing, rub with your hand and wash properly.
2) Soak in enough room temperature water for 8 hours or overnight.

3) Do cover the bowl while beans are soaking.
4) After the soaking time, they have expanded and doubled in size.

5) Discard the soaking water and again wash the beans with water. Drain the water completely.
6) Now damp a muslin cloth, cotton cloth or man's handkerchief. (meaning wet the cloth and squeeze out all the water). Dump all the beans in the center of the cloth.

7) Now tie a knot using edges.
8) Put this knot side down in the bowl.

9) Cover the bowl with perforated plate (which has small holes in it) so the air can circulate. I have covered with upside down plate, so it is partially covered. Let some air pass through otherwise it will have some odor. Place in dark place undisturbed.
10) Next day I see beautifully sprouted moong beans. Depending on the weather climate in your area, it may take one to two days to sprout. If it does not sprout in a day and the cloth is dry and sprinkle little water on cloth to dampen it. Do not over do it, we don't want them to rot. So the bottom line is, during the sprouting time, the cloth should remain damp.

You can keep in the refrigerator for 2 days in a container, not more than that. Sprouts should be consumed fresh.
Serving suggestion: You can use raw sprouts in salads. You can boil them and use in bhel puri, pani puri. You can make curry or sabzi, sandwiches, soup using mung sprouts.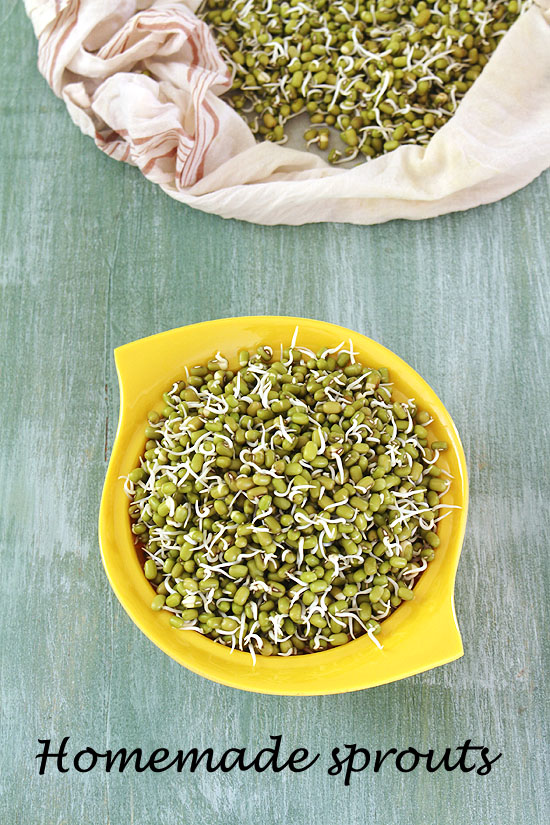 Did you try to sprout moong beans at home? I'd love to hear about it! Leave a review in the comment section below.
📋 Recipe Card
Step by Step Photos Above
Want to make it perfect first time? Don't forget to check out Step-by-Step photo instructions and helpful Tips & Tricks !!
How to Sprout Mung Beans (Healthy, Homemade moong sprouts)
Tried this recipe? Leave a comment and/or give ★ ratings
Learn how to make sprouts at home.
US measuring cups are used (1 cup = 240 ml) See details
Ingredients
1

cup

Whole green moong dal (Green gram dal)

Water

as needed for soaking
Instructions
Clean and pick the stone or debris from the moong beans.

Wash and rub them under running cold water.

Soak them in enough water for 8 hours or overnight.

Then discard the soaking water, wash the soaked beans again and drain the water completely.

Take them into damp cloth and tie a knot with edges of cloth.

Keep this knot side down into the bowl and partially cover the bowl to keep the air circulate.

Keep it into warm and dark place undisturbed for a day or two or till you see the sprouts are coming.

During this process, if the cloth dries out sprinkle little water and keep moist, damp.

Use the mung sprouts the same day or store in fridge for 2 days only.
Notes
during the sprouting time, the cloth should remain damp. Storage: You can keep in the refrigerator for 2 days in a container, not more than that. Sprouts should be consumed fresh.
Nutrition
Serving:
1
cup
|
Calories:
31
kcal
|
Carbohydrates:
6.2
g
|
Protein:
3.2
g
|
Fat:
0.2
g
|
Sodium:
6
mg
|
Potassium:
155
mg
|
Fiber:
1.9
g
|
Sugar:
4.3
g
*Nutrition information is a rough estimate for 1 serving