This aate ka halwa is a popular North Indian halwa recipe made from wheat flour, clarified butter (ghee) and sugar. Hence the name wheat flour halwa. It also spells as atta halwa.
Here halwa is North Indian or Punjabi term, in Gujarati, it is called 'ghau no sheero' or 'sheera'.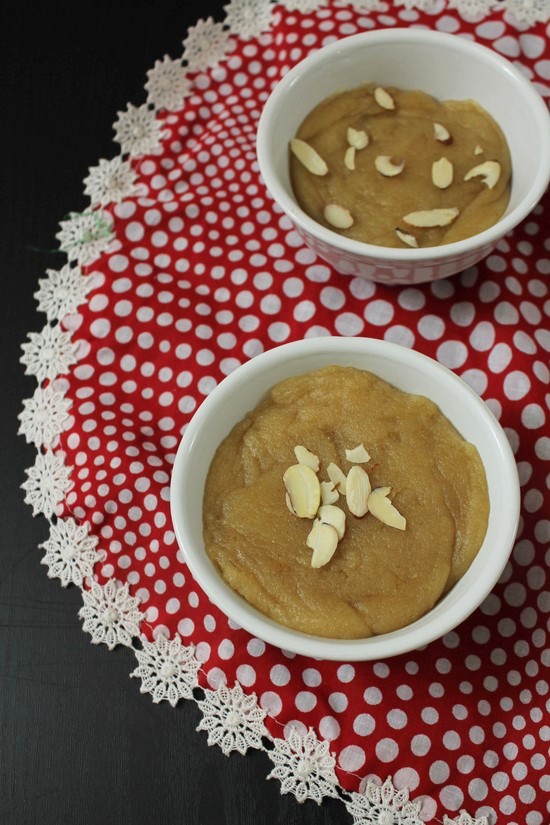 This aate ka halwa recipe is quick and easy to make, unlike gajar halwa which takes hours to cook. I remember my mom making this wheat flour halwa with a whole lot of ghee. Once halwa is ready, ghee is dripping out from sides and top. That tastes just fantastic.
But these days no one like to have that many calories in their diet and I am also one of them. So I have reduced the amount of ghee here. The mentioned quantity is just perfect, halwa is not dry at all, you can see from the photo that it is pretty smooth and it is not heavy as well.
This atta halwa is usually made on festivals and special occasions.
How to make aate ka halwa recipe?
1) Heat the ghee in a pan on medium heat. Let the ghee melt.
2) Now add wheat flour.

3) roast it on medium-low heat with stirring continuously. when ghee and atta combines it will be chunky or lumpy and heavy in the beginning.Roast it for 5-6 minutes.
4) There are many signs that you notice once it is roasted nicely and properly. As you roast it, it gets smooth and you will feel that it is much lighter and easy to stir. Ghee also starts to ooze out. You will have a nice nutty aroma of flour and it gets a little darker in color.

5) Once the flour is roasted, add water and stir. Do both tasks simultaneously, keep pouring the water and keep mixing. thus you will not have any lumps.
6) Within 2-3 minutes, all the water is absorbed and it becomes like thick paste as shown below.

7) Now add sugar.
8) Mix it well and as sugar melts, halwa will get loose.

9) Keep stirring and cooking till it gets thick and it starts to leave the sides of the pan. Turn off the gas heat.
10) Add cardamom powder and nuts. Mix well.

Serve the halwa warm or at room temperature.
I always like atta halwa warm. I have eaten cold from the fridge once, but I didn't like it at all. As it gets cold, ghee is also turned in solid form and as you have a spoonful of halwa, you feel the ghee in the roof of your mouth which I hate it.
Serving suggestion: Serve as a dessert after meal or anytime of the day.
Tips to make BEST Aate Ka Halwa:
I strongly recommend using non-stick pan while making any type of halwa. So while making, halwa does not stick to the pan and it is easy to scrape the sides of the pan as you stir.
Lately, I am in love with this Silicone Spatula that you see in the photos. It makes the scraping job so easy that not a single bit stuck on sides of the pan. You can see the difference, in gajar halwa recipe I have used a wooden spoon, you can see that halwa sticking to the sides even though I have used nonstick pan. While you can see in this halwa recipe, sides of the pan is so clean.
Roasting the wheat flour properly and correctly is the key to make perfect halwa. If not roasted properly then you will have a taste of raw flour. So take your time, roast on low-medium heat it till you get a nutty aroma.
About the sugar quantity, for below measurements, I have used ⅓ cup of sugar because I and hubby like little less sweet desserts. But if you like sweeter then increase the sugar quantity to ½ cup.
Here I have used almonds just as a garnishing. But If you like you can add lots of chopped nuts (cashews, almonds, pistachios).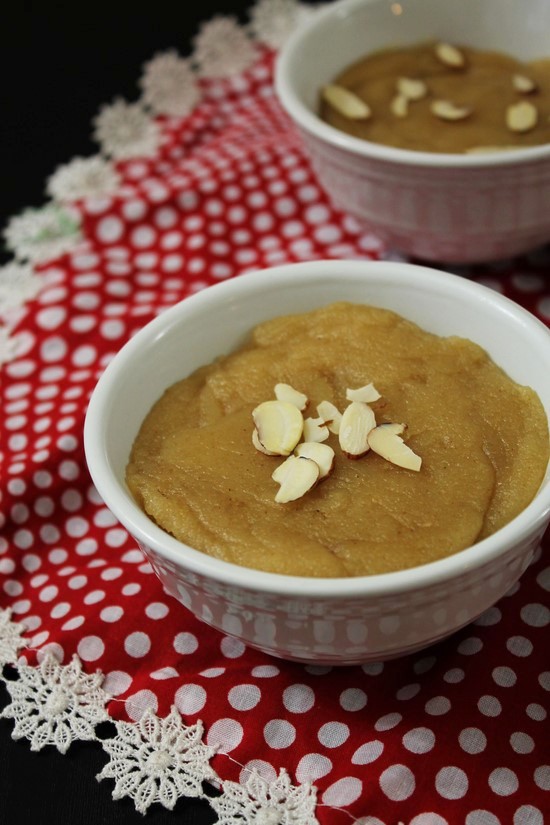 Check out more halwa recipes
Sooji halwa // Badam halwa // Banana halwa // Pineapple halwa
Step by Step Photos Above
Want to make it perfect first time? Don't forget to check out Step-by-Step photo instructions and helpful Tips & Tricks !!
Aate Ka Halwa (Atta Halwa) Wheat Flour Halwa
Tried this recipe? Leave a comment and give ★ ratings
This aate ka halwa (atta halwa) is a popular North Indian halwa recipe made from wheat flour. Hence the name wheat flour halwa.
Ingredients
⅓

cup

Ghee (clarified butter)

½

cup

Whole wheat flour (Chapati atta)

1

cup

Water

⅓ to ½

cup

Sugar

⅛

teaspoon

Green cardamom seeds powder

1-2

tablespoons

Almonds

or cashews or raisins
Instructions
Making aate ka halwa recipe:
Heat the ghee in a pan on medium heat. Let the ghee melt.

Now add wheat flour. Roast it on medium-low heat with stirring continuously. when ghee and atta combine it will be chunky or lumpy and heavy in the beginning.

Roast it for 5-6 minutes. There are many signs that you notice once it is roasted nicely and properly. As you roast it, it gets smooth and you will feel that it is much lighter and easy to stir. Ghee also starts to ooze out. You will have a nice nutty aroma of flour and it gets a little darker in color.

Once the flour is roasted, add water and stir. Do both tasks simultaneously, keep pouring the water and keep mixing. thus you will not have any lumps.

Within 2-3 minutes, all the water is absorbed and it becomes like a thick paste.

Now add sugar. Mix it well.

Keep stirring and cooking till it gets thick and it starts to leave the sides of the pan.

Turn off the gas heat.

Add cardamom powder and nuts. Mix well
Nutrition
Calories:
380
kcal
|
Carbohydrates:
76.6
g
|
Protein:
9.3
g
|
Fat:
7.3
g
|
Saturated Fat:
1.7
g
|
Cholesterol:
6
mg
|
Sodium:
4
mg
|
Potassium:
45
mg
|
Fiber:
8.7
g
|
Sugar:
35.6
g
*Nutrition information is a rough estimate for 1 serving