Simple, Homemade Ghee Recipe. It is very fragrant and has a rich nutty taste. It is an integral part of Indian cooking. You will learn today how to make ghee from butter. YES, just one ingredient - BUTTER!!
You will also learn all the tips to success. Keep reading I will show you the different ways to use it!
Today I am sharing the stove top version. Another method is making ghee in instant pot. I will update the post once I take the pics.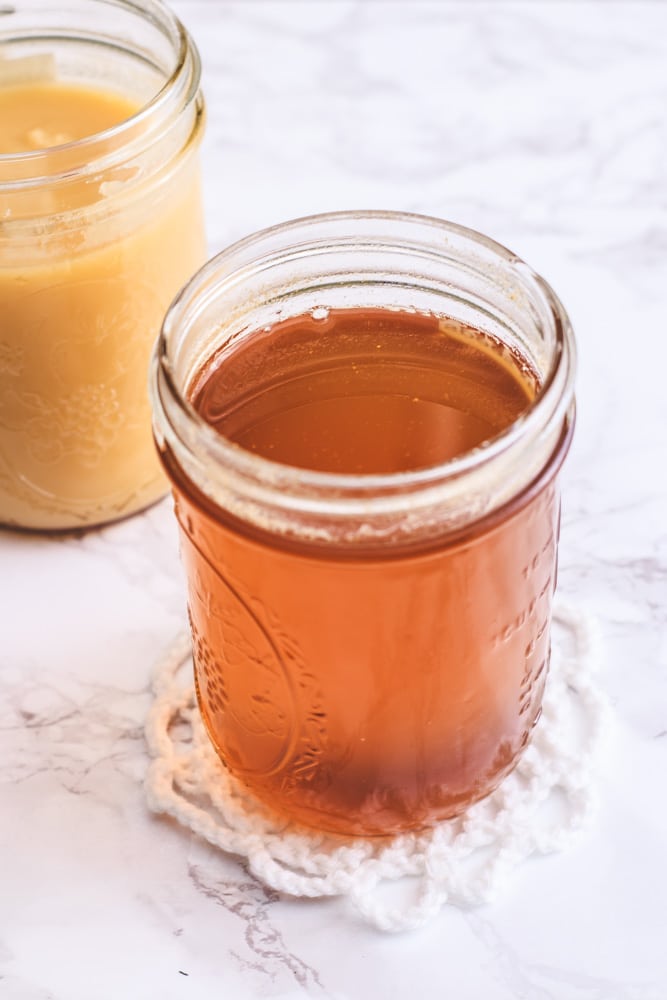 What is Ghee?
Ghee is widely known as clarified butter. (But technically both are not same). The word 'ghee' is derived from the Sanskrit word meaning 'sprinkled'. That's what we Indians do, right? Ghee is usually sprinkled over roti, chapati, khichdi, dal, rice.
In Hinduism, ghee is viewed as holy and is a key ingredient in many sweets prepared for the religious pooja, festivals. It is used to lite diyas during pooja rituals. For centuries, ghee has been used in ayurvedic medicine.
I have probably made ghee 100 times or maybe more. Because it is a staple food for Indian cooking and we use it every single day (or I would say use it in every single meal).
I have seen my mom making it since my childhood. Actually, I have never seen her buying it from the store. She is a firm believer in homemade ghee. It tastes, smells way better than store-bought one. Once you go this route, you will never look back!
Though one thing to clarify, My mom makes "desi ghee" from malai. But here in USA, that is not possible so I make it from butter.
How to make desi ghee from malai?
Every morning she boils the milk, let it cool down. The thick layer of cream is collected on top of the milk.
Daily she collects that cream in a container and store in the refrigerator.
After two, three weeks she will have enough cream to make white butter from it. So she will churn the cream using madani (loni or valonu) - Indian wooden whisk till butter and buttermilk separate.
That white butter (aka makhan) is used for making ghee (similar to below method).
Making your own ghee at home very easy and very simple task. It requires only 20 minutes and good quality unsalted butter.

Which butter to use for making homemade ghee?
Always use UNSALTED butter. (I have made ghee with salted butter too and it was good, but unsalted gives better results)
Use organic grass-fed butter (preferable Kerry gold Irish butter). I have made with Kirkland brand's (Costco) unsalted butter too and it tastes good.
How to make Ghee from Butter?
Cut the unsalted butter into big chunks and take it to the heavy bottom saucepan. Making pieces will ensure even melting and cooking.

Turn the heat on medium and let the butter melt.
As soon as it is melted, you will notice white foam on top.

Once the butter starts simmering, LOWER the heat. Continue simmering, you will notice the bubbling sound. That is the evaporation of moisture from butter.

As it is simmering, the bubbles will increase and the foam will decrease. Below pic is after 15 minutes of simmering on low heat.

Then the bubbles will be more clear to notice and a very thin layer of foam left. At this time, the milk solids will start to settle at the bottom of the pan.

Then within a few minutes, you will see lots of tiny bubbles. And the foam will start to disappear completely and milk solids at the bottom will start browning.

Soon (within less than a minute) you will see it starts to foam up again. We're almost done.

Be careful and watch closely now. Within a few seconds, the foam will rise in the pan. It's DONE. Turn off the stove.

Let the foam settle down for a few seconds. Do not let it sit for longer.

Strain the ghee in a clean glass jar or stainless steel container. NOTE: Keep the container and strainer lined with muslin cloth ready ahead of time. So we can strain the ghee as soon as foam settles down. We do not want the ghee to rest in the hot pan and continue cooking.

The leftover browned up milk solids can be discarded. Though many likes to consume it by mixing some sugar.
1 lb of butter will fill 16 oz (1pint) mason jar almost to the top.
After 3-4 hours (depending on how hot/cold your house is), ghee starts to solidify, but still runny in consistency. It gets lighter on color as it becomes solid.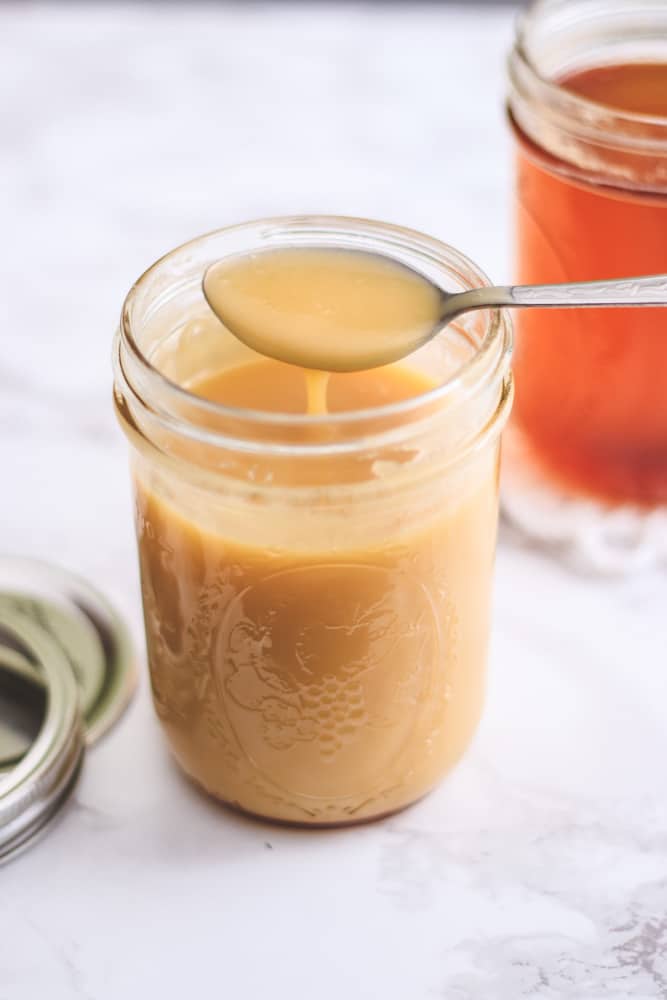 The next day, it becomes completely solid, see below. (because I live in cold climate). If you are in a warmer climate like Indian weather (minus cold winter) then yours will be runny solid as shown above.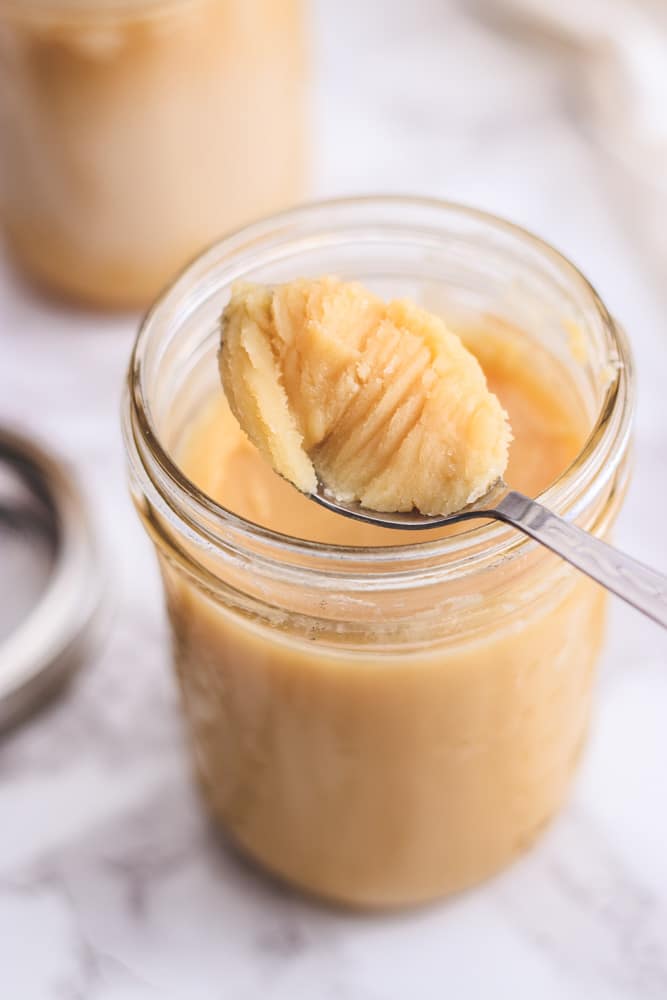 The color of the ghee:
Most people prefer the golden, amber color for their ghee. You will find the same if you use store bought one. If you are one of those, then follow → As soon as it starts to foam up again, turn off the stove. Do not let the foam rise in the pan.
I prefer dark amber color ghee. If you are like me then follow the step by step guide (with pictures) mentioned above.
The shelf life of ghee:
In cabinet: Ghee stays good up to 3 months in an airtight container at the room temperature when stored in the kitchen cabinets.
Refrigerator: Ghee stays good up to 1 year in an airtight container in the refrigerator.
Can I double or halve the recipe?
Yes. I often make half, double or even triple the amount just depending on how much I need. If it's a festival (diwali time) I would make more. The melting and start getting simmering steps will take little extra/fewer minutes depending on the quantity you are making.

My favorite ways to use ghee:
Step by Step Photos Above
Want to make it perfect first time? Don't forget to check out Step-by-Step photo instructions and helpful Tips & Tricks !!
How to make Ghee from Butter?
Tried this recipe? Leave a comment and/or give ★ ratings
Making homemade ghee is easy and quick. Also, it is affordable, much better taste and aroma compared to store-bought.
US measuring cups are used (1 cup = 240 ml) See details
Ingredients
1

lb

Unsalted butter

preferably grass-fed organic
Instructions
How to make ghee from butter at home?
Cut the butter into small pieces and melt it in a heavy bottom saucepan.

Once melted lower the heat and let it simmer. In the beginning, there will be a good amount of foam on top, as time goes foam will starts to disappear.

After 15 minutes, you will notice the bubbles will be clear, very tiny and foam disappears completely.

In less than a minute, you will notice the foam will re-appear and start to rise in the pan.

Turn off the stove, let the foam settle down for few seconds.

And strain the ghee in glass or stainless steel jar.
Nutrition
Serving:
1
tablespoon
|
Calories:
112
kcal
|
Carbohydrates:
0
g
|
Protein:
0
g
|
Fat:
13
g
|
Saturated Fat:
7.9
g
|
Polyunsaturated Fat:
0.5
g
|
Monounsaturated Fat:
3.7
g
|
Cholesterol:
33
mg
|
Sodium:
0.3
mg
|
Potassium:
0.6
mg
|
Fiber:
0
g
|
Sugar:
0
g
|
Vitamin A:
395
IU
|
Vitamin C:
0
mg
|
Calcium:
0
mg
|
Iron:
0
mg
*Nutrition information is a rough estimate for 1 serving