Instant Pot Pav Bhaji Recipe – Easy and Quick method of preparing pav bhaji in electric pressure cooker IP. This is so quick method that it can be done in only 30 minutes (from start to finish). I mean chopping veggies for the dish to serving the dish, just takes 30 minutes. Isn't it cool?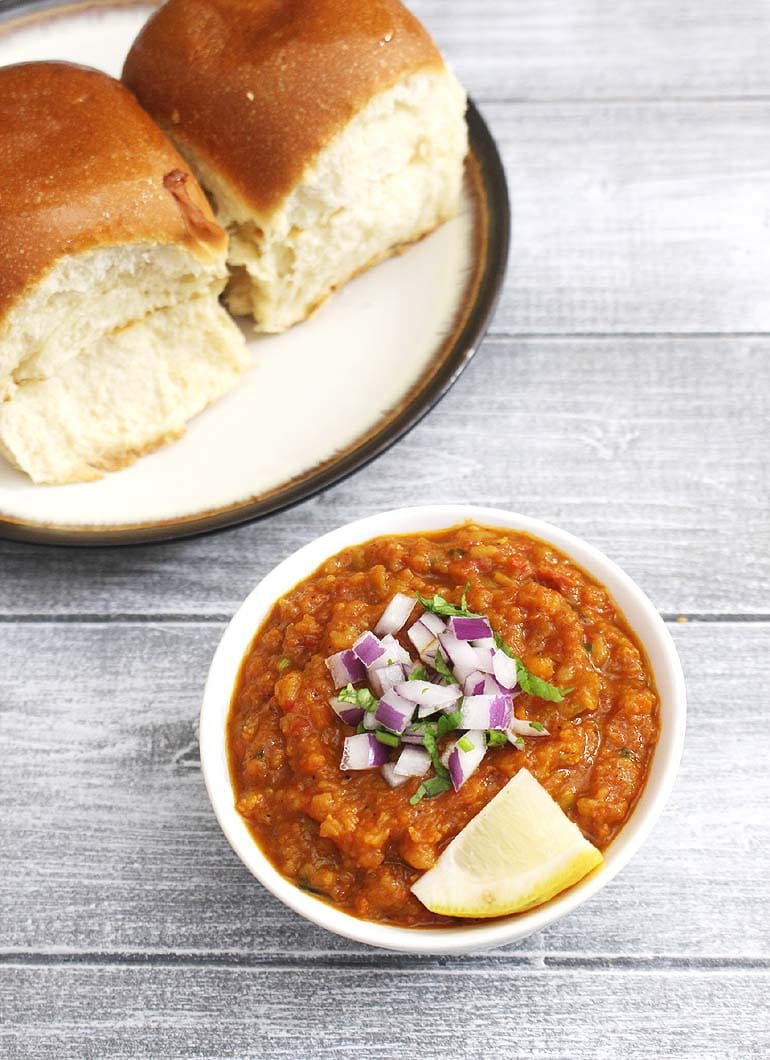 What is Pav bhaji?
It is popular Street food from Mumbai, India.
Here pav means the soft, buns. While bhaji is mashed vegetable mixture. This bhaji is topped with finely chopped onions and drizzled with little lemon juice. And served with butter toasted pav.
The authentic method of making pav bhaji is easy but it is time consuming. In that veggies are pressure cooked and boiled first. Then we saute onion-tomato in the pan and then mix in boiled, mashed vegetables with masala. For this procedure you need to keep stirring once in a while, so you have be there near the stove.
But when we make pav bhaji in instant pot, we are doing all the step (sauteing, boiling) in just one go and forget about it.
Instant Pot Pav Bhaji Recipe Rundown:
Taste & Texture: heavenly delicious, mild spicy, buttery bhaji with lightly butter toasted soft pav. In short, tastes exactly same as made authentic way.
Pros: crowd pleasing (you can make double, triple or as needed amount)
Cons: buttery goodness is not good for health. But who cares?
Tips to make perfect pav bhaji in Instant pot:
To get the best taste, butter is very essential here. Yes, it should be loaded with butter (when we talk about the authentic taste). But if you are health conscious then you can reduce the amount or substitute with oil.
The second essential thing is addition of pav bhaji masala. I recommend using Everest brand pav bhaji masala. Second best is MDH brand. I do not have good experience with badshah brand. Or if you have time you can make it at home by following this pav bhaji masala powder recipe.
Always add pav bhaji masala powder after vegetables are pressure cooked. If added along with vegetables and then cooked on high pressure, the masala loses the flavor and aroma. So I highly suggest that add later and turn the saute mode for few minutes to get the best flavor.
To get intense bright red color, you can add little piece of beetroot along with rest vegetables. Or use the kashmiri red chili powder instead of regular.
How to make Instant Pot Pav Bhaji Recipe (Step by Step):
1) Take roughly chopped onion, bell pepper and garlic in a food processor. NOTE: I was out of green bell pepper, so I have used red one. For best results please use green pepper.
2) Pulse it to make it finely chopped. Remove it to a bowl.


3) In the same, now add chopped tomatoes.
4) And make chunky puree. It does not required smooth puree. Keep it aside.


5) Turn on the saute mode in Instant pot. Once hot add 1 tablespoon of butter in it and let it melt.
6) Add cumin seeds and let the sizzle a bit.


7) Then add onion, pepper mixture.
8) Mix and cook for 3-4 minutes or till the raw smell of onion and garlic goes away, also onion becomes soft.


9) Now add tomato puree.
10) Mix and cook for 3-4 minutes only.


11) Now add all the vegetables (potatoes, peas, cauliflower, carrot).
12) Also add salt and red chili powder.


13) Add water and mix well.
14) Cover the IP with lid. Cancel the saute mode by pressing the cancel. And turn on the Manual mode and set it for 6 minutes high pressure. Keep the valve in sealing position.
Once done, let NPR (naturally pressure release) for 5 minutes then change the position of valve and let the pressure release completely. Once the pin drops, open the lid.


15) Add pav bhaji masala and turn on the saute mode.
16) Using potato masher, mash the vegetables. Alternately you can use hand blender,


17) Keep them little chunky. Do not mash it completely that it becomes pasty.
18) Now add remaining butter and let it melt. Stir well.


19) Lastly add chopped cilantro and turn off the staute mode.
20) Mix well and instant pot pav bhaji is ready.


21) Now cut the pav horizontally and apply butter on both sides. Heat the pan on medium heat and place the pav on hot pat.
22) Once lightly toasted on bottom flip them toast the other side similarly. Repeat the same for rest of the pav.


Serving suggestion: Remove the bhaji to a bowl, garnish with chopped onion. Drizzle little lemon juice on it. And serve with side of toasted pav.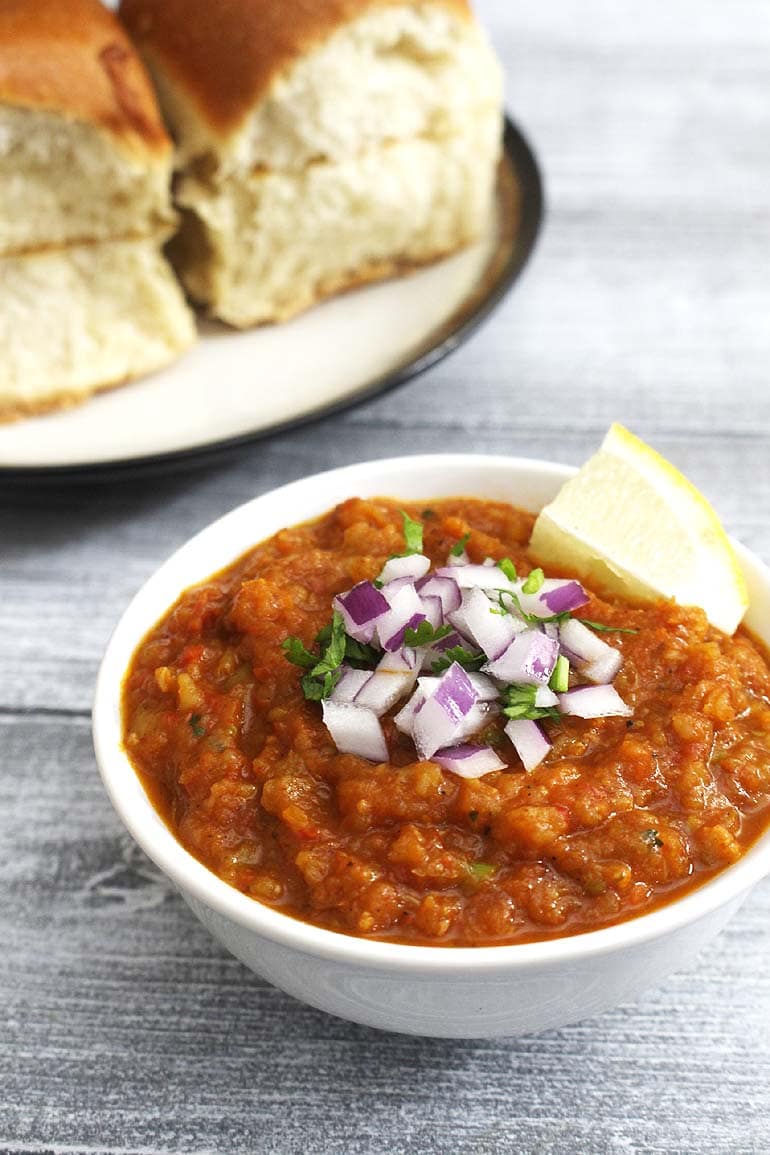 Variations:
You can use your choice of vegetables. The taste depends on what vegetables you are using. But potato is the base, so do not skip or reduce the amount of potatoes. Play with rest of the vegetables. Few options are zucchini, cabbage, eggplant, green beans, broccoli, sweet corn.
To enjoy cheese pav bhaji, remove piping hot bhaji to individual's serving plate and garnish with grated cheese.
To make paneer pav bhaji, add 1 cup of chopped or grated or crumbled paneer at the end.
Substitution:
Instead of pav, you can use burger buns or dinner rolls. Or simply use any sandwich bread slices.
Use oil instead of butter and make instant pot pav bhaji – Vegan friendly.
Check out other instant pot recipes
Instant pot veg noodles // Instant pot matar paneer // Instant pot dal makhani // Instant pot chana masala
Instant Pot Pav Bhaji Recipe
easy, delicious pav bhaji recipe made in instant pot
Ingredients
1 + 3

tablespoons

Butter

1

teaspoon

Cumin seeds

1

medium

Onion

roughly chopped

½

of medium

Capsicum (Green bell pepper)

chopped

3

cloves

Garlic

4

medium

Tomato

chopped

2 medium or 2

cups

Potatoes

peeled and cubed

½

cup

Cauliflower (gobi)

cut into florets

1

cup

Green peas

¾

cup

Carrot

chopped

Salt

to taste

1

tablespoon

Red chili powder

¾

cup

Water

1 ½

tablespoons

Pav bhaji masala

3

tablespoons

Cilantro or coriander leaves

finely chopped

Lemon juice

if required
For serving:
10

Ladi pav

(or you can substitute with burger buns)

Butter

as needed to toast the pav

½

cup

Onion

finely chopped

1

Lemon

cut into wedges
Instructions
Making Instant Pot Pav Bhaji Recipe:
Take onion, garlic and bell pepper into the food processor bowl and pulse them to make it finely chopped.

Remove it to a bowl and then puree the tomatoes in it. Keep it aside.

Turn on the saute mode in IP and add 1 tablespoons of butter.

Once melted and hot add cumin seeds and let them sizzle.

Now add onion pepper mixture and saute till onions becomes soft.

Then mix in tomato puree and cook for 3-4 minutes.

Now mix in all the vegetables, salt, red chili powder and water.

Cover the lid, cancel the saute mode and cook on manual high pressure for 6 minutes. Do the NPR for 5 minutes then do QPR.

Once pin drops open the lid, add pav bhaji masala and turn back the saute mode again.

Mash with potato masher till it is little chunky.

Add butter and let it melt, mix.

Lastly add chopped cilantro and lemon juice, mix well and turn off the IP.
Serving The Pav Bhaji:
Apply butter on pav and toast both sides in hot pan till they are very lightly golden brown and toasted.

Serve bhaji (topped with chopped onion and drizzled lemon juice) with toasted pav.
Notes
*Nutrition information is a rough estimate for 1 serving of bhaji only.
*Nutritional information for pav and side servings of onions, lemon wedges are not included.
Nutrition
Nutrition Facts
Instant Pot Pav Bhaji Recipe
Amount Per Serving
Calories 265
Calories from Fat 113
% Daily Value*
Total Fat 12.5g 19%
Cholesterol 31mg 10%
Sodium 438mg 18%
Potassium 1020mg 29%
Total Carbohydrates 34.9g 12%
Protein 6.3g 13%
* Percent Daily Values are based on a 2000 calorie diet.
Tried this recipe?
Please comment below and give ★ ratings