It really doesn't get more refreshing than traditional Indian aam panna during these hot summer days. Here is the complete guide on how to make aam panna at home. Plus I am sharing few health benefits and how to store the kairi panna concentrate in the refrigerator.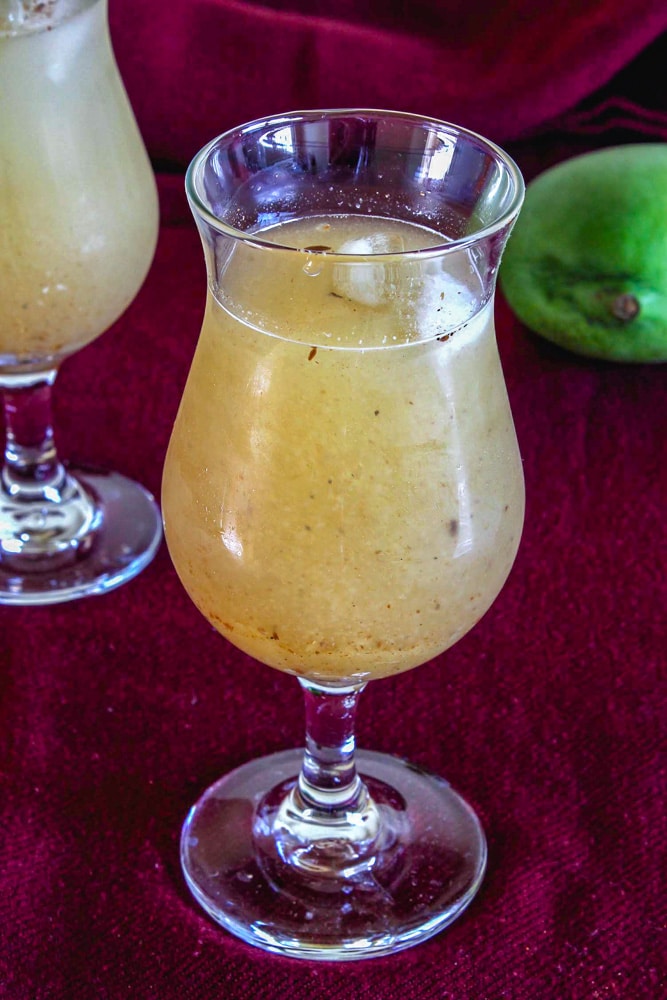 What is aam panna?
Aam panna is the traditional Indian summer beverage made from raw mangoes, jaggery (or sugar) and flavored with roasted cumin powder. This drink has a tangy and slightly sweet taste.

Homemade aam panna recipe (2 methods)
Roasted aam panna: Unripe green mangoes are roasted directly on the stove flame till the skin gets black and inside pulp gets soft and cooked. Then the skin is discarded and pulp is used to make kairi panna. It gives the subtle charred flavor to the drink. If you don't like or prefer the smokey flavor then choose the second method.
By boiling or steaming in the pressure cooker: Whole unripe mangoes (if smaller in size) or peeled, chopped cubes of raw mangoes are boiled with water in the pressure cooker. In these days, you can use your instant pot to boil.
The traditional method of making aam ka panna:
Traditionally in villages, people roast the mangoes on wood charcoal. Also, during the Holi festival, we fire the holi to worship. And a clay pot filled with raw mangoes and coconut is placed in the center of the holi woods right before starting the fire. So from the heat of the holi fire will cook the mangoes. And use them in making Kairi Panna.

Also known as Kachi keri no baflo:
In Gujarat, it is called kachi keri no baflo. Kachi keri means raw mango and baflo means a dish made from the boiled product. This drink is made from boiled mangoes hence the name keri no baflo.

Aam panna ingredients:
Raw mangoes (unripe green mangoes)
Jaggery (or sugar) - Increase or decrease the amount as per the tartness of your mangoes
Roasted cumin powder - Dry roast the cumin seeds on medium heat with stirring constantly. It becomes dark in color and you will get a nice aroma. Turn off the stove, remove it to another plate and let it cool completely. Then grind it in a spice grinder to a fine or coarse powder. Or you can use mortar and pestle to make powder for the smaller quantity.
Black pepper powder
Black salt
How to make aam panna concentrate?

Roast the mango directly on low-medium heat.
the skin will start to get black in color. Roast it turning all around till it gets black color from all sides. (Instead of roasting, you can boil it in a pressure cooker or instant pot. Peel the mango and pressure cook it with some water for 2-3 whistles. Pressure cooking time may vary as per the size of a mango.)
Let the mango cool completely.
Then peel the skin off. Skin will come out very easily.

Roughly chop it. Most of the part will be very soft and pulpy.
Take it to the blender with roasted cumin powder, black salt, black pepper powder, and salt.

Add jaggery.
Blend it to a smooth puree. Your aam panna concentrate is ready to store.

Storing aam panna concentrate:
Make a big batch, you can double or triple the quantity as needed. Here the sweetener (sugar or jaggery) acts as a preservative so you can store for a longer period of time. Store in clean, dry airtight glass jar or bottle. And keep in the refrigerator up to a month.

How to make aam panna drink?

Take two tablespoons of concentrate or pulp in an individual serving glass.
Add ice cubes (if using)

Pour the chilled water and stir well. (if making for large group or get-together, then you can make a big pitcher)
Garnish with a sprinkle of roasted cumin powder or mint leaf.

Why my mango panna has a different color?
Here I have used light colored jaggery, so it gives me an off-white colored drink. If you use granulated sugar then you will get the almost same color as mine. But if you use dark colored jaggery (or brown sugar). Then the color of it will be dark brown.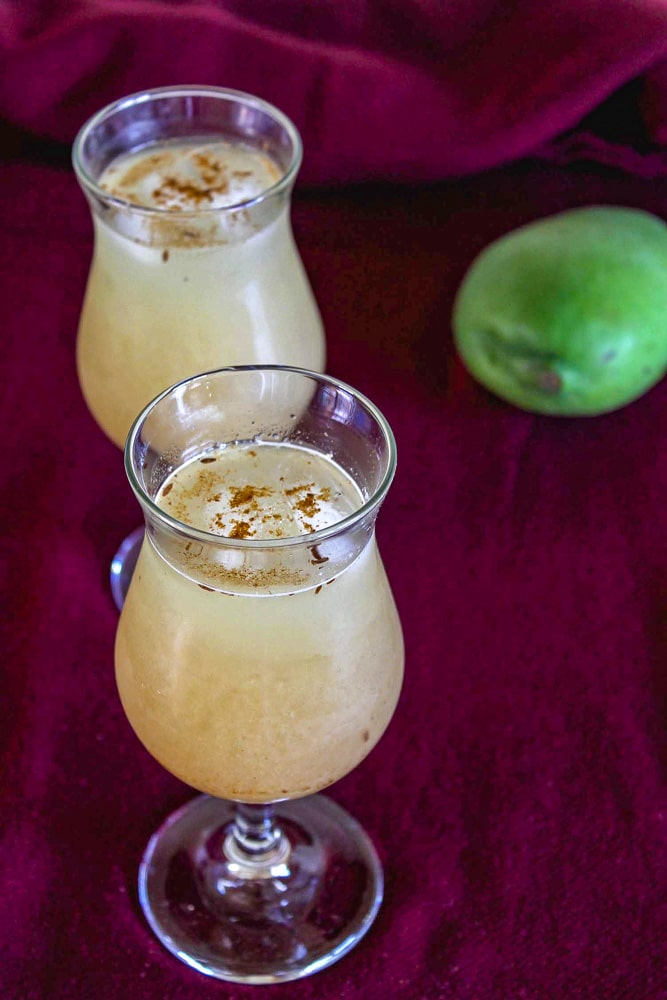 Health benefits of mango panna:
It beats the summer heat by re-hydrating your body.
Unripe mangoes are rich in pectin which helps to regulate the digestive process.
The aam panna made with jaggery is rich in iron. One glass of it by itself is enough to provide the daily need of iron.
It is rich in various acids which helps to fight against bacterial diseases.
Check out other Indian summer beverages
Nimbu pani // Shikanji // Mint juice // Falooda // Lassi // Chaas

Step by Step Photos Above
Want to make it perfect first time? Don't forget to check out Step-by-Step photo instructions and helpful Tips & Tricks !!
Aam Panna Recipe (Kairi Panna) Kachi Keri no Baflo
Tried this recipe? Leave a comment and/or give ★ ratings
Aam paan or Kairi panna recipe - this is traditional Indian summer drink make from unripe green mangoes, jaggery and flavored with roasted cumin powder. It is tangy and slightly sweet in taste.
US measuring cups are used (1 cup = 240 ml) See details
Ingredients
1 large or about 300

grams

Raw mango (Unripe mango)

1

tablespoon

Roasted cumin powder

½

teaspoon

Black pepper powder

2

teaspoons

Black salt (Kala namak)

Salt

to taste

2

tablespoons

Jaggery (Gur)

or Sugar

3 ½

cups

Water

Use chilled water or use Ice cubes
Instructions
Roast the raw mango directly on stove flame till skin is blackened and becomes soft from inside. Or boil in pressure for 2-3 whistles or till mangoes are soft and cooked.

Once cooled completely, discard the skin and take pulp into the grinder.

Add roasted cumin powder, black pepper powder, salt, and black salt.

Grind into the paste and concentrate it ready. You can refrigerate or use right away.

Take 2 tablespoons of pulp in a serving glass, add ice cubes and water.

Stir well and garnish with a sprinkle or roasted cumin powder.
Nutrition
Calories:
168
kcal
|
Carbohydrates:
41.9
g
|
Protein:
2.1
g
|
Fat:
1
g
|
Cholesterol:
0
mg
|
Sodium:
1320
mg
|
Potassium:
431
mg
|
Fiber:
3.8
g
|
Sugar:
38.9
g
|
Vitamin A:
1200
IU
|
Vitamin C:
59.4
mg
|
Calcium:
30
mg
|
Iron:
0.4
mg
*Nutrition information is a rough estimate for 1 serving