Falooda Recipe - very delicious and yummy beverage dessert that is flavored with Rose syrup. Key ingredients are sabja seeds(aka basil seeds), vermicelli aka falooda sev, sweetened milk, rose syrup and ice cream.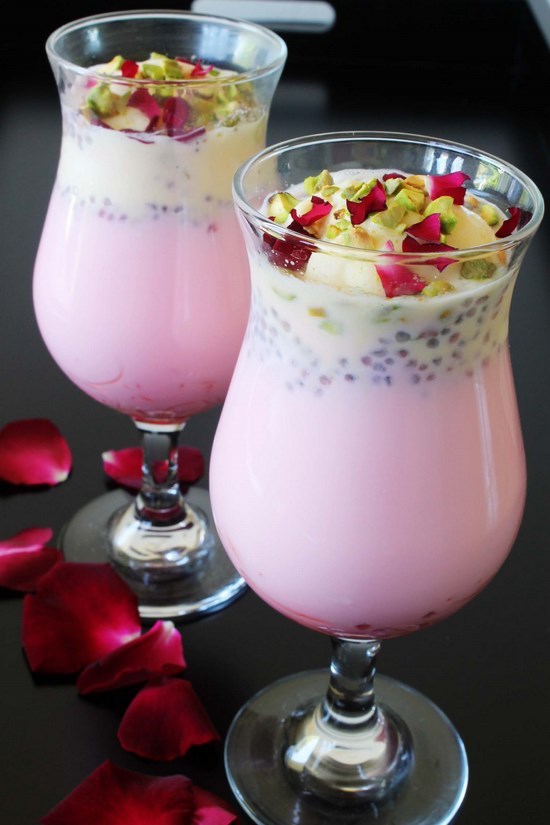 One more falooda verity on blog - Mango falooda
I am so excited to share falooda recipe with you guys today. This is my most favorite recipe that I make it in summer whenever I crave for some dessert. How can I forget that it is also dear hubby's favorite dessert? Yes it is heavy and really indulging dessert. But yeah once in a while I do make it.
My next goal is to make falooda sev at home. FYI, falooda sev is made from corn starch or corn flour and water. If you are familiar to falooda then you know what falooda sev is. But for those who does not know, here is the photo of raw falooda sev from store bought packet on left while cooked and drained falooda sev on right. I bought it from Indian grocery store and you can see sev is yellow in color.

Other interesting and key ingredient is falooda seeds aka sabja seeds, basil seeds, tukmaria. You need to soak them for at least 30 minutes. More soaking time does not hurt. Even you can keep refrigerated soaked sabja seeds up to a day. And after 30 minutes it swells up water and creates gel like layer around it. Below left is sabja seeds and right is soaked seeds after 30 minutes. Please continue reading here more about basil seeds, if you are interested in health benefits of it.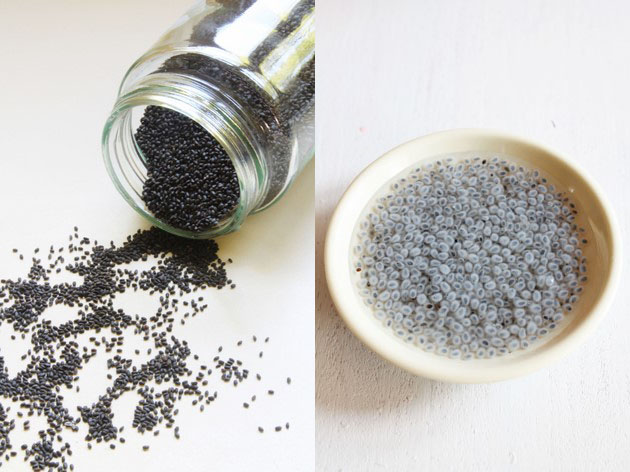 The beautiful pink color of this faluda is comes from rose syrup (another key ingredient). Rose syrup is easily available in Indian and here in USA, you will find in Indian grocery store. Instead of rose syrup, you can use rooh afza as well. It will still taste good.
Last key ingredient is sweetened milk. We are boiling the milk and sugar for some time. So it will thicken slightly and sugar will get melted. After the boiling, this needs to be chilled in the refrigerator.
You need to plan some elements like soaking sabja seeds and boiling-chilling milk ahead of time while making falooda. But all the effort is worth when you enjoy a glass of falooda. And yes making homemade falooda is also economical.
Here I have also added a scoop of vanilla ice cream on top just like we get at falooda stalls. Hence you can call it falooda with ice cream. If you want to make it light then you can skip the addition of ice cream.
Lastly, it is garnished with chopped pistachios and organic chopped rose petals. It is optional though.
Falooda comes in between category of beverage and dessert. But I prefer to call it as a dessert. This is little heavy if you consider it as a beverage. And most important that you have to eat 80% falooda with spoon so I call it a dessert.
So what are you waiting for? Note down the needed ingredients and buy it next grocery trip and make delicious falooda this weekend. Enjoy with your family.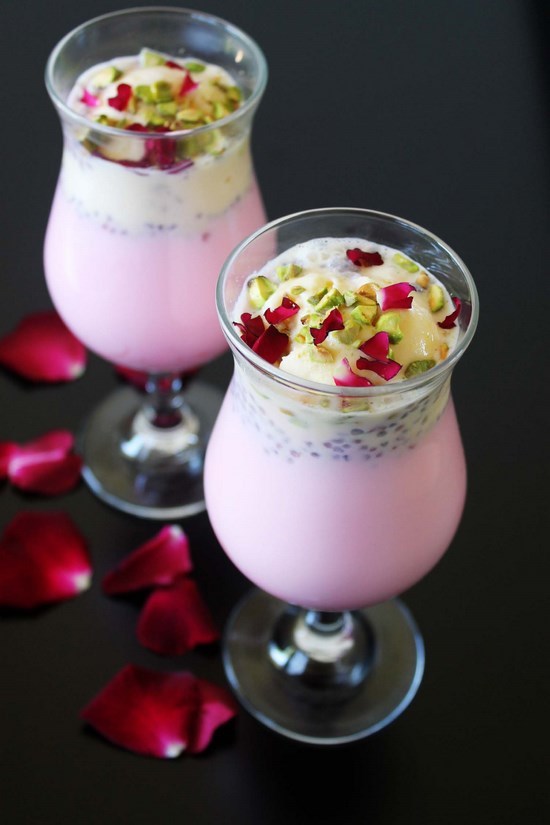 How to make falooda recipe
Step by Step Photos Above
Want to make it perfect first time? Don't forget to check out Step-by-Step photo instructions and helpful Tips & Tricks !!
Falooda Recipe
Tried this recipe? Leave a comment and/or give ★ ratings
Homemade falooda is easy to make and it is rose flavored beverage dessert.
US measuring cups are used (1 cup = 240 ml) See details
Ingredients
2

teaspoons

Basil seeds (Sabja seeds or Falooda seeds)

1 ½

cups

Milk

2

tablespoons

Sugar

handful

Falooda Sev

2

tablespoons

Rose Syrup

2 scoops

Ice cream

few

Pistachios

chopped for garnishing

few

Rose petals

for garnishing (optional)
Instructions
Preparation:
Soak basil seeds in the water for at least 30 minutes. After 30 minutes drain them.

Meanwhile take milk and sugar in the pan. Let it come to a boil on medium heat.

And then lower the heat and let it simmer for 5-7 minutes. Then chill it in the refrigerator. Milk becomes little thick.
Make the falooda sev as per package instruction.
How I did – take some water in a pan, let it come to a rolling boil. Add falooda sev, let it cook for 4-5 minutes.

Drain it and rinse it with cold water immediately to stop further cooking. using kitchen scissors, cut them into approx 1 inch pieces, so it will easier to eat later.

Now everything is ready, soaked basil seeds, chilled milk and sev. Let's assemble the falooda.
Making falooda recipe:
Take two glasses. Add spoonful of basil seeds to it.

Then on top add cooked falooda sev.

Then add 1 tablespoon of rose syrup in each glass.

Pour the milk in it. Some basil seeds will float on top.

Then add a scoop of ice cream.

Garnish it with chopped pistachios and rose petals.

Serve immediately.
Nutrition
Calories:
337
kcal
|
Carbohydrates:
53.8
g
|
Protein:
8.3
g
|
Fat:
10.8
g
|
Saturated Fat:
6.8
g
|
Cholesterol:
44
mg
|
Sodium:
153
mg
|
Potassium:
249
mg
|
Fiber:
0.5
g
|
Sugar:
34.2
g
|
Vitamin A:
300
IU
|
Vitamin C:
0
mg
|
Calcium:
300
mg
|
Iron:
0.2
mg
*Nutrition information is a rough estimate for 1 serving