Aamras Recipe - Nothing but flavored mango pulp. Usually served with puffed puris known as aamras puri.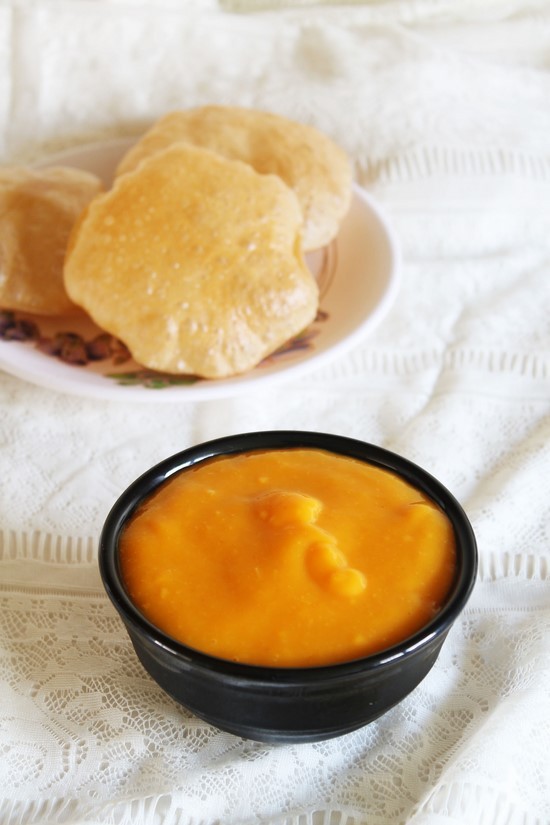 We got our first mangoes in season. And the first thing I made is aamras and poori. Dear husband and I love this combination. In India, this time mangoes came very early in the season. And my in-laws had already started enjoying mangoes.
The meaning of aamras,
aam = mango
ras = pulp or juice
So basically aamras is nothing but the mango pulp or puree which is flavored with cardamom or sonth or saffron.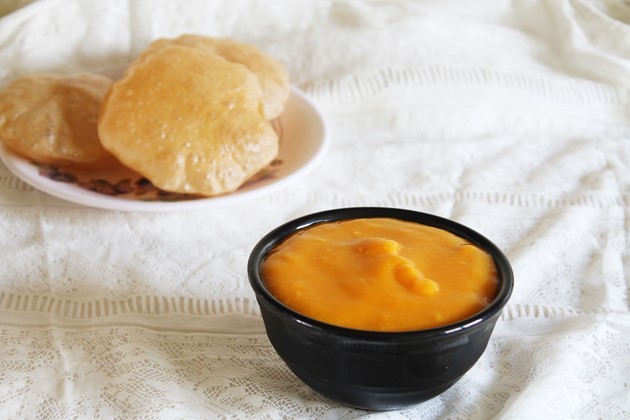 Aamras is popular in Maharashtra, Gujarat and Rajasthan. There are different flavored aamras in every region. Use any one option to flavor it up your aamras.
Maharashtrian Aamras: add cardamom powder.
Gujarati Aamras aka 'Keri no ras': add dry ginger powder or sonth and top with ghee (clarified butter)
Rajasthani Aamras: add saffron while grinding mango
Here I have added dried ginger powder as I grew up eating it this way. We usually top it with ghee which makes it heavy and ginger powder will help to easy digestion.

In Gujarat, if any social functions like wedding, ring ceremony etc. are in summer then aamras is must in the menu. But in store bought aamras, they use artificial flavors/essences. I have heard that they mix papaya pulp. As mangoes are expensive and papaya is cheaper in price. So I have never liked those. Homemade is always better and it is very easy to make. Just put all ingredients in the blender and make smooth puree. Aamras is ready.
The taste and flavor of aamras is totally depends on the type and quality of mangoes that you use. Alphonso or Kesar mangoes are highly recommended for making very tasty aamras. In USA, I do not get these verity mangoes. I found the best type is Ataulfo aka champagne mangoes which is Mexican fruit.
After making aamras, do not throw away mango seeds. Use those in this classical Gujarati dish - Fajeto.
[adinserter block="14"]
Check out other Mango recipes
Mango pudding  //  Mango mousse  //  Mango halwa  //  Mango shrikhand
It is recommended to serve chilled. You can make ahead of time and chill in the fridge for 2-3 hours and then serve. Traditionally aamras is served with poori. Check out puri recipe here. But I grew up eating with roti. Poori is made only on special occasions.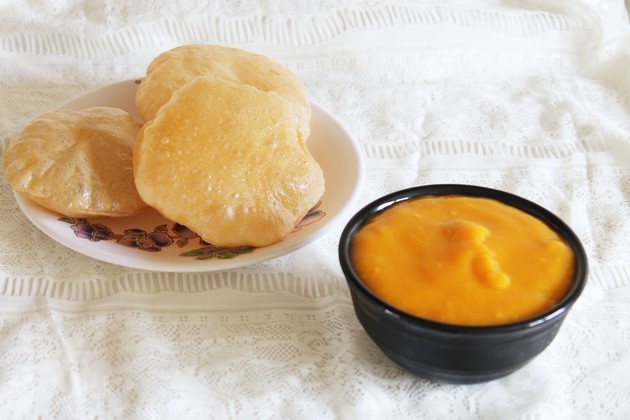 This is perfect for Fasting. If making on fasting serve with rajgira poori or rajgira paratha or singhare ke atte ki puri or kuttu ki puri.
Now it's time to eat aamras puri. While eating, feel like heaven on the earth. Enjoy!!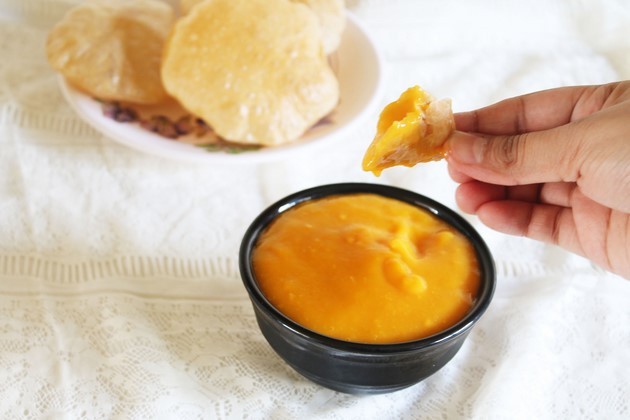 Aamras recipe:
Step by Step Photos Above
Want to make it perfect first time? Don't forget to check out Step-by-Step photo instructions and helpful Tips & Tricks !!
Aamras Recipe – aamras puri/poori
Tried this recipe? Leave a comment and/or give ★ ratings
Aamras or flavored mango pulp - traditionally served with puri.
US measuring cups are used (1 cup = 240 ml) See details
Ingredients
For aamras recipe:
2 medium

Mangoes

Sugar

to taste, optional **Notes

¼

cup

Milk

or water, optional **Notes
Different flavor options (Use any one) –
¼

teaspoon

Dry ginger powder (sonth or saunth)

few strands

Saffron

a pinch

Green cardamom seeds powder
Instructions
Peel the mangoes, remove the stone and chop them. Add to the blender along with other ingredients.

Blend it till you get smooth puree.

Now add flavor ingredient whichever you are using. If using saffron then add it into the blender.

And mix it well.
Notes
**NOTES:
Sugar quantity is depending on the mangoes. If your mangoes are sour then you need more sugar. If mangoes are sweet then you need less sugar or sometimes no sugar. I have not added any sugar because the fruit was sweet enough to our taste.
Milk or water– I usually do not add any milk or water. Because I like thick and strong mango flavor to my aamras. Specially Maharashtra, people use milk in aamras, while in Gujarat, people don't use any milk or water. Addition of milk/water is up to your liking. If adding milk please careful not to thin out too much that it becomes drink.
Shelf life – it can be kept in refrigerator in air tight container up to a week. You can freeze it in 1 serving portions and enjoy them any time of the year when mangoes are not in season.
Serving suggestion – Best served with poori or roti. When I was kid, I like to eat aamras with plain rice, but don't like this combination right now.
Nutrition
Calories:
120
kcal
|
Carbohydrates:
28.5
g
|
Protein:
2
g
|
Fat:
1.1
g
|
Saturated Fat:
0.4
g
|
Cholesterol:
2
mg
|
Sodium:
11
mg
|
Potassium:
291
mg
|
Fiber:
2.7
g
|
Sugar:
26.1
g
*Nutrition information is a rough estimate for 1 serving