Carrot Kheer Recipe or Carrot Payasam Recipe – easy to make and delicious dessert recipe made from grated carrot, milk and sugar.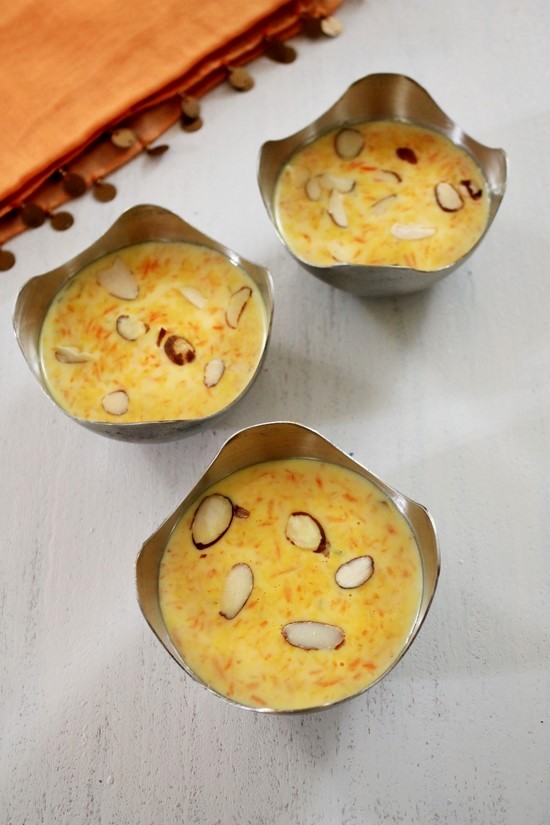 Any kind of kheer or halwa are the perfect dessert for the festivals like diwali, holi, rakshabandhan or any other festival or special occasions. This diwali I have made carrot kheer and sharing with you guys.
There are two ways of making carrot kheer. One is using grated carrots and second is using the pureed carrots. today I am sharing the version made from grated carrots.
In south India, carrot kheer is referred as carrot payasam.
I got this carrot payasam recipe from a South Indian cookbook. I wanted to give it a try because this is the first Indian dessert recipe I came across where cardamom powder is not added in it.
When it comes to the Indian sweets, I always add green cardamom seeds powder to flavor it up. But this recipe isn't calling for it. It calls for saffron only as a flavoring ingredient. And I was little curious to taste that. And I really liked it. I mean I loved it.
Check out other kheer recipes
Lauki kheer  //  Pumpkin kheer  //  Rice kheer  //  Sabudana kheer
---
How to make Carrot kheer recipe (Step by Step Photos):
---
1) Heat the ghee in a pan on medium heat. Once hot add grated carrots.
2) Saute for 5-6 minutes or till carrots gets slightly softer.


3) Now add remaining 2 ¾ cups of milk to cooked carrots.
4) Bring it to a boil and let it simmer on medium-low heat. Do stir in between and make sure that it is not sticking to the sides and bottom of the pan.


5) While milk is simmering take saffron stands in a small bowl, crush it using fingers. Add ¼ cup of milk and warm it up in the microwave. Keep it side.
6) Simmer till milk gets thickened. It took me 18-20 minutes.


7) Now add sugar, mix well
8) Also add sliced or slivered almonds and continue cooking for 4-5 minutes.


9) Lastly saffron infused milk. Mix well.
10) Cook for 1-2 minutes or till you get the kheer consistency.


Serve the kheer or payasam warm or chilled. To make chilled payasam, bring it to the room temperature then chill in the fridge.
Serving suggestion: Serve carrot kheer as a dessert after lunch or dinner. Or you can have along with your meal as sweet accompaniment.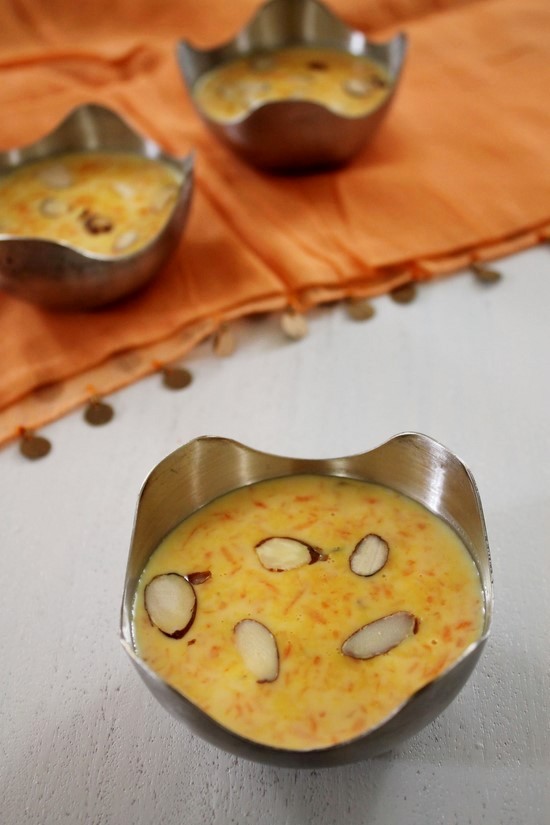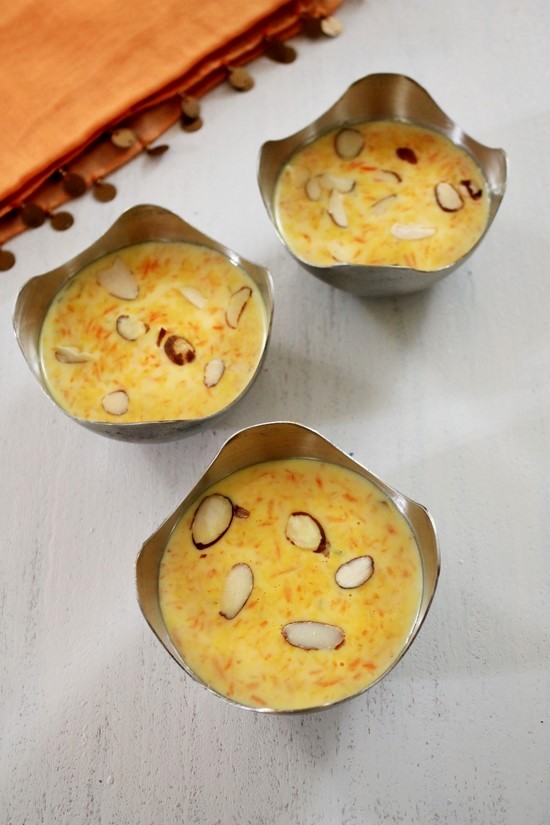 Carrot Kheer Recipe (Carrot Payasam Recipe)
US measuring cups are used (1 cup = 240 ml)
Ingredients (1 cup = 240 ml)
2

teaspoons

Ghee (Clarified butter)

2 medium or ¾

cup

Carrot

grated

3

cups

Milk

few strands

Saffron

1/3

cup

Sugar

1

tablespoons

Almonds

sliced
Instructions
Making carrot kheer recipe:
Heat the ghee in a pan on medium heat.

Once hot add grated carrots. Saute for 5-6 minutes or till carrots gets slightly softer.

Now add 2 ¾ cups of milk to cooked carrots.

Bring it to a boil and let it simmer on medium-low heat. Do stir in between.

While milk is simmering take saffron stands in a small bowl, crush it using fingers. Add ¼ cup of milk and warm it up in the microwave. Keep it side.

Simmer till milk gets thickened. It took me 18-20 minutes.

Now add sugar, mix well

Also add sliced or slivered almonds and continue cooking for 4-5 minutes.

Lastly saffron infused milk. Mix well.

Cook for 1-2 minutes or till you get the kheer consistency.

Then turn off the stove