Homemade ginger garlic paste - It is an essential item to keep handy for Indian cooking. It makes cooking quick and easy.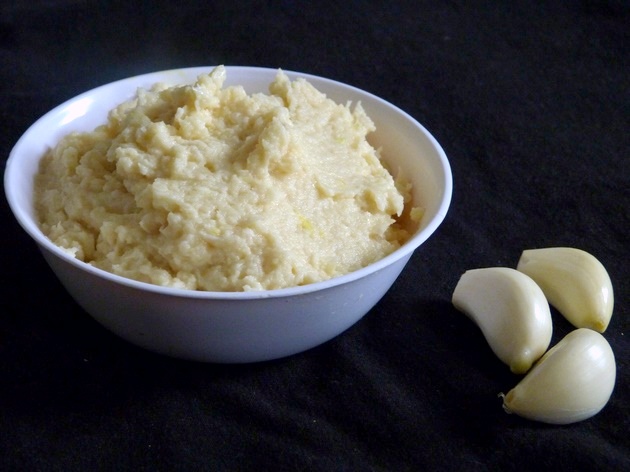 If the recipe calls for ginger paste or garlic paste, you need to freshly grate them or mince them. This will take some time for the preparation. So always keep ginger paste and garlic paste ready in the fridge. This way you will save some time in the kitchen.
If you are regular reader of my site. You probably know that I always use ginger paste and garlic paste separately. Just because some recipe calls for only ginger or only garlic. While some calls for more ginger and less garlic or vice versa. That is the reason I usually make ginger paste and garlic paste separately instead of making ginger-garlic paste combined.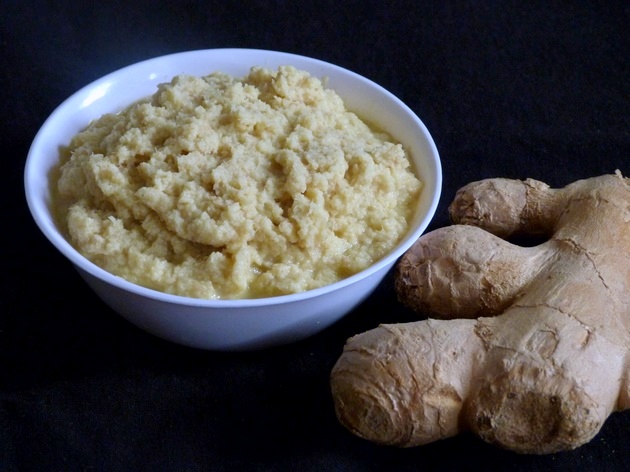 📋 Recipe Card
Step by Step Photos Above
Want to make it perfect first time? Don't forget to check out Step-by-Step photo instructions and helpful Tips & Tricks !!
Homemade Ginger Garlic paste recipe
Tried this recipe? Leave a comment and/or give ★ ratings
be efficient in kitchen by preparing this ginger and garlic paste ahead of time and storing well in refrigerator.
US measuring cups are used (1 cup = 240 ml) See details
Ingredients
For Ginger Paste:
4

cup

Ginger

chopped

⅓

cup

Oil
For Garlic Paste:
5

bulbs

Garlic

5

tablespoons

Oil
Instructions
Making Ginger Paste:
Wash the ginger very well. Pat it dry completely using kitchen towel or paper towel. It is important that there should be no moisture.

If needed scrub them or peel them or leave the skin on. It depends on the what kind of ginger you are using. If you using young ginger which has very thin and tender skin then I do not bother peeling it. If it has tough skin then I would peel them.

Chop into small pieces to make the grinding process easy.

Take them into grinder and make paste out of it. Do not add any water. Push down the ginger back in between to make the process easy.

When you are almost done, add oil and swirl it again. So it is mixed properly.

Remove it to a airtight glass container and store in the fridge.
Making Garlic Paste:
Peel the garlic. Here is best way to peel garlic. Soak garlic pods in cold water for 30 minutes then peel it. The skin will come out very easily and your fingers won't be sticky at all.

Pat them dry very well. It is important that there should no moisture in it

Add them to grinder or blender. Do not any water.

Grind it into a paste. You need to push down garlic in between to help grinding properly.

When grinding process is almost done add oil. And grind to a smooth paste.

Store garlic paste in air-tight glass jar in refrigerator.
Nutrition
Serving:
1
teaspoon
|
Calories:
20
kcal
*Nutrition information is a rough estimate for 1 serving
How to make ginger-garlic paste?
I do not prefer to make combined paste. But many of you asking for it, so I am mentioning here. Use the same amount of ginger and garlic (meaning 1:1 ratio). Procedure will be same, grind into the paste without any water. At the end add oil and store in container.
Shelf life of ginger garlic paste:
It stays good for 2 months in the refrigerator if you have followed all the tips (mentioned below to keep it fresh).
It stays good for many months in the freezer.
How to keep ginger garlic paste fresh for a long time?
Store them in airtight container in the refrigerator.
Always use clean and dry container for storing.
Do not add any water while grinding. Also make sure that you wipe it dry completely after washing ginger or garlic.
Always use clean, dry spoon to get the needed amount.
When needed for the recipe, remove the jar from the fridge, take out required amount using clean spoon. Close the jar and put it back in the fridge immediately. Do not let the jar sit at room temperature while you are cooking the dish.
Why ginger garlic paste stays fresh for longer period of time?
The reason behind it is addition of oil in it. Oil acts as a preservative just like it does in pickles (aachar).
Also no water is added for making paste so it stays fresh for longer period of time.
There are few other options to use as a preservative instead of oil. You can use salt or turmeric powder. I do not prefer salt because I like to control the salt in my dishes. Many times I forget that paste already has salt in it and it messes the entire dish. Turmeric powder added pastes are only good for Indian cooking. Because turmeric stains the entire dish yellow in color.
My garlic paste turns green. Is it still good to eat?
Yes totally safe. If the garlic paste turns green in color and still has good garlicky smell then it is completely edible.
But here we using good amount of oil while making paste which makes it super white. And stored in fridge well, it will not turn green.
If used water for grinding, then there are good chances that it will turn green after few days.
Check out other kitchen basics
Homemade paneer
How to make Yogurt
Homemade Garam masala powder
Homemade khoya (for indian sweets)