रेसिपी को हिन्दी में पढ़े
South Indian Upma Recipe (rava upma) – a traditional South Indian breakfast recipe made from semolina. It is usually served with chutney on side.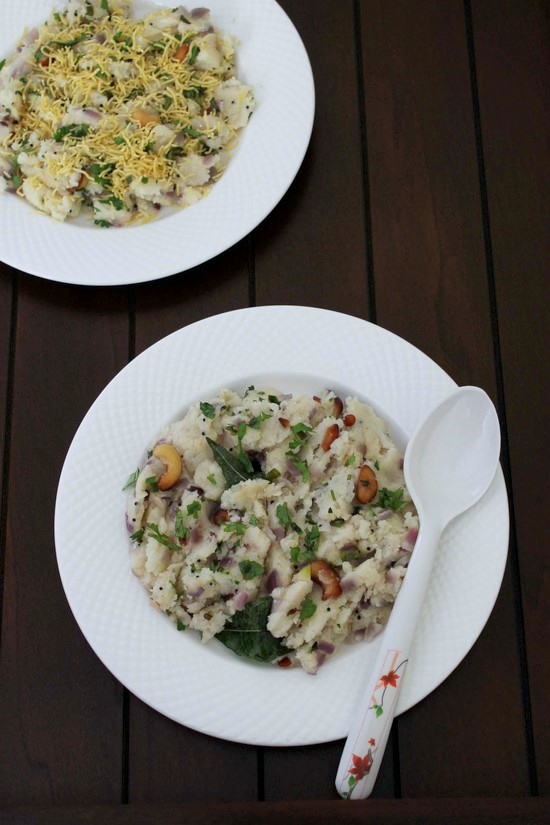 Upma usually served with spicy chutney. But I prefer it without chutney, just with a cup of tea or coffee. Dear hubby prefers with little sprinkle of sev on top.
It has light and fluffy texture. If yours is sticky and loose, what's wrong? Check Notes below.
Many people have roasted sooji available in their pantry. If you are using roasted sooji then this upma recipe will be ready in only 10 minutes.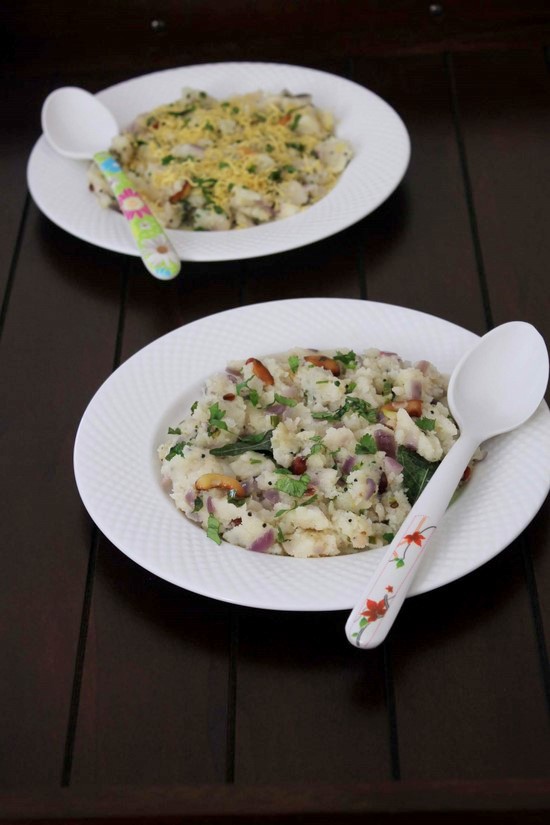 Rava upma recipe video:
Check out other upma recipes
Oats upma  //  Quinoa upma  //  Bread upma // Aval upma
---
How to make upma recipe (Step by step photos):
---
 1) Heat the oil or ghee in a pan on medium heat. Once hot add mustard seeds and let them pop.
2) Then add urad dal and chana dal, saute for 30 seconds.


3) Add cashews.
4) fry till dal and cashews are light brown in color.


5) then saute in green chili, ginger and curry leaves for a minute.
6) Add chopped onions along with salt.


7) mix well and cook.
8) cook till onions turn soft and translucent. please don't brown the onions.


9) add rava.
10) Roast rava for 6-7 minutes with stirring continuously. rava will change its color very slightly not major change.


11) While you are roasting the rava, warm up the water. I microwaved the water for 1-2 minutes. You can heat the water on stove top as well.
12) Once rava is roasted, add water with stirring constantly. So there will be no lumps. If you dump all the water at once and then you start mixing. This way you will have big lumps of sooji. So to avoid that always do both tasks (adding water and mixing) together.


13) rava will absorb the water and will look like this.
14) Cover the pan and LOWER the heat.

15) cook on low heat for 3-4 minutes. If needed, stir once halfway through.
16) Add lemon juice.


17) sprinkle chopped cilantro leaves
18) mix well. It is ready to serve. For the variation, you can try adding steamed or boiled veggies (corn, carrot, beans, peas) after onions are cooked.


I have sprinkled some sev on top for hubby, as he likes it this way (same as we get in restaurants or stalls aka Mumbai style). But I don't like that way, so I kept mine plain.
Serving suggestion: Serve this upma as a breakfast or snack with or without side or chutney. You can pack in kid's lunchbox too. It is usually served with spicy chutney. But I like to have it as such with a cup of coffee/tea.
Making upma perfectly:
Making this is very easy if you get the semolina and water ratio correct.
If more water is added then it gets loose and sticky. If less water is added then it becomes dry.
The quantity of water is always depend on the quality of rava. But the usual proportion of Sooji:Water should be 1:2. Meaning you need double amount of water than sooji. In short, for 1 cup sooji, you need 2 cups of water.
There is one more reason for sticky upma – If the sooji is not roasted properly. So take your time, roast on medium-low flame for about 6-7 minutes.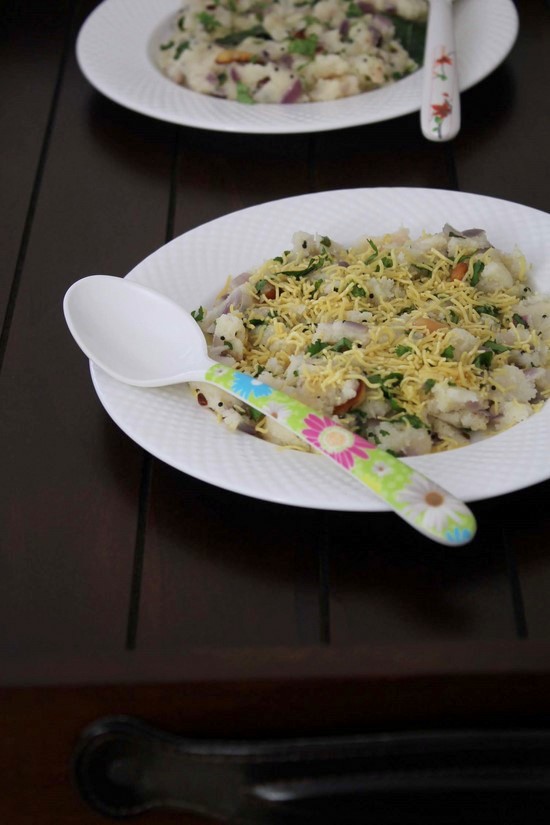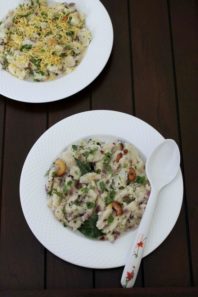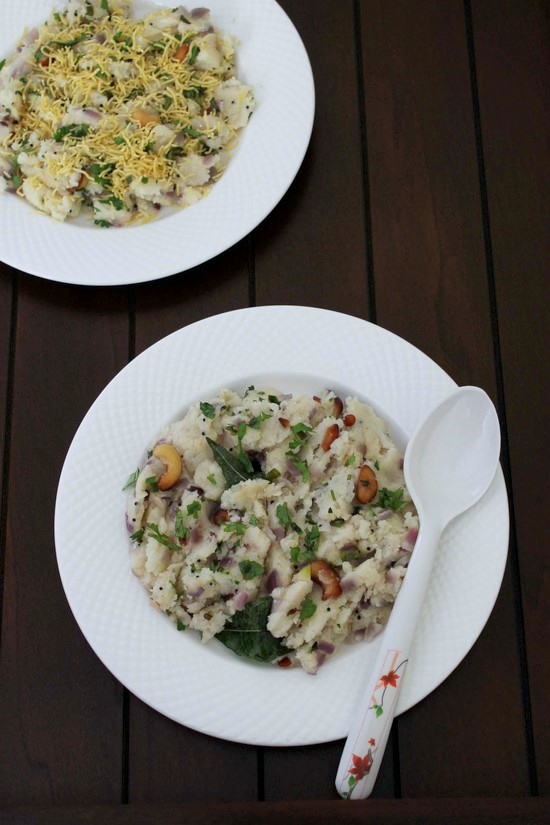 Upma Recipe (Rava upma recipe)
US measuring cups are used (1 cup = 240 ml)
Ingredients (1 cup = 240 ml)
1 ½

tablespoons

Oil

or Ghee

½

teaspoon

Mustard seeds

½

teaspoon

Urad dal (split, skinless black gram)

½

teaspoon

Chana dal (Split bengal gram)

6

Cashew nuts

halved or broken

1

teaspoon

Ginger paste or freshly grated or crushed

1

Green chilies

chopped finely

7-8

Curry leaves

½

cup

Onion

chopped

Salt to taste

2/3

cup

Sooji (rava or semolina)

1 1/3

cup

Water

1 ½

teaspoons

Lemon juice

2

tablespoons

Cilantro or coriander leaves

chopped finely
Instructions
Making rava upma recipe:
Heat the oil or ghee in a pan on medium heat.

Once hot add mustard seeds and let them pop.

Then add urad dal and chana dal, saute for 30 seconds.

Add cashews. fry till dal and cashews are light brown in color.

then saute in green chili, ginger and curry leaves for a minute.

Add chopped onions along with salt. mix well and cook till onions turn soft and translucent.

Now add rava. Roast rava for 6-7 minutes with stirring continuously. rava will change its color very slightly not major change.

While you are roasting the rava, warm up the water. I microwaved the water for 1-2 minutes. You can heat the water on stove top as well.

Once rava is roasted, add water with stirring constantly. So there will be no lumps.

Sooji will absorb the water and will look like this.

Cover the pan and LOWER the heat.

cook on low heat for 3-4 minutes. If needed, stir once halfway through.

Add lemon juice. sprinkle chopped cilantro leaves

mix well and turn off the stove