The BEST and only medu vada recipe you will ever need!! These turn out crispy from outside yet soft, fluffy from inside and perfect every time. Plus they are very easy to prepare. Here you will learn all the tips and tricks to shaping and perfecting them.
This recipe will give you the perfect, Udupi or south Indian restaurant style medu vada.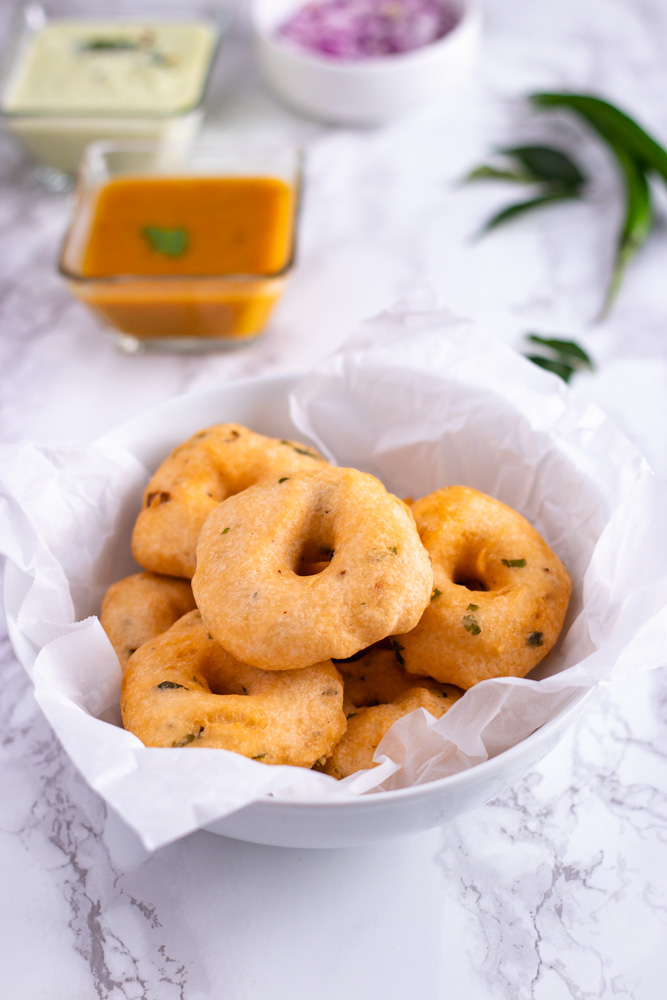 What is medu vada?
Medu vada is the South Indian breakfast made from skinless black lentils (urad dal). The lentil batter is shaped like doughnuts (hole in the center) and deep fried into the oil. Here medu=soft in Kannada and vada=fritters.
Different regions of India have different names e.g. uddina vade, medhu vadai, ulundu vadai, garelu, uzhunnu vada but the procedure is almost same.
What to serve with medu vada?
How to make medu vada batter?
Wash the whole skinless urad dal under running cold water till water runs clear. Or rinse the lentils 3-4 times till water is not cloudy anymore. Then soak in enough water for at least 4 hours. More soaking hours won't hurt. This is how it looks after the soaking time, they get bigger in size.

Then drain all the water and take into the grinder jar. Start by adding little water and increase the amount as needed. Grind into the smooth batter. I used a total of 6 tablespoons of water. The batter consistency should be medium (not too thick, not too thin and runny)

While the griding process, you may need to stop and scrape the sides and continue grinding.

Remove it to a large bowl. Add salt, green chilies, cilantro, curry leaves.

Mix and also add rice flour.

Mix well and whip it (stir vigorously) for about 3-4 minutes to make the fluffy batter.

Check the right consistency batter: drop a little amount of batter in a bowl of water. It should float on top, meaning the batter is a perfect consistency and fluffy. If it sinks at the bottom means the batter is heavy, it needs more whipping to make it light and fluffy.

How to shape medu vada and fry?
Heat the oil in a pan on medium heat for frying vadas.
To shape the vada, keep the bowl of water handy. Dip your hand generously into the water.

Take a large spoonful of batter on the wet hand (not on palm, on your four fingers), then make a hole in the center using your thumb (make sure your thumb is wet as well, so the batter doesn't stick).

You can see the doughnut shaped medu vada.

Slide the shaped vada carefully into the hot oil (because of the water, it will easily slide off from your hand). Repeat the same and fry the vada in batches. Do flip them for even browning.

Once golden brown and crispy from both sides, then remove it using slotted spatula and place on a paper towel lined plate.

How to make sambar vada?
To make sambar vada, take a bowlful of sambar in a pan and thin it out by adding some water. Heat it till it just starts boiling. Dip the vada in thinned out sambar and soak for around 1-2 hours. Vada will absorb the sambar will become soft.
At the time of serving, place the vada in an individual serving plate, pour more sambar (regular consistency) on top.
Garnish with finely chopped onions and serve. If you like, you can drizzle some coconut chutney on top as well.
Similarly, you can make rasam vada (use rasam instead of sambar). But in this case, no need to thin out using water because rasam is already thin in consistency.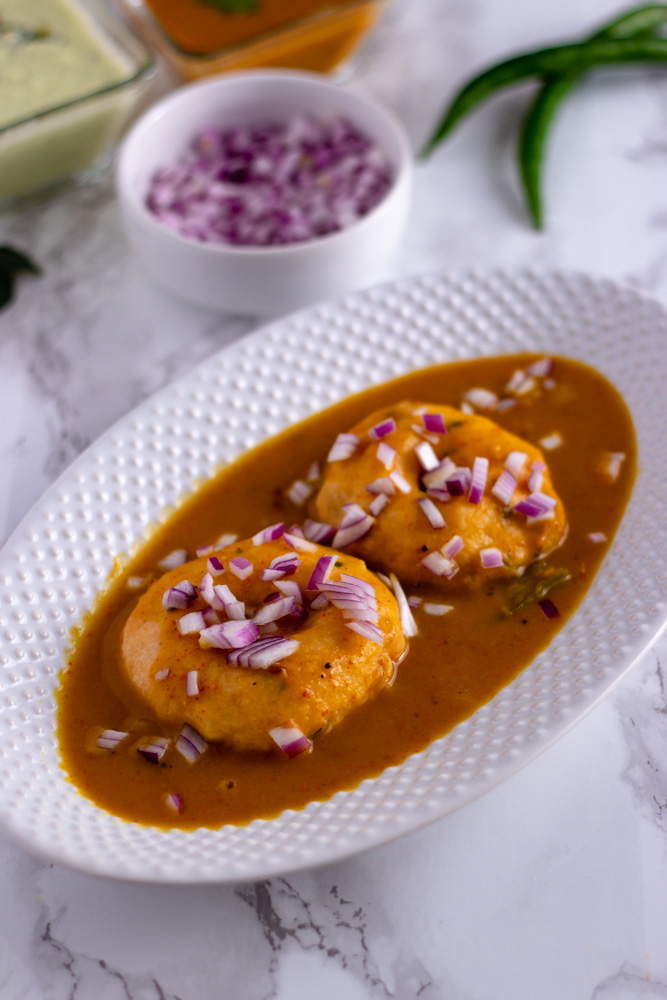 Tips to make Perfect medu vada:
To make the soft medu vada, soak dal for at least 4 hours, grind the batter to smooth consistency (not coarse), the batter has to be whipped to make light and fluffy.
To make them crispy, rice flour is added.
The batter consistency has to be right (not too thin, not too thick).
If the batter became thin, runny by mistake, then add some more rice flour or ground poha.
To avoid sticking batter to your hand, wet your hand really well. Always keep in mind, urad dal is shy of water, so it will easily slide from your wet hand without sticking.
If shaping the vada is difficult for you then just drop the spoonful of batter in hot oil to make simple round vada just like dahi vada.
Instead of shaping on hand, you can shape on a plastic sheet or directly on the spatula and transfer to the hot oil.
Medu vada maker is available in the market. Does it work? I don't know, I have never tried. If you have tried, let me know in comments.
To make vada less oily, make sure that oil is hot enough at the right temperature. If the oil is not hot enough then vada will soak up too much oil.
If the oil is too hot then vada will get brown quickly from outside and stays raw from inside.
Instead of the whole, skinless urad dal, you can use skinless, split urad dal as well.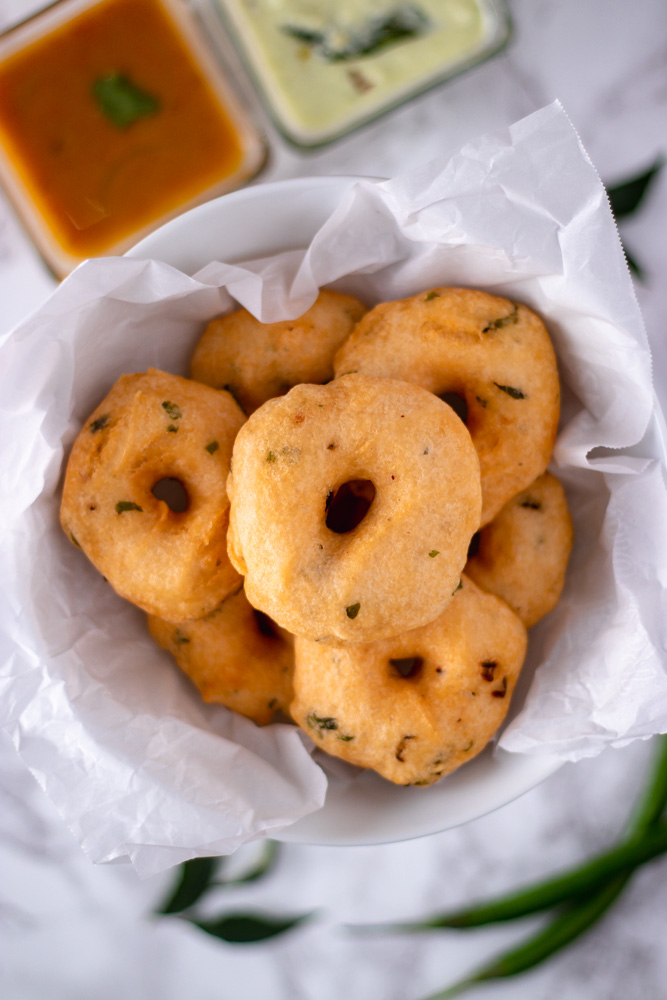 Storing and freezing:
The batter can be stored in the refrigerator for a day or two.
The fried medu vada can be stored in the refrigerator in an airtight container for 2-3 days. Reheat in the microwave though refrigerated vada will lose its crispness. These leftover vadas are perfect for sambar vada or rasam vada.
Freeze the fried vada and use within 2-3 months.
Check out more South Indian Recipes (breakfast)
Upma  // Idli  // Dosa //  Paniyaram
Step by Step Photos Above
Want to make it perfect first time? Don't forget to check out Step-by-Step photo instructions and helpful Tips & Tricks !!
Medu Vada Recipe (Sambar Vada)
Tried this recipe? Leave a comment and/or give ★ ratings
Medu vada is the traditional South Indian breakfast which is made from whole urad dal. These vada are soft from inside and crispy from outside. It is served with coconut chutney and sambar.
Servings
4
servings (18-20 vada)
US measuring cups are used (1 cup = 240 ml) See details
Ingredients
1

cup

Whole urad dal

(Skinless)

6-8

tablespoons

Water

(cold) for grinding

1

teaspoon

Salt

or to taste

1

Green chili

finely chopped

2

tablespoons

Cilantro or coriander leaves

6

Curry leaves

finely chopped

2

tablespoons

Rice flour

Oil

for deep frying
Instructions
Making medu vada batter:
Wash the dal really well and soak in enough water for at least four hours.

Then discard the soaking water, take dal into grinder jar, gradually add water and grind into smooth, medium consistency batter.

Remove it to a bowl, add remaining ingredients and mix well.

Beat it really well to make it airy, light and fluffy.

Check the consistency by adding a little drop of batter in a bowl of water. It should float on top.
Making medu vada:
Heat the oil in a pan on medium for deep frying.

Keep a bowl of water nearby to wet your hand, take a large spoon of batter on your hand (four fingers), using wet thumb make a hole in the center.

Gently and carefully slide into the hot oil. Repeat the shaping process and fry the vada in a few batches.

Keep turning during the frying process for even cooking and browning.

Once golden brown and crispy from both sides then remove it to a paper towel-lined plate.

Serve them warm.
Nutrition
Serving:
2
no.
|
Calories:
204
kcal
|
Carbohydrates:
13.2
g
|
Protein:
5.1
g
|
Fat:
14.8
g
|
Saturated Fat:
1.9
g
|
Sodium:
236
mg
|
Potassium:
186
mg
|
Fiber:
5.9
g
|
Sugar:
0.4
g
*Nutrition information is a rough estimate for 1 serving