An easy and the BEST vegan zucchini bread recipe I have ever tried. Have a bite of this fluffy, super moist, delicious bread and you will never realize it has green vegetable in it.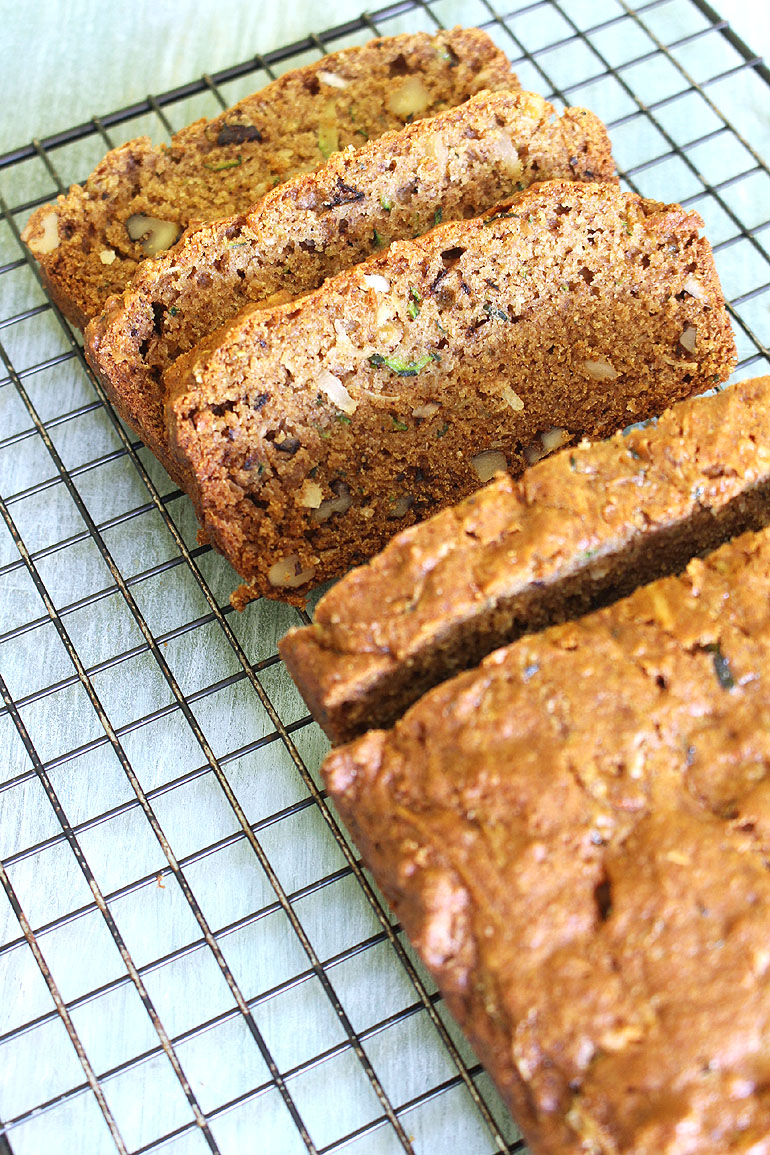 Is vegan zucchini bread healthy?
Back in the days (I meant in 70's), when baked goodies made with vegetables and used oil instead of butter, was considered healthy. But in today's trend, people do not consider it healthy. Because it has white flour, sugar and fat in it.
But this vegan zucchini bread can be considered a little healthy because we are using whole wheat flour. And you know wheat flour is healthy vs white flour.
Does vegan zucchini bread tastes like zucchini?
Zucchini itself has mild delicate flavor, so it does not add a lot of flavor in the bread. However, it gives lovely moist texture to the bread.
So basically NO, it does not taste like zucchini at all. Along with sweetness it tastes cinnamon-ey as I have added ground cinnamon and little nutmeg in the batter.
Also the addition of toasted coconut shreds and walnuts add some crunch and texture. Though you can skip them. Or you can use chocolate chips instead.
How to grate zucchini for zucchini bread?
Few things to know before grating the zucchini: no need to peel the zucchini and no need to take out the seeds. Because we are keeping the skin, you will see pretty green shreds are running through the bread
For the vegan zucchini bread, I like to use box grater (medium shred size). Wash and pat dry the zucchini. Since we are keeping the skin, make sure that you remove all the dirts. Now cut both ends. Set the box grater on a plate or cutting board and start shredding.
You can use food processor instead.
Sometimes, I get ton of zucchini from friend's garden. That time I shred them ahead of time and freeze the portions in freezer safe Ziploc bag in the freezer to use later in making zucchini bread. You keep the shredded zucchini in the refrigerator and use within 2-3 days (do not use collected water at the bottom, discard that).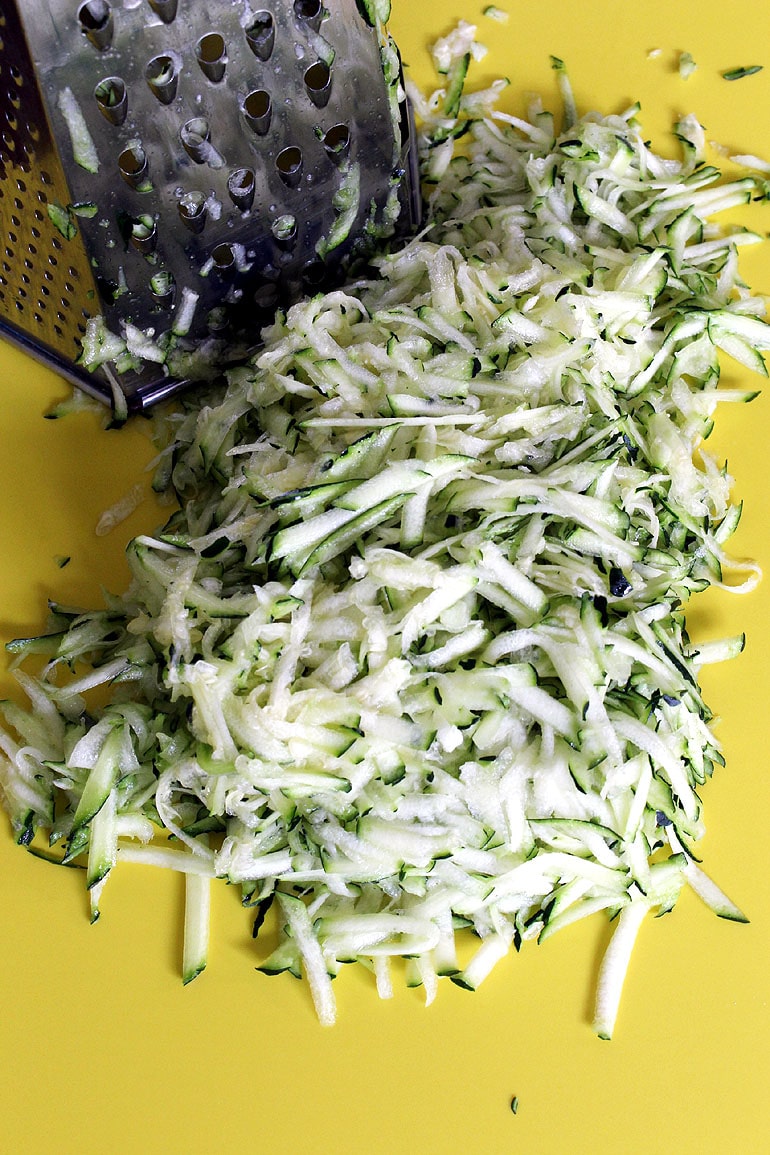 How to make easy vegan zucchini bread? (Step by step photos)
1) In a bowl, take whole wheat flour, baking powder, baking soda, salt, ground cinnamon and nutmeg.
2) Using wire whisk, mix till everything is incorporated well.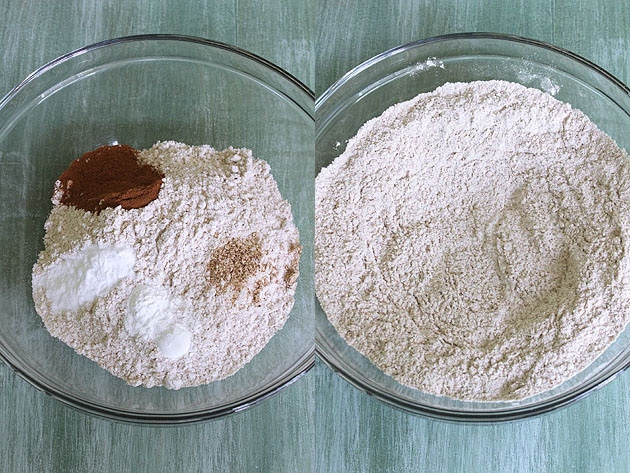 3) In another bigger bowl, take oil, applesauce, white sugar, brown sugar.
4) Beat it well using whisk. Also beat in vanilla extract.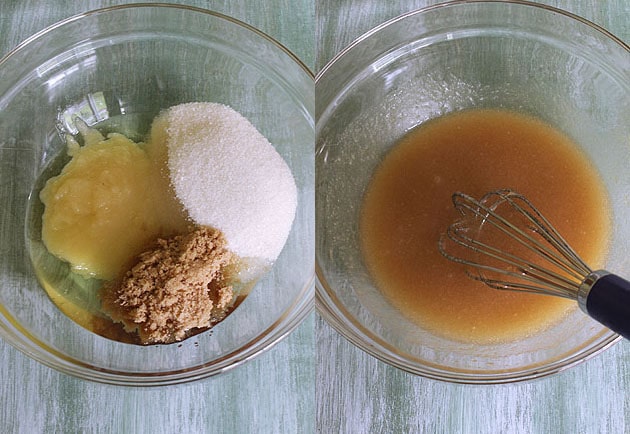 5) Now add shredded zucchini.
6) Mix well.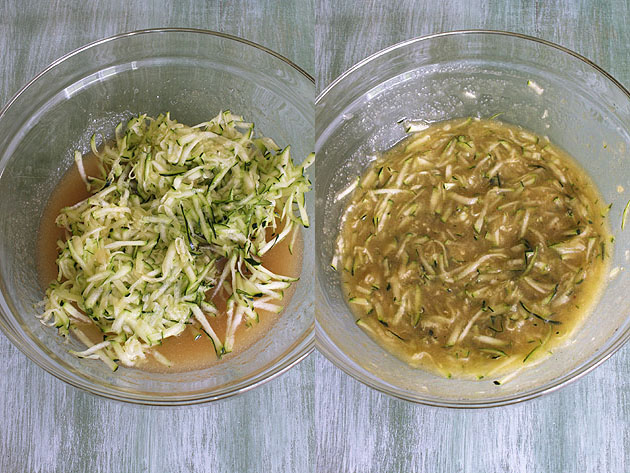 7) Add dry ingredients mixture.
8) Switch to spatula and fold the flour mixture into wet just till everything is well combined. Make sure not to over-mix otherwise bread will be tough.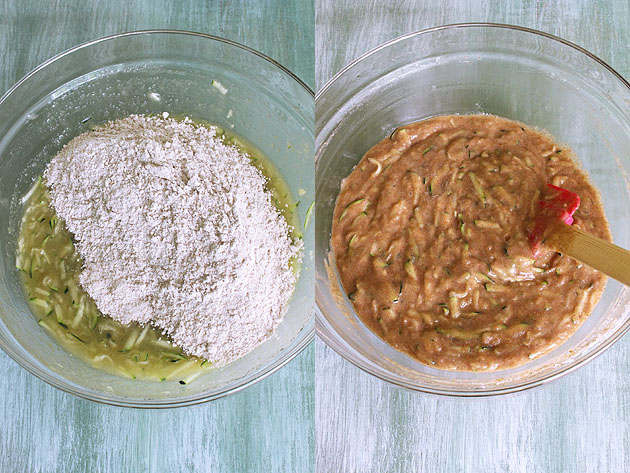 9) Lastly add toasted walnuts and shredded coconut.
10) Fold them in the batter.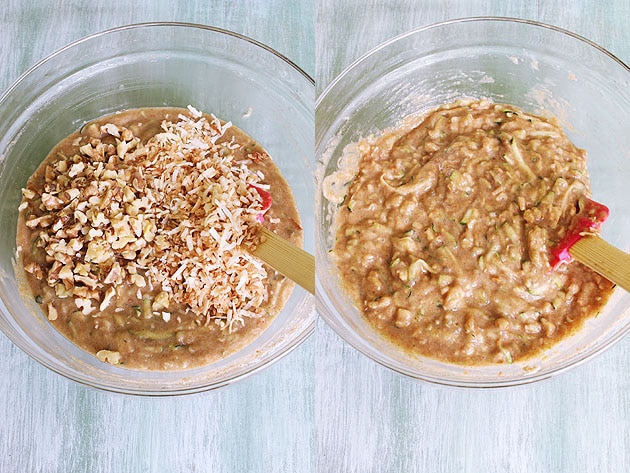 11) Pour the batter into the grease 9x5x3 inch loaf pan and bake into preheated (350 degrees F or 180 degrees C) oven for 60-65 minutes. Or till the inserted toothpick comes out clean.
12) Let it cool in the pan for 10 minutes, then loosen the sides using butter knife and remove it to a wire rack and let it cool down completely.
The vegan zucchini bread is slightly crumbly compared to regular version. So always let it cool down completely and then slice using sharp sandwich knife.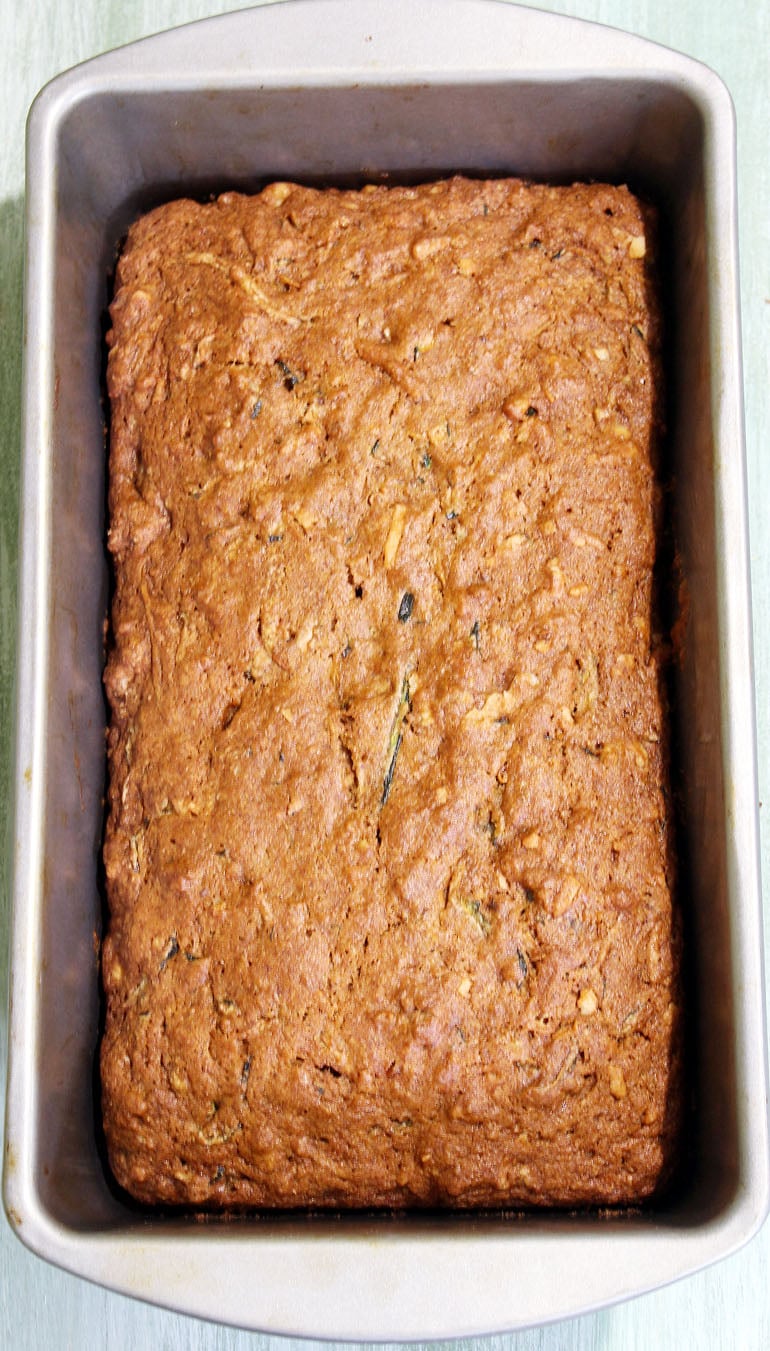 How to store vegan zucchini bread?
It can be stored in airtight container for 2 days at room temperature.
You can wrap the individual slices using plastic wrap and keep in freezer safe ziploc bag. Store in the freezer. It stays good for couple of months.
Check out other vegan recipes
Vegan banana bread
Vegan strawberry bread
Vegan orange cake
Vegan waffles
Vegan chocolate chip muffins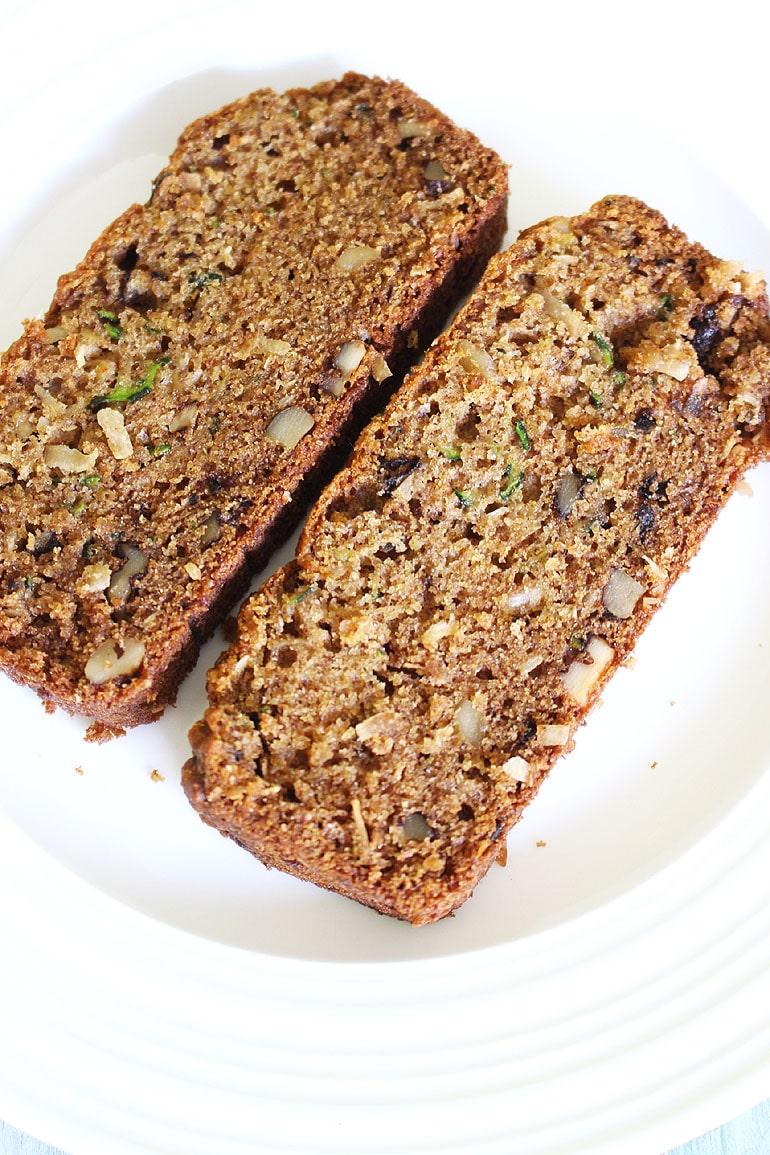 Step by Step Photos Above
Want to make it perfect first time? Don't forget to check out Step-by-Step photo instructions and helpful Tips & Tricks !!
Eggless Zucchini Bread Recipe
Tried this recipe? Leave a comment and/or give ★ ratings
Easy and the BEST eggless zucchini bread recipe. Fluffy, soft and super-moist bread with a delicious sweet taste and warm cinnamon-ey flavor.
US measuring cups are used (1 cup = 240 ml) See details
Ingredients
1 ½

cups

Whole wheat flour

1

teaspoon

Baking soda

¾

teaspoon

Baking powder

¼

teaspoon

Salt

1

teaspoon

Ground cinnamon

¼

teaspoon

Nutmeg

(Freshly grated or ground)

½

cup

Oil

½

cup

Unsweetened applesauce

½

cup

White sugar

¼

cup

Light brown sugar

lightly packed

1

teaspoon

Pure vanilla extract

1 ½

cups

Zucchini

shredded (loosely packed)

⅓

cup

Walnuts

Toasted and chopped

⅓

cup

Coconut

(Unsweetened and shredded), lightly Toasted (Optional)
Instructions
Prep:

- Grate the zucchini and keep it aside. See the Tips section below for more details.

- Grease 9x5x3 inches pan using oil and pastry brush. Or use the cooking oil spray.- Preheat the oven to 350 degrees F or 180 degrees C for at least 10 minutes.

- Lightly roast the walnuts in a pan on medium heat. Once cooled, chop them. Similarly, toast the shredded coconut till they are light golden brown in color.

- Alternatively, you can toast both of them into the preheated oven for 5-7 minutes with turning them in between for even toasting and browning.

Take dry ingredients (whole wheat flour, baking powder, baking soda, ground cinnamon, nutmeg, salt) in a bowl. Whisk well it everything is mixed.

In another large bowl, add oil, applesauce, white sugar, and brown sugar. Whisk till sugar is almost dissolved.

Not add grated zucchini. Mix well.

Add dry flour mixture. Start mixing using a wire whisk and halfway through switch to a spatula and mix till everything comes together. Do not over mix.

Now add toasted walnuts and coconut. Fold them into the batter.

Pour into the greased pan. And bake into the preheated oven for 60-65 minutes or till the toothpick inserted into the center comes out clean.

Let it cool in a pan for 10 minutes. Then loosen the sides using a butter knife and remove it to a wire rack. Let it cool down completely and then slice, serve.
Notes
Ingredients Notes
Whole wheat flour: I have used 100% whole grain whole wheat flour that is available in American grocery stores. But in the past, I have tried with Indian chapati atta and it works fine.
Oil: Always use flavorless oil like corn, canola, vegetable, safflower oil, etc.
Ground cinnamon: I use ready store-bought cinnamon powder which is ground form of Ceylon cinnamon sticks. It is perfect for desserts and sweet stuff. NO, you cannot use the powder of Indian cinnamon stick.
Mix-ins: I have used walnuts and unsweetened coconut. You can use other nuts like almonds, pecans, or chocolate chips.
Zucchini Grating Tips:
No need to peel. No need to remove the seeds.
Use a box grater or use the food processor to grate the zucchini.
No need to squeeze out the water.
Just grate, measure by lightly packing into measuring cup and use.
You can use frozen grated zucchini. Defrost, discard the water collected at the bottom of the bowl, just use grated portion only, no liquid.
Recipe Tips:
Do not overmix the batter, otherwise, you will end up with chewy and dense bread.
Make muffins: Bake for about 20 minutes.
Slice the bread, once it cools to room temperature to avoid breaking and crumbling the bread.
Storing zucchini bread:
Room temperature: Stays good for 2-3 days. Just wrap lightly with parchment paper and keep in an airtight container.
Refrigerator: Stays good for a week. Wrap with parchment paper and store in an airtight container.
Freezer: Stays good for up to 3 months. You can wrap the entire loaf using plastic wrap and freeze. I prefer to wrap the individual slices using plastic. Then store in the freezer-safe Ziploc bag. Thaw at room temperature before enjoying.
Nutrition
Serving:
1
slice
|
Calories:
208
kcal
|
Carbohydrates:
19.9
g
|
Protein:
1.9
g
|
Fat:
14.5
g
|
Saturated Fat:
2.4
g
|
Cholesterol:
0
mg
|
Sodium:
188
mg
|
Potassium:
130
mg
|
Fiber:
1.6
g
|
Sugar:
15.5
g
|
Calcium:
20
mg
|
Iron:
0.9
mg
*Nutrition information is a rough estimate for 1 serving