Paneer Manchurian Recipe - Shallow fried paneer cubes are added into hot, spicy, sour Indian Chinese manchurian gravy.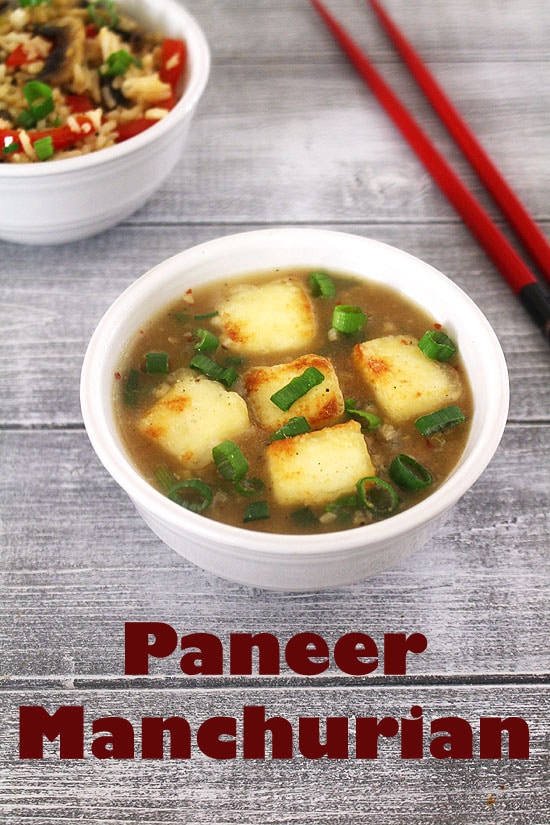 The method is similar to other manchurian recipes like gobi manchurian, mushroom manchurian or veg manchurian.
For making this paneer manchurian recipe, I have shallow fried the paneer. Recently I made paneer manchurian dry, and in that I have deep fried. Just because that is dry version and I wanted crispy texture. Since this recipe is gravy version, even though fried paneer is crispy, it will not stay crispy after adding to the gravy. So just to cut down some calories, I have shallow fried.
One important thing to consider while frying the paneer: Make sure not to over fry or over cook. Cook till it is light golden brown around the edges. If overcooked then paneer will lose its softness and will become dry and chewy.
Almost all the Indian chinese recipes are little time consuming in terms of chopping the veggies. But this recipe is the QUICK. You just need to chop little amount of ginger, garlic, green chili and celery, that's it. So many times for dinner, I make this paneer manchurian gravy and serve with plain steamed rice. It is real quick fix.
Check out other Indo Chinese recipes
Chilli Paneer Dry // Schezwan fried rice // Sweet corn veg soup
Step By Step Photo Instructions:
1) To prepare cornstarch slurry, take 1 tablespoon of corn flour in a small bowl.
2) Add ½ cup of water, mix and remove lumps if any. Keep it aside, we need this to make gravy later.

3) Take 1 tablespoon corn flour and 1 tablespoon all purpose flour in a large bowl. Add salt and pepper.
4) Now add around 2 tablespoons of water and make lump free thick yet runny batter.

5) Add paneer cubes into the same bowl.
6) Mix so the batter is evenly coated to the paneer pieces.

7) Now heat 2 tablespoons of oil in a pan for shallow frying on medium heat. Once hot arrange the paneer cubes in single layer. If needed fry in two batches.
8) Once they are light golden brown and slightly crispy from bottom, flip them and fry the other sides too. Do not over brown or over cook otherwise paneer will get dry and chewy.

9) Once cooked from all the sides, remove it to a paper towel lined plate.
10) Heat the remaining 1 tablespoon of oil in the same pan on medium heat. Once hot add chopped ginger, garlic, green chili and celery.

11) Mix and saute for few seconds. Do not let them burn.
12) Now add spring onion white and cook for a minute or two.

13) Now add salt, pepper and red chili flakes.
14) Mix and cook for few seconds.

15) Now add soy sauce.
16) Also add 1 cup of water to make gravy.

17) Also add sugar. This is optional.
18) Mix well and let it come to a boil.

19) Once starts boiling, add above prepared corn starch slurry. And let it simmer for 2-3 minutes or till the gravy becomes thick.
20) Lastly add vinegar, mix.

21) Then add fried paneer cubes and spring onion greens.
22) Mix well and it is ready to serve

Serving suggestion: Serve Paneer manchurian gravy with steamed rice, veg fried rice or mushroom fried rice. It can be served on side with any noodles dish (Hakka noodles, veg chow mein).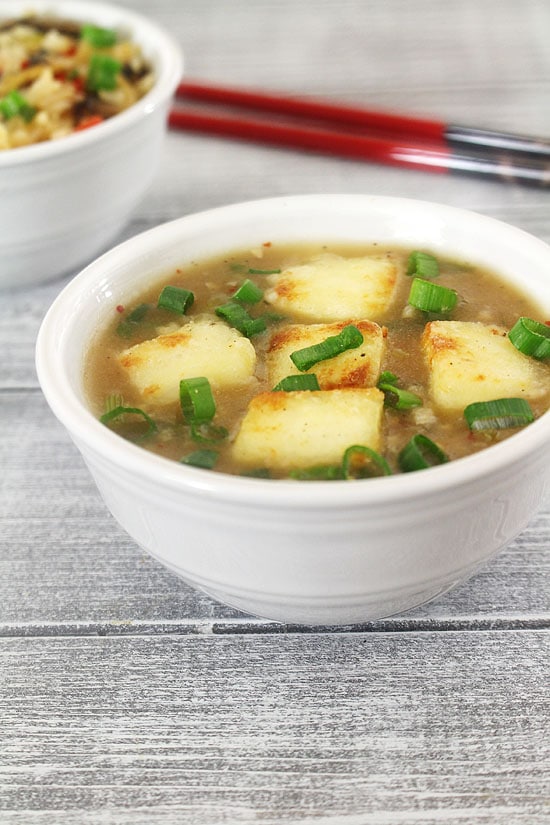 Did you try this paneer manchurian gravy recipe? I'd love to hear about it! Leave a review in the comment section below.
📋 Recipe Card
Step by Step Photos Above
Want to make it perfect first time? Don't forget to check out Step-by-Step photo instructions and helpful Tips & Tricks !!
Paneer Manchurian (Gravy)
Tried this recipe? Leave a comment and/or give ★ ratings
Paneer Manchurian Recipe - Shallow fried paneer cubes are added into hot, spicy, sour Indian Chinese manchurian gravy.
US measuring cups are used (1 cup = 240 ml) See details
Ingredients
For Fried Paneer:
100-125

grams

Paneer

cut into cubes

1

tablespoon

All purpose flour (Maida)

1

tablespoon

Corn flour (corn starch)

Salt

to taste

⅛

teaspoon

Black pepper powder

2

tablespoons

Water

2

tablespoons

Oil

for shallow frying
For Gravy:
1

tablespoons

Corn flour (corn starch)

½

cup

water

to make slurry

1

tablespoon

Oil

2

teaspoon

Ginger

finely chopped or minced

1

tablespoon

Garlic

finely chopped or minced

1

Green chili

finely chopped

1

tablespoon

Celery

finely chopped

2

tablespoons

Spring onion (green onion or scallion)

,White part chopped

Salt

to taste

¼

teaspoon

Black pepper powder

or to taste

¼

teaspoon

Red chili flakes

or to taste

1

tablespoon

Soy sauce

1

cup

Water

¼

teaspoon

Sugar

optional

1 ½

teaspoon

white distilled vinegar

2

tablespoons

Spring onion (green onion or scallion)

, Green part chopped
Instructions
Finely chop the needed ingredients and keep them ready.

Also measure and keep the sauce and vinegar ready ahead of time.

To prepare cornstarch slurry, take 1 tablespoon of corn flour in a small bowl.

Add ½ cup of water, mix and remove lumps if any. Keep it aside, we need this to make gravy later.

Take 1 tablespoon corn flour and 1 tablespoon all purpose flour in a large bowl.

Add salt and pepper.

Now add around 2 tablespoons of water and make lump free thick yet runny batter.

Add paneer cubes into the same bowl. Mix so the batter is evenly coated to the paneer pieces.

Now heat 2 tablespoons of oil in a pan for shallow frying on medium heat.

Once hot arrange the paneer cubes in single layer. If needed fry in two batches.

Once they are light golden brown and slightly crispy from bottom, flip them and fry the other sides too.

Once cooked from all the sides, remove it to a paper towel lined plate.

Heat the remaining 1 tablespoon of oil in the same pan on medium heat.

Once hot add chopped ginger, garlic, green chili and celery. Mix and saute for few seconds. Do not let them burn.

Now add spring onion white and cook for a minute or two.

Now add salt, pepper and red chili flakes. Mix and cook for few seconds.

Now add soy sauce, 1 cup of water and sugar. Addition of sugar is optional.

Mix well and let it come to a boil.

Once starts boiling, add above prepared corn starch slurry. And let it simmer for 2-3 minutes or till the gravy becomes thick.

Lastly add vinegar, mix.

Then add fried paneer cubes and spring onion greens.

Mix well and it is ready to serve
Nutrition
Calories:
466
kcal
|
Carbohydrates:
15.3
g
|
Protein:
17
g
|
Fat:
40.8
g
|
Saturated Fat:
15.2
g
|
Cholesterol:
63
mg
|
Sodium:
1124
mg
|
Potassium:
117
mg
|
Fiber:
1.3
g
|
Sugar:
1.2
g
*Nutrition information is a rough estimate for 1 serving