Ganesha Chaturthi is the Hindu festival celebrated in honor of the Lord Ganesha. This Year Ganesh Chaturthi starts on 13th August, 2017 and will lasts for 10 days.
This festival also known as 'Vinayak Chaturthi' or 'Vinayaka Chavithi' in other regions of India.
Here I am sharing the list of sweets and savories Maharashtrian Ganesh Chaturthi recipes from the blog. All recipes have step by step photo instructions.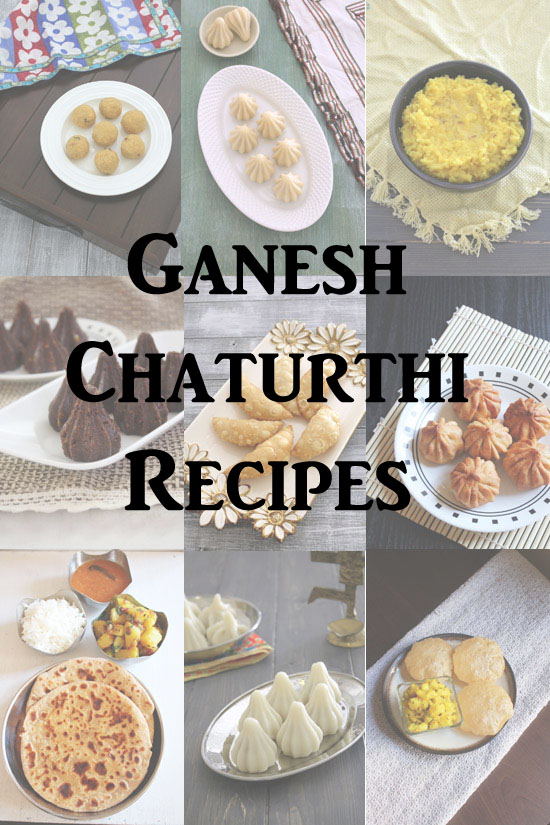 ---
Modak recipes for Ganesh Chaturthi:
---
Modak is Lord Ganesha's most favorite food. Hence it has special importance in worship. Traditionally, modak has sweet stuffing made from coconut and jaggery. There are many variations and nowadays there are many fusion versions are also made. Below is the list of modak recipes from the blog.
---
Other sweet recipes for Ganesh Chaturthi
---
After Modak, lord ganesha's second most favorite food is ladoo. So many different versions of ladoo are made and served during this festival. Apart from modak and ladoo, few more traditional sweets are also made and offered to god which I have shared below.
Savory Ganesh chaturthi recipes
---
Not only sweets but whole feast it offered to the god. The feast is served on banana leaf. The feast contains sweets, savories and panchamrit. Below is the list of savory dishes from the blog.
 Happy Ganesh Chaturthi to all.