Ganesha Chaturthi is the Hindu festival celebrated in honor of the Lord Ganesha. This Year Ganesh Chaturthi starts on 2nd September 2019 and will last for 10 days.
This festival is also known as 'Vinayak Chaturthi' or 'Vinayaka Chavithi' in other regions of India.
Here I am sharing the list of sweets and savories Maharashtrian Ganesh Chaturthi recipes from the blog. All recipes have step by step photo instructions.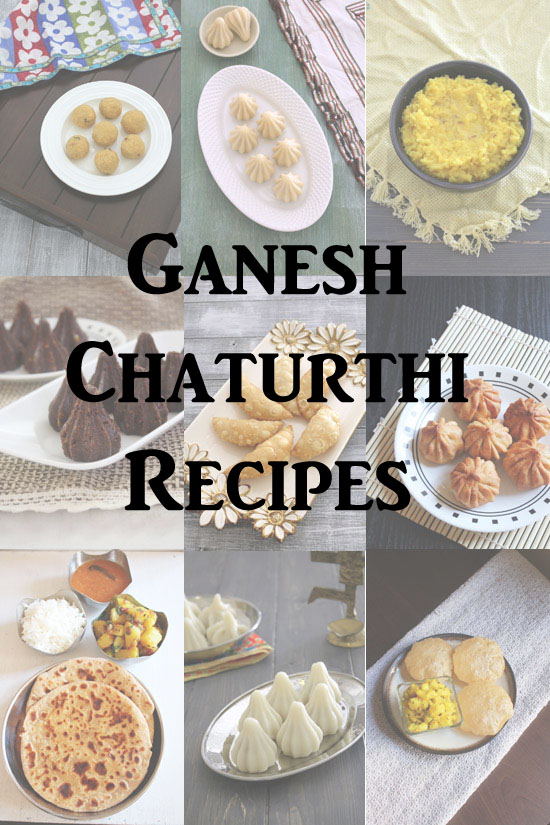 Modak Recipes for Ganesh Chaturthi:
Modak is Lord Ganesha's most favorite food. Hence it has special importance in worship. Traditionally, modak has sweet stuffing made from coconut and jaggery. There are many variations and nowadays there are many fusion versions are also made. Below is the list of modak recipes from the blog.
1) Ukadiche modak (Steamed modak) - This is the classic, traditional modak recipe. The outer covering is made from rice flour and stuffing is made from coconut-Jaggery.
2) Fried Modak – it is deep fried or shallow fried modak recipe with sweet, chewy coconut stuffing and very crispy outside covering.
3) Chocolate Modak – Fusion version of making modak. It is made from semi-sweet chocolate chips, sweetened condensed milk and biscuit crumbs.
4) Rava modak - Outer cover is made from sooji or rava. Stuffing is made from coconut and jaggery.
5) Mawa modak (stuffed) - It is made from khoya or mawa and stuffed with figs, dry coconut, and nuts.
6) Modak peda - This is nothing but the popular kesar peda shaped into modak.
7) Coconut modak - It is made from desiccated coconut and sweetened condensed milk. Then coated with chocolate. With this mixture, you can make ladoo too.
8) Malai modak (paneer modak) - Only two ingredients are required, one is paneer and second is condensed milk aka mithai mate.
9) Dry fruits modak - Quick recipe where nuts, dates, raisins, and dry coconut are ground and mix, then shaped using modak moulds.
10) Til modak - A variation to usual recipe and made from sesame seeds and jaggery.
Other sweet recipes for Ganesh Chaturthi
After Modak, Lord Ganesha's second most favorite food is ladoo. So many different versions of ladoo are made and served during this festival. Apart from modak and ladoo, few more traditional sweets are also made and offered to god which I have shared below.
11) Coconut ladoo with khoya - Easy ladoo recipe made with desiccated coconut, mawa (milk solids) and powdered sugar.
12) Rava Besan ladoo - simple and easy laddu recipe made from semolina, gram flour, ghee, and powdered sugar.
13) Boondi ladoo - Homemade boondis are soaked in saffron flavored sugar syrup and formed in ladoo shape.
14) Besan ladoo - easy ladoo recipe made from gram flour, powdered sugar and ghee.
15) Coconut ladoo with condensed milk - quick and easy ladoo made with only 4 ingredients (fresh coconut, condensed milk, cardamom powder, and nuts).
16) Sheera (Sooji halwa) - the most popular Indian dessert made from semolina, clarified butter (ghee) and sugar.
17) Banana sheera - similar to the sooji halwa but with the addition of bananas. It is made as a prasad for any kind of pooja.
18) Puran poli - stuffed Indian bread. Outer layer is made from whole wheat flour (atta) and stuffing is made from lentil-jaggery.
19) Karanji - traditional Maharashtrian sweet snack recipe. It has sweet coconut stuffing with a crispy crust.
20) Basundi - Sweetened and thickened milk with chopped nuts, flavored with cardamom and saffron.
21) Shrikhand - made with thick plain yogurt and sugar, flavored with saffron, cardamom and garnished with nuts.
22) Shankarpali - sweet, crispy yet melt in your mouth texture, deep fried, whole wheat flour biscuits.
Savory Ganesh Chaturthi recipes
Not only sweets but the whole feast it offered to the god. The feast is served on a banana leaf. The feast contains sweets, savories, and panchamrit. Below is the list of savory dishes from the blog.
23) Batatayachi bhaji - dry potato subzi made with boiled, cubed potatoes with very minimal spices
24) Poori recipe - The popular Indian deep-fried and puffed bread made from whole wheat flour, salt, and water.
25) Varan bhaat (maharashtrian style) - Healthy, delicious dal recipe made from toor dal and served with cooked rice.
26) Goan varan bhaat - simple dal made with toor dal and coconut. Also served with cooked rice.
27) Moong dal khichdi - made with moong dal and rice with very minimal whole spices.
28) Poori bhaji recipe - dry potato sabzi served with puffed pooris. This is a popular Maharashtrian breakfast.
29) Amti recipe - flavorful dal recipe made from toor dal with a touch of sourness and flavored with goda masala
30) Matki usal - made from sprouted moth beans, boiled potatoes and flavored with goda masala.
31) Katachi amti - This is thin soup like made from strained water after boiling the dal and served with puran poli.
32) Sabudana khichdi - made by sauteeing the soaked tapioca pearls with crushed peanuts and boiled potatoes.
33) Sabudana thalipeeth - a savory pancake made from tapioca pearls. This is also eaten during fasting or vrat.
34) Batata poha - quick breakfast dish made from flattened rice with potato.
35) Sabudana vada - made from tapioca pearls, peanuts, and potatoes. Shaped into small discs and then deep fried.
Wishing you a Happy Ganesh Chaturthi !