Here I am sharing the collection of 15 easy to make, delicious, veg sandwich recipes. This includes grilled, toasted, open-faced and no-cook sandwiches.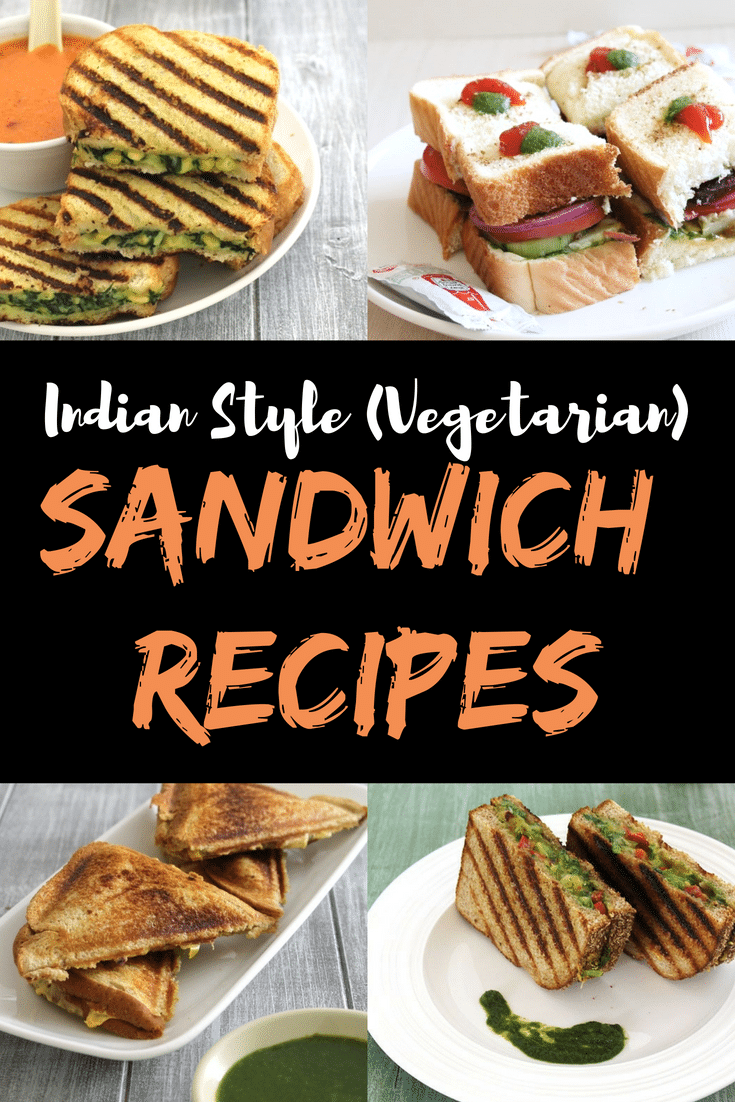 These veg sandwiches are perfect for breakfast, snack, lunch and even dinner.
Making a sandwich recipe is quick and also easy that anyone can make it. It is a good idea to make them when you are short on time.
Most of them from the below list are Indian style veg sandwiches. So we are applying butter, chutney and sometimes ketchup on the bread slices. Speaking of chutney, you can use green chutney, coriander chutney or mint chutney.
To get the Indian street style sandwich taste, I highly recommend using homemade sandwich masala powder. Or use the ready made sandwich masala.
I am using
- Lodge cast iron grill pan for grilled sandwiches
- sandwich maker for toast sandwiches
- Few other options are 3-in-1 sandwich maker, panini press.
This collection is divided into the below categories. Click the link for quick access.
Grilled Sandwich Recipes
1). Bombay Vegetable Grilled Sandwich - This is Mumbai street style version with a double layer of veggies and grilled to perfect crisp breads. The key to getting the best taste is a sprinkling of special sandwich masala on every layer of veggies.
2) Guacamole Sandwich - As the name says, a layer of tasty guacamole, tomato, cucumber between the bread. Use the brown bread or multigrain bread and it will be a good, healthy sandwich.
3) Corn and Capsicum Sandwich - Sweet corn and red pepper are sauteed and mixed with white sauce. Of course, this one is not Indian style.
4) Spinach and Corn Sandwich - Same as above it is also made with white sauce. Kids will sure love it. Make a healthy, filling meal with a bowl of soup.
5) Chilli Cheese Sandwich - This one is too good and my favorite, so yummy and so cheesy with a mixture of chillis, bell pepper, and onions.
Toast Sandwich Recipes
6) Veg Cheese Toast Sandwich - chopped veggies are mixed with chutney and ketchup. Then layered between pieces of breads along with a slice of cheese and toasted in the sandwich maker.
7) Paneer Sandwich - Just take 15 minutes from start to finish. Good for quick breakfast. The mixture of crumbled paneer, bell pepper, onion, and few spices are stuffed between bread with chutney and ketchup.
8) Veg Masala Toast Sandwich - Dry spicy potato masala is made first and layered between slices of breads with butter and chutney. This one is a street style version.
9) Corn Sandwich - Indian spiced sweet corn stuffing is made for this sandwiches. These are good for breakfast or afternoon snack.
10) Chilli Cheese Toast - Open-faced toast sandwich where a mixture of capsicum, onion, chili, and cheese are spread on bread and baked into the oven.
11) Spinach Toast - another open-faced toast where a mixture of boiled potato. and spinach with few spices are used. Sesame seeds are sprinkled on top. This can be done on stove top or oven.
No Cook Sandwiches
12) Bombay Veg Sandwich - The classic Indian street style sandwich where the layer of veggies (boiled potatoes, beet, tomato, cucumber, onion) stuffed between the breads. This is served cold meaning no toasting or grilling is done.
13) Chutney Sandwich - This is simple and perfect for picnics or parties. Spread the butter and chutney between the breads and you are done.
14) Veg Cream Cheese Sandwich - chopped vegetables are mixed with cream cheese spread as a stuffing mixture. This is mild and delicious, kids will surly approve it.
15) Veg Mayonnaise Sandwich - Same as above, veggies are mixed with mayonnaise. Here I have added some Indian touch and added little green chutney in the mixture. Trust me it was the best addition.
Check out more Recipe collections:
Mango Recipes
Lauki Recipes
Paratha Recipes
Bhindi Recipes