Krishna Janmashtami festival is also known as Gokulashtami, Krishna Jayanti or simply Janmashtami. It is celebrated as a birth of Lord Krishna. This year it falls on 2nd September 2018.
It is celebrated differently in different regions. But following is almost common on this day. Devotees observe the fast, prepare bhog (prasad) to offer Shri Krisha, sing religious songs (Bhajanas) and break the fast at midnight by celebrating the birth of Lord Krishna. So today I am sharing few janmashtami prasad recipes and some fast recipes.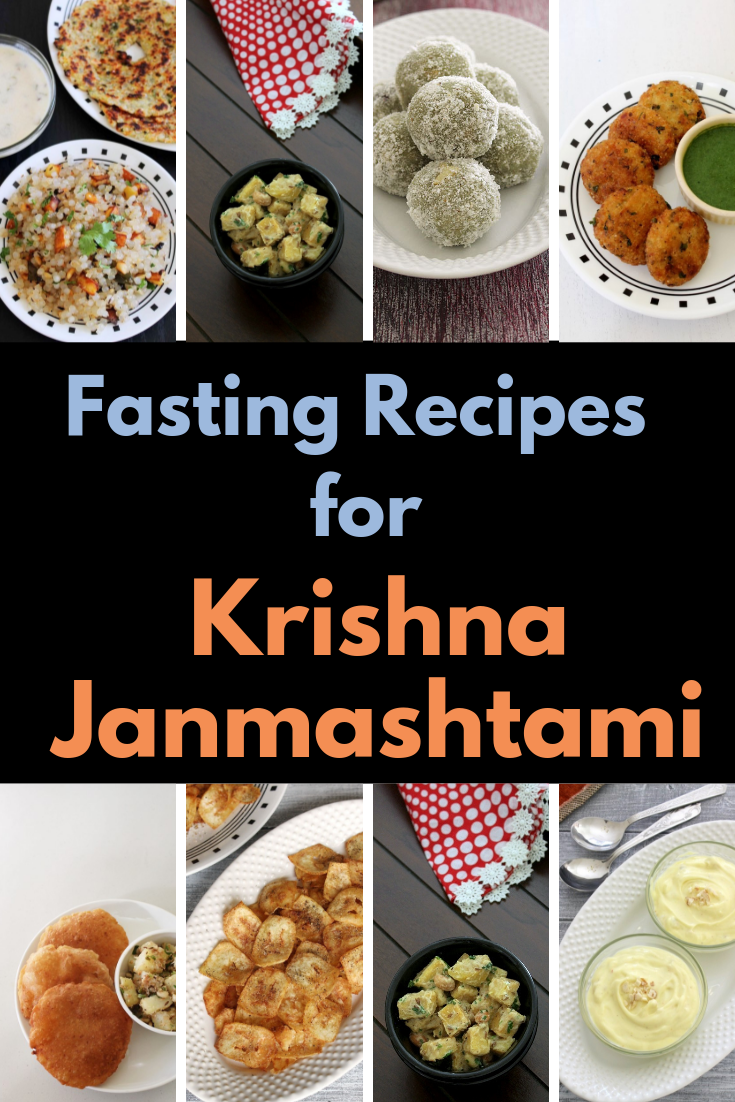 Janmashtami Festival Prasad Recipes:
Milk, makhan (white butter) products are lord Krishna's favorite food. So the sweets made from milk, yogurt are offered to him as a prasad and then distributed among the devotees.
Mishari makhan: This one is Lord Krishna's most favorite. Makhan (white butter) is made by whipping the malai (cream) till butter is separated. The buttermilk is drained. Mishri is mixed with makhan. Mishri (khadi sakar) is called rock candy in english.
Dhaniya Panjiri: Roast the ½ cup of fresh coarsely ground coriander powder in 1-2 tablespoons of ghee. Let it cool down, then mix in ¼ cup powdered sugar, chopped almonds, cashews and raisins. Many likes to add desiccated coconut too.
Janmashtami Fast Recipes:
Two types of fast: 1. Nirjala (without food and water all throughout the day) 2. Phalahar vrat (eating fruits, milk, few allowed grains, no salt, spices, greens, beans)
Devotees who cannot observe nirjala vrat, they follow phalahar vrat. Here I am sharing the phalahar vrat/ fast recipes for janmashtami festival.
Snacks recipes for Janmashtami Fast/Upwas:
Sabudana Vada – Crispy, fried fritters made from tapioca, potatoes, peanuts. Another version is sweet potato sabudana vada. Other sabudana snacks – sabudana tikki, sabudana pakoda.

Farali batata vada – The balls are made from mashed potatoes seasoned with black pepper. Then dipped into singhara flour batter and deep fried. Served with phalahari green chutney.
Sweet potato tikki – lightly spiced boiled, mashed sweet potatoes are formed into patty and shallow fried into little oil.
Sama ke chawal ki tikki – cooked barnyard millet is mixed with cilantro, boiled mashed potatoes. Then shaped into tikki (patty) and deep fried or shallow fried.
Aloo chaat: boiled, cubed potatoes are drenched into singhara flour and shallow fried till crisp. Then mixed with peanuts and few spices. Another chaat is sweet potato chaat.
Raw banana chips – thinly sliced raw bananas are deep fried and seasoned with rock salt and black pepper powder. Similar chips recipes are suran chips and arbi chips.
Sabudana chivda – nylon sabudana are deep fried and mix with cashew nuts, peanuts and seasoned with rock salt, sugar and black pepper powder. Another similar snack is makhana namkeen.
Sabudana salad – cooked sabudana are mixed with cucumber, fruits like apple, pomegranate.
Main course for Janmashtami Fast:
Sweets for Janmashtami Festival:
Beverages for Janmashtami Fast/Upwas:
Fruit juices – I would prefer to have a glass of fruit juice in the morning. It gives the enough energy to start the day. Check out 15+ fruit juice recipes here

Fruit smoothies – Smoothies will be filling to the stomach. The ones made with yogurt can be enjoyed during the fast. Few options are mango smoothie, Strawberry banana smoothie, strawberry kiwi smoothie, mango strawberry smoothie.
Milkshakes – you can have the ones made with fresh fruits, nuts and dried fruits. Do not add ice cream while making milkshake. e.g. chikoo milkshake, mango milkshake, strawberry banana milkshake, cashew fig milkshake, strawberry milkshake, dates milkshake.
Yogurt based drinks – This can be enjoyed alone with meal. Chaas, pudina chaas, sweet lassi, mango lassi, salted lassi (please use rock salt, instead regular)
Wishing you all Happy Janmashtami !!!