Find here the collection of different Diwali snacks recipes.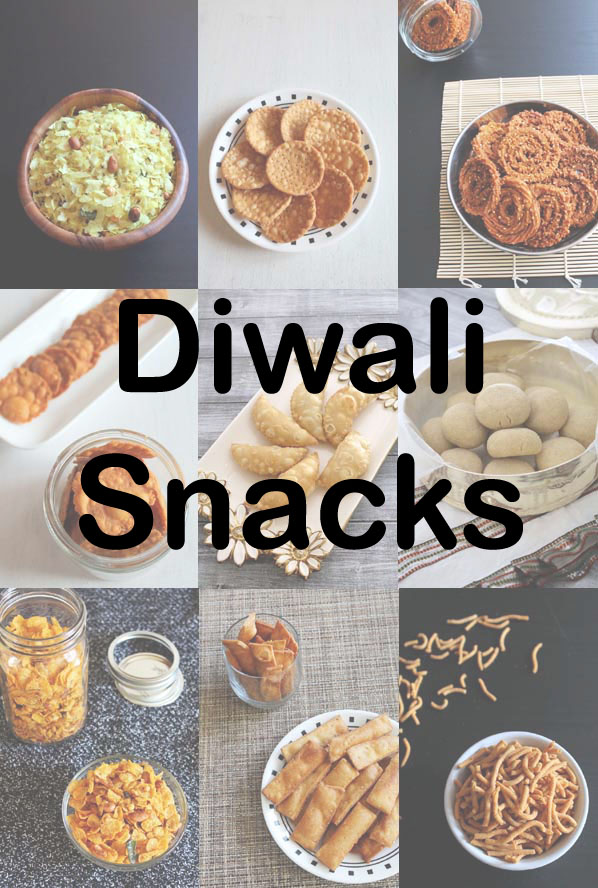 Diwali or Deepavali is the biggest festival celebrated in our family. We usually start preparing for this festival around 10-15 days before.
This year Diwali is on 7th Nov 2018. But the celebration starts 2 days before and lasts for five days.
Wishing you a very happy Diwali in advance.
My mom makes different snacks and store in big dabba and those lasts for 15-20 days. We enjoy those without worrying about calories. Also we serve these snacks to the friends and families who comes over for Diwali and new year good wishes.
After marriage I have kept her tradition continue but I make very small batches because it's for just two of us.
Diwali snacks recipes: namkeen or dry snacks
The below listed falls in the dry or dabba snack category. These can be made ahead of time (10-15 days before) and stored in clean, airtight containers aka dabba/Jar. Make them and enjoy throughout the week celebration of Diwali. Serve them with a cut of hot tea/coffee or munch them anytime you feel like.
Diwali snacks recipes: freshly made or garama garam
These below listed snacks should be made freshly and should be served immediately to get the best taste out of it. Serve them with coriander chutney, mint chutney or tamarind date chutney. Or serve them with hot cup of tea/coffee.
Diwali snacks recipes: Indulging breakfast
The below listed falls in the heavy, indulging breakfast category. This can be eaten as a brunch with your family on the festival days.