Here I have made the list of whole collection of diwali sweets recipes. All of them are easy to make at home. All the recipes have step by step photos with possible tips and tricks so beginners can also make them without any fear.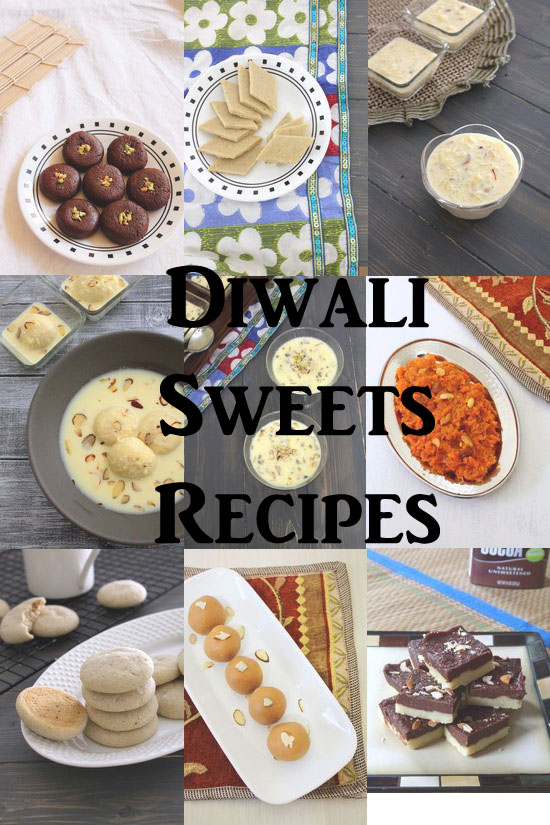 Diwali or deepavali is the festival of lights and it is celebrated all over the India every year. This is the biggest festival we celebrate in our family. We usually start preparing for diwali at least 10-15 day before. We clean and decorate the house, do some shopping. We also make many snacks and sweets at home. Few sweets we buy from shop as well.
We usually give a box of sweet away as a gift to relatives and friends on the new year day. We also serve to the guests who came for the new year wishes.
This year diwali is on 7th Nov 2018. But the celebration starts two days before and lasts for five days.
Diwali Sweets: Ladoo recipes
Diwali Sweets: Halwa Recipes
Diwali Sweets: Kheer Recipes
Diwali Sweets: Burfi/Peda Recipes
Miscellaneous diwali sweets recipes
Nankhatai recipes
Plain Nankhatai – traditional eggless Indian cookies.
Chocolate Nankhatai – chocolate flavored eggless cookies
Whole wheat nankhatai – little healthy take on nankhatai.

Non-traditional desserts
Cake-like Cocoa brownies  //  Chwey fudgy chocolate brownies  //  No-bake brownies  //  Collection of eggless cakes  //  Collection of eggless cupcakes  //  Eggless mousses
Frozen treats
Malai kulfi  //  Mango kulfi  //  Falooda  //  Mango ice cream  //  Vanila ice cream  //  Magic shell
Basic recipes to make Diwali sweets
Traditional Khoya recipe– homemade khoya made from slowly evaporating milk till it becomes solid mass
Instant khoya recipe – quick and easy way of making khoya from milk powder.